Students use digital tech to revive beloved care home exercise programme during pandemic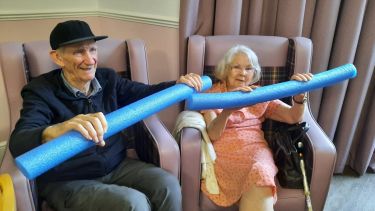 Award-winning Motion project trains students to lead chair-based exercise sessions to boost well-being and fight social isolation in care homes

Covid-19 put a stop to the much-loved programme, but University of Sheffield volunteers have are now starting remote exercise sessions using digital technology

Due to a six-week trial with two care homes being met with positive reviews, regular sessions will be relaunched in January 2021

After three years of volunteer work, 21-year-old Sheffield student Lauren Rogers was made a Project Manager at Motion, a social enterprise by Enactus
The Motion project trains student volunteers to lead chair-based exercise sessions in care homes and church lunch clubs, where they help residents improve their physical and mental health, and fight social isolation.
The programme has been a huge success since its launch and in 2017 it won an award of £25,000 from the Ford Motor Company to expand its reach.
Third-year University of Sheffield student, Lauren Rogers, 21, from Worcestershire, is the project manager for Motion, ran by Enactus - a worldwide network that aims to develop a new generation of leaders and entrepreneurs, and runs several social enterprises including Motion.
She said: "The benefit of the programme for the residents' mental well-being is of great value, whilst also keeping them active. It gives them a chance to speak to someone outside of the home, and to close the intergenerational gap."
But when the pandemic struck, volunteers had to stop the programme due to social distancing restrictions, cutting off a vital lifeline to the outside world for many of the residents.
The elderly participants not only missed their exercise sessions but also socialising, singing, and chatting with the students. 
However, the students' entrepreneurial spirit led them to experiment with digital technology such as Facebook Portal, to provide a much needed remote link for the care homes to continue the exercise sessions.
Having completed a six-week trial of a new virtual programme with Twelve Trees Care and Hallamshire Care Home, the students learnt how to structure remote sessions, distribute equipment, factor in music, and coordinate the logistics so volunteers and residents could build a stable relationship over a video link.
Now, a fully remote programme for Motion is starting again, after the trials received positive feedback from care home residents and busy care workers.
A staff member from one care home, said: "The biggest thing I've noticed is that it's brought them joy, not just enjoyment. It can be quite a low atmosphere, but afterwards everybody seems to be really happy. You can just see such a difference on their faces, and in their mood and attitude afterwards."
Lauren said: "It's great to see the residents benefitting from our programme and building relationships with our student volunteers. The trial also had another unexpected reward. The residents have also started using the exercise equipment and digital portals to connect with those in other care homes, fostering more valuable social links and friendships beyond their own home, which will do so much to combat the social isolation they can feel day to day."
The social enterprise theme of the project has helped Lauren with her course by giving her experience in sales promotion, booking, and logistics.
She added: "I'm incredibly excited about the future of Motion. I know that it has so much potential and opportunities that we're looking to explore in the near future.
"Even though I have to step down as project manager when I graduate in July, I know that the team will continue in expanding our impact and helping as many people as we can."
You can learn more about volunteering with Motion here.
---
Flagship institutes
The University's four flagship institutes bring together our key strengths to tackle global issues, turning interdisciplinary and translational research into real-world solutions.