University celebrates Black History Month 2022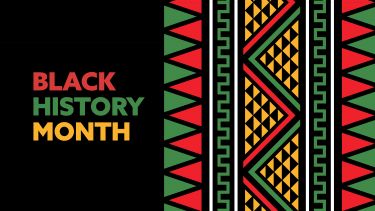 Black History Month is a time when our staff, students and the wider community celebrate Black culture and the contributions Black people have made to society today.
Throughout October, events are taking place and experiences and histories are being shared to commemorate Black History Month in the UK.
Mohammad Rajjaque, Chair of the Staff Race Equality Network at the University of Sheffield, said: "Black History Month for us is an occasion to recognise and celebrate the wisdom, legacy and achievements of our Black community across the world. It is a powerful reminder of their historical and unfortunately still ongoing struggle to break down the walls and barriers erected around them.
"This is a very important catalyst to stimulate our feelings and words into direct action to make this world a better and equal place for everyone."
Amaka Offiah, Faculty Director of Welleing, Equality, Diversity and Inclusion from the University of Sheffield's Faculty of Medicine, Dentistry and Health, said: "Black history month is a time when we collectively focus on the courage and sacrifice of those who have struggled before us that we might have the successes we enjoy today; when we focus on our own struggles to achieve equity for people from minority ethnic backgrounds; and when we focus on the future successes we dream of for our children.
"However, let us not be misled into a state of false security. Let us remember that the focus should not only be during the month of October. The focus on Black history should be every day, every month and every year until the equity that ethnic minorities ought to have, is achieved and sustained."
If you fancy joining the conversation or getting involved in this year's events, then here's our selection of what's happening online and in person near you and across the UK.
Explore the events 
For our staff and students:
For the public:
---
A night at the Theatre: Small Island screening (Department of History)
Tuesday 25 October, 6 to 9.30pm, The Nelson Mandela Auditorium, Students' Union 
The Department of History will be screening a recorded version of National Theatre's Small Island (2019) as part of their Black History Month events (see the trailer).
Inspired by the novel by Andrea Levy, this captivating play tells the three stories of Hortense, Gilbert, and Queenie. With themes of love and racial prejudice, the timeline of Small Island starts from WWII to the arrival of HMT Empire Windrush, making it a pertinent watch. 
Dr Michael Bennett, Lecturer in Early Modern British History, will also be providing a short introduction and contextualisation of the play, Black History, and the historical links between Britain and the Caribbean.
This event is open to only staff and students. 
Disrupting Racism: Solidarity Through Allyship (Staff Race Equality Network)
Thursday 3 November, 10 to 11am, online
In this session, organised by the Staff Race Equality Network, we will explore what allyship and anti-racism are, why they're important and the principles that underline acts of solidarity. We will explore barriers to allyship to start overcoming them and understanding our anti-racist and anti-oppression capabilities.
The session is facilitated by Lou Chiu (she/her), a Culture and Relationships Coach and Consultant specialising in supporting aspiring allies. This interactive session will include different ways to engage all types of brains and learning styles.
Register for this event, open to staf
Sheffield Insights
Wednesday 9 November, 5 to 6pm, online
Sheffield Insights, our series of talks featuring successful alumni, welcomes Dr Gina Awoko Higginbottom MBE. A Health and Related Research PhD graduate, Gina will talk about her prestigious and fascinating career in health, nursing and academia.
Gina is currently Emeritus Professor of Ethnicity and Health at the University of Nottingham and is a Visiting Professor to the University of Sheffield and Sheffield Hallam. 
Gina was born and raised in Pitsmoor, Sheffield, the child of immigrants. She left school at age 15 with no qualifications. She eventually qualified as a nurse, midwife and health visitor leading to a 22 year career in nursing.
Register to hear Gina talk about her career
Faculty of Arts and Humanities events
The faculty is organising a range of events, open to the staff, students and the public, exploring topics related to Black history and culture throughout October.
The faculty's dedicated Black History Month web page also contains useful links to the important research taking place at the faculty that has contributed to the greater societal understanding of Black history and culture in the UK and globally, and information on how our community can collaborate to better understand race equality.
Information Commons exhibition
The Information Commons is hosting a display of digital artwork, photography, poetry and prose that will be submitted by students who identify with Black History Month through lived experience.
The Library will also curate a physical collection of texts on Level 1 of the Information Commons which will reflect the titles of their #ReadingforDiversity online reading list.
Black History Month Carnival
Friday 28 October, Students' Union
Join the carnival to celebrate Black History Month with food vendors, cultural performances, live music, and market stalls from local, Black-owned businesses. 
No need to book, just come along to the Student's Union on the day.
---
The following list offers a selection of some of the Off the Shelf festival events. To see the full festival event programme, please visit the Off the Shelf website.
What Are You Doing Here? Baroness Floella Benjamin
Sunday 30 October, 11am, Crucible Theatre
Baroness Floella Benjamin is a Trinidadian-British actress with a long and amazing career in entertainment, which has involved pantomime, television documentaries and singing with orchestras all over the world. She received a BAFTA Special Lifetime Achievement Award, a Damehood and became a Peer in the House of Lords. 
What Are You Doing Here? is a moving and honest account of Baroness Floella Benjamin's remarkable life and her refusal to be defined by others.  
Home is Not a Place  – Johny Pitts and Roger Robinson, in conversation with Shoair Mavlian
Saturday 15 October, 7pm, Millennium Gallery
What is it like to be Black in Britain today, particularly if you live outside of the urban centres?  
Acclaimed poet Roger Robinson and award-winning author and photographer Johny Pitts explore this issue in their stunning new book, Home Is Not A Place, where they uncover hidden stories of Black people living in the unlikeliest of places, from rundown seaside resorts to rural beach locations. 
Black England: Forgotten Histories of the Eighteenth Century, Gretchen Gerzina & Paterson Joseph
Tuesday 18 October, 7.30pm, University Drama Studio
Presented by Professor Gretchen Gerzina, an eminent author and academic, and Paterson Joseph, a British actor and writer, this event will cover two pieces of literary work – Black England: A Forgotten History and The Secret Diaries of Charles Ignatius Sancho. While the first delves into the the dramatic, moving story of the large and distinctive Black community living in Georgian England, the latter follows the extraordinary story of Charles Ignatius Sancho, a Black man and escaped slave who met the King, wrote acclaimed music, became the first Black person to vote in Britain and led the fight to end slavery.
Without Warning and Only Sometimes, Kit de Waal in Conversation with Désirée Reynolds
Friday 21 October, 7.30pm, University Drama Studio
Without Warning and Only Sometimes is Kit de Waal's warm hearted and true childhood memoir, delivered as part of Black Women Write Now Strand. 
Kit grew up in a household of opposites and extremes, caught between three worlds – Irish, Caribbean and British – in 1960s Birmingham. Her haphazard mother believed the world would end in 1975, her father splurged money they didn't have on cars and suits. The Bible was the only book on offer, yet Kit went on to discover a love of reading and become an award-winning author. 
Linton Kwesi Johnson, supported by Danae Wellington
Saturday 22 October, 8pm, Firth Hall
Linton Kwesi Johnson is a Jamaica-born, British based award-winning reggae poet whose work has always been political, vital and necessary. In 2002, he became only the second living poet and the first Black poet to have his work included in Penguin's Modern Classics, and was awarded the English PEN Pinter Prize – given out to those whose writing casts an 'unflinching, unswerving' gaze upon the world. 
This year, Linton celebrates his 70th birthday and 50 years in activism. 
The Jamaica Reader, Diana Paton and Matthew J. Smith
Tuesday 25 October, 7pm, Millennium Gallery
From Miss Lou to Bob Marley and Usain Bolt to Kamala Harris, Jamaica has had an outsized reach in global mainstream culture. Yet many of its important historical, cultural, and political events are largely unknown beyond the island. 
Presented by Professor Dianat Paton, from the University of Edinburgh, and Professor Matthew J. Smith, from University College London, this event tells the panoramic history of the country, from its indigenous origins to the present including journalism, lyrics, history, culture, memoir, and poetry – showcasing myriad voices from over the centuries. 
#Merky Books: Fiction Preview - Jyoti Patel, Taylor-Dior Rumble and Tallulah Lyons 
Saturday 22 October, 3pm, Creative Lounge
Launched by Stormzy in 2018, #Merky Books is an award-winning imprint that publishes books that will own and change the mainstream. This event will offer an exclusive preview of bold new voices from untraditional spaces. Attendees will get to receive an early proof of each book featured during the event and meet the publishing team behind #Merky Books.
---
The following list offers a selection of some of the events happening in Sheffield and across the country in online format. To find out what other public events are taking place throughout the month, please visit the Sheffield - Black History Month and Eventbrite websites.
Virtual Tour of Frederick Douglass in UK / Ireland
Monday 17 October, 6pm, online
Frederick Douglass was an American social reformer, abolitionist, orator, writer, and statesman who became famous for his oratory and incisive antislavery writings. This virtual tour spotlights several locations in the UK and Ireland where Douglass had a strong impact, including London, Dublin, Edinburgh, Liverpool and Newcastle.
Virtual Black History Month Lecture 2022
Thursday 20 October, 5.30pm, online
Presented by Dr Victoria Showunmi, University College London, and organised by the University of Oxford BME Staff Network, this interactive lecture will initiate a critical conversation on understandings of sophisticated and everyday racism and uncover the true extent of the impact of discrimination on the wellbeing of Black people.
Black History Month: Do our children need more Black history lessons?
Monday 24 October, 8pm, online
A panel of experts and Guardian journalists will question how children are taught about Black people's contribution to Britain and what must change for Black pupils to feel they fully belong in our education system and wider society.
'Style in My DNA' with Lorna Holder
Thursday 27 October, 6.30pm, online
Lorna Holder has over 40 years of experience as a fashion designer, producer, writer & curator, working in the Middle East, New York, and London.
In this talk, Lorna will discuss her book, Style in My DNA, documenting 70 years of Caribbean influence on British fashion, and how racial disparities and lack of female in senior positions within the industry didn't impact her achievements.
A world top-100 university
We're a world top-100 university renowned for the excellence, impact and distinctiveness of our research-led learning and teaching.