Sheffield Insights - Hear from successful Sheffield graduates
Sheffield Insights offers you the chance to meet and learn from inspirational and successful Sheffield alumni.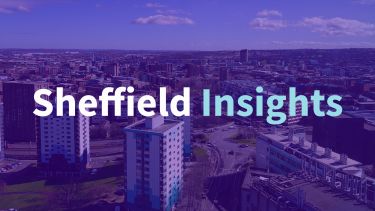 Each semester we'll have a fantastic programme of speakers from a range of different sectors and job roles, who'll be running sessions about their experiences at university, their career and navigating the world of work. 
In these informal group sessions, you'll have the chance to ask questions and learn from the best. Some sessions are held online and some on campus. See each session below for more details.
Sign up to one, or as many as you like!
Watch previous Sheffield Insights sessions
Why take part?
Increase your confidence in networking with professionals 
Increase your knowledge and understanding of different career options, sectors and roles
Raise your aspirations by meeting our successful alumni 
Access networking opportunities and speak to experienced professionals about your future
What's Involved?
If you're successful in applying to take part in a Sheffield Insights session, you'll be fully briefed and supported in preparing to talk to the alumni.
Each session will be made up of a small group (around 10-20 maximum) to enable you and the alumni to get the most out of the online conversation.
Sessions will be an hour long, beginning with a themed talk from the alumni. This will be followed by a question and answer session which we'll help you prepare for in advance.
Each session will be facilitated by at least one member of University staff who'll guide the Q&A session to enable everyone to participate.
Sessions will be hosted online via Zoom, which alumni hosts and participants will be fully briefed on prior to the session. For on campus sessions, all information will be sent via email prior to the event.
---
Sheffield Insights this semester
We have an exciting programme of sessions lined up for the Spring of 2023.See below to register.
---
Sheffield Insights - Meet Lisa Burger CBE
Wednesday 22nd February, 1.30pm-2.30pm, ON CAMPUS - Richard Roberts Building, Seminar Room B79
Lisa graduated from the University's Department of Music in 1983. In 2019 she was awarded an Honorary Degree for her prestigious career in theatre production, strategic leadership and building the resilience of cultural organisations.
Lisa is now the co-founder and Director of Renew Culture Ltd, after stepping down from her role as Joint Chief Executive of the National Theatre last year. Lisa spent her professional life working in opera, ballet, museums and theatre
During a 20-year career at the National Theatre (NT), key achievements included the development and launch of NT Live, broadcasting work from leading UK theatres into cinemas around the world; creating NT at Home as a response to COVID, a free on-line product reaching a worldwide audience of 10m and turning this into a commercial subscriber service.   
She has deep knowledge and expertise in working with creative and technical roles in theatre, having produced over 140 productions, including touring work around the UK, co-producing with European partners and taking productions to New York, to International acclaim.  
Lisa is a Trustee of Historic Royal Palaces and of the Royal Opera House and has previously Chaired the Lyric Hammersmith. 
Lisa's work in theatre has been recognised with a special Olivier award, a CBE and her Honorary Doctorate. 
Register for Lisa's session here
 
---
How to register
Simply fill in the registration forms for the sessions you would like to attend. There are limited places on each session so it's first come, first served.
Sheffield Insights is open to all University of Sheffield students, with 50% of spaces being prioritised for students who meet Widening Participation criteria.
Widening Participation criteria being considered are any of the following: 
First person in their family to attend university
BAME students
Student is a carer
Student is a care leaver
Student has a disability or specific learning difficulty
Student is a mature student (eg. over 21 when starting an undergraduate degree)
Student is in receipt of a University of Sheffield financial bursary
Student is in receipt of an Experience Sheffield scholarship
---
Previous Sheffield Insights talks
---
Sheffield Insights - Meet Prof Gina Higginbottom MBE
Gina talks about her prestigious and fascinating career in health, nursing and academia.
Gina is currently Emeritus Professor of Ethnicity and Health at the University of Nottingham and is a Visiting Professor to the University of Sheffield and Sheffield Hallam. 
Gina was born and raised in Pitsmoor, Sheffield, and is of mixed race Ghanaian and English heritage. She left school at age 15 with no qualifications. She eventually qualified as a nurse, midwife and health visitor leading to a 22 year career in nursing.
Gina became the recipient of a number of prestigious awards including a Canada Research Chair, a Nursing Research Scholar of the Smith and Nephew Foundation, a Mary Seacole Leadership Award holder and her PhD was supported by a National Primary Care Research Fellowship -  Gina was the first health visitor to receive this award. In 1998 she was awarded an MBE for services to young people and Health Promotion. Her expertise is focused on ethnicity and health with a focus on international migration and maternity.
Gina is also Co-convener of ICCHNR (http://icchnr.org/) and a member of the Chief Nurse for England's Black Minority Ethnic Advisory Group.
---
 Sheffield Insights - Meet Dr Emily Rickman
Emily talks about 'Making space for everyone in STEM careers', looking at how she secured a role in the European Space Agency, her research, moving all over the world, and what it takes to be a scientist. She'll provide some tips on how to get into the field, and why it doesn't matter who you are, that there is space for you to pursue a STEM career irrelevant of gender, race, ethnicity, sexual orientation or any other factor. 
Emily currently leads a research project hunting for planets outside of our Solar System, called exoplanets. She is responsible for obtaining observing time on some of the largest telescopes in the world, selecting promising targets and leading on data and analysis. She ultimately produces scientific papers presenting research when new discoveries are made. 
Emily also recently led one of the commissioning plans for the largest space telescope (James Webb) that has ever been launched (due to launch at the end of 2021).
---
Sheffield Insights - Meet Isaac Eloi
Isaac, a Law and Spanish graduate, talks about his career in law and why diversity matters in the sector.
Isaac is a Music lawyer specialising in the licensing of musical works to digital service providers for ICE. He is also co-founder of the Black Men in Law Network. Isaac is an advocate for increasing diversity in law, and speaks regularly about his own experiences since graduation.
At the beginning of his career, Isaac spent 5 years at Freeths as a Trainee Solicitor, followed by a short time as an Associate at RPC.
Isaac advocates for representation of Black, LGBTQ+ and people with disabilities in Law and his work led to him being the winner of the UK Diversity Legal Awards Rising Star for Entrepreneurship Award 2018.
---
Sheffield Insights - Meet Duncan Edwards
Geography and Politics graduate Duncan Edwards talks about the U.S - UK trade and investment relationship and its importance for global business.
Duncan spent 31 years working in the consumer media business in London and New York. He became CEO and Country manager for the UK for the large corporation, Hearst and then moved to New York as President and CEO of their international consumer media business. In this role, Duncan spent 8 years travelling globally. Duncan now works as CEO for BritishAmerican Business on US-UK trade and investment.
---
Sheffield Insights - Meet Dr Nike and Dr Oluwole (Ollie) Folayan
Siblings Nike (PhD Electronics 2007) and Ollie Folayan (BE Chemical Engineering with Fuel Technology 1999) join us as they talk about their important work as Founders of the Association for Black and Minority Ethnic Engineers (AFBE) UK and Scotland, reflecting on the Ethics of Ethnic Diversity.
Nike and Ollie lead outreach programmes to diversify the engineering sector, as well as authoring publications on subjects including the influence of role models for graduates moving into engineering.
Nike is Technical Director of WSP in the UK. She was included in the Financial Times' top 100 most influential women in engineering, and was awarded an MBE in the 2020 Queen's New Year Honours List for services to diversity in engineering. Ollie works as Principal Process Engineering Consultant for Cleofol Enterprises.
Ollie is involved in the design and operation of (onshore and offshore) process plants and is a member of the fellowship of the Institution of Chemical Engineers as well as running the Scottish arm of the AFBE.
---
Sheffield Insights - Meet Dr Peter Olusoga
Psychology graduate, Dr Peter Olusoga, talks about athlete voices in social justice, and how racism is deeply embedded in sport and performance contexts, with a focus on recent incidents within sport.
Peter works as Senior Lecturer in Psychology at Sheffield Hallam and focuses on stress, burnout and wellbeing in elite sports coaching. He is a Chartered Psychologist with the British Psychological Society and is active as a consultant for athletes and teams in a variety of sports.
Peter writes regularly for the Guardian and his own blog, focusing particularly on the less overt forms of racism in sport and society. 
---
Sheffield Insights - Meet Simon Kellaway
Economics graduate Simon Kellawaytalks about his experiences at the University and his global career in banking.
Simon recently moved to Hong Kong to become Managing Director of Securities Services, overseeing Greater China and North Asia for Standard Chartered Bank.
He previously spent 12 years with JP Morgan where he was Managing Director - Head of Prime Custody Business Development & Product Management. During this time he oversaw the development, provision and marketing of an integrated suite of products in the EMEA market. He went on to hold Managerial roles in product development and client operations at HSBC and later RBC before securing his most recent role and moving to Hong Kong.
---
Sheffield Insights - Meet Dr Niluka Wijekoon
Master of European Public Health graduate, Dr Niluka Wijekoon, spoke about 'Starting a global career in the Public Health Sector', focusing on her expansive clinical and public health career.
Niluka has held a range of responsibilities during her career. Most recently as an epidemiologist for the World Health Organisation (WHO), including six years at the headquarters in Geneva. As a global public health professional, and an emergency responder, she has worked in countries across the world. Before joining the WHO, she worked as an Emergency Health Coordinator during the Sri Lankan ethnic crisis; prior to her public health career, she worked as an emergency physician in Colombo.
---
Sheffield Insights - Meet Sarah Schutte
Law and Legal Practise graduate Sarah Schutte spoke about her tripartite legal career and 'Forging your Own Path'.
Sarah is Director of Schutte Consulting Ltd and has 25 years' financial services experience in the banking and asset management sectors. She previously worked as a solicitor for DLA Piper amongst other firms. Sarah is based in London and is a specialist in construction and engineering, infrastructure and commercial development contracts and projects.
---
Sheffield Insights - Meet Tolu Osinubi
Law and Legal Practise graduate Tolu Osinubi talks about her experiences at the University, her career, and her work as a leader in intersectionality and diversity for large organisations.
Tolu is Senior Manager at Deloitte and Intersectionality Lead for GLOBE (Deloitte UK LGBTQ+ Network). Tolu is based in London and specialises in functional test management for large scale complex implementations in the private sector.
---
Sheffield Insights - Meet Charlotte Jones
Accounting, Financial Management and Economics graduate, Charlotte Jones talks about 'My Career in Financial Services'.
Charlotte is Chief Financial Officer at the RSA Insurance Group and has 25 years' financial services experience in the banking and asset management sectors including roles at Ernst and Young, Deutsche Bank and the Credit Suisse Group. She's based in London and is responsible for strategy and financial aspects of the firm and investor relations and communications.
---
Sheffield Insights - Meet Andrew Vaughan
Chemistry and Physiology graduate, Andrew talks about his career in 'From Damascus to Dhaka - life on the road with a multinational' will focus on his thirty-five year career in oil and gas.
Andrew has held a range of responsibilities during his career at Shell, including engineering roles and, later, as Managing Director and Vice President for Shell Abu Dhabi, Kuwait and Syria. He has worked around the world in countries including Egypt, the Netherlands and Dubai and was part of the team who set up Shell Hydrogen in 1998.
---
Sheffield Insights - Meet Dr Nike Folayan MBE
PhD Electronics graduate, Dr Nike Folayan, talks about her diverse engineering career, her role as advisory board member for organisations including the Royal Academy of Engineering, Transport for London and as Founder and Chairperson of the Association for Black and Minority Ethnic Engineers (AFBE).
Nike is Technical Director of WSP in the UK. She is based in London and is responsible for the technical strategic direction and growth of communications and control within WSP in the UK and India. 
She has been named in the Financial Times' top 100 most influential women in engineering, and was awarded an MBE in the 2020 Queen's New Year Honours List for services to diversity in engineering.
---
 Sheffield Insights - Meet Chris Cheetham
Business and Economics graduate, Chris Cheetham, discussed 'Working abroad, changing careers and entrepreneurship.'
Chris is the CEO of technology company NOEXIS, which builds software solutions as well as consulting on digital transformation for clients. Chris is based in New York City where he oversees all NOEXIS business in North America and the UK.
---
Sheffield Insights - Meet KO Chia
Electronic & Electrical Engineering graduate, KO Chia, led this online networking event, discussing Innovation, Entrepreneurship and how 'The World is Your Oyster'.
KO is the Deputy CEO & Director of Grace Financial Ltd. and is based in Hong Kong where he manages and mentors in venture capital investment.