The Campaigns and Alumni Relations (CAR) department exists to maintain and grow a lifelong, mutually beneficial relationship between the University and its alumni, supporters and friends.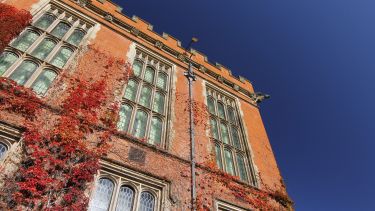 This privacy policy sets out how we manage and use your data to enable us to keep you informed about the University and provide opportunities for you to continue to be involved in the life and activities of the University.
This includes providing you with services you have requested, for administration purposes, and to further our charitable and educational aims including fundraising, volunteering and other activities. Your data is stored securely and in accordance with the General Data Protection Regulation (GDPR). We never sell your information to third parties.
This privacy policy is supplementary to the University's Privacy Policy and applies specifically to information held about alumni, supporters and friends of the University of Sheffield by the Campaigns and Alumni Relations department.
Confirmation that their personal data is being processed
Access to their personal data
Other supplementary information about the processing of their personal data.
Our lawful basis for processing

Article 6 of the General Data Protection Regulation (GDPR): Lawful basis for holding and processing data.

On the basis of the public interest the University holds personal data in order to maintain appropriate University records. 
To fulfil the University's legitimate interest, the University processes data: 

You may opt out of receiving our communications at any time by completing our Contact Preferences form.
We may process data on the basis of consent where consent has been given.

To pursue this interest, we may contact you by email, mail and phone.

The basis of legitimate interest is used only where it has not been overridden by the interests and rights or freedoms of the individuals.

In order to ensure that alumni, supporters and friends remain informed about the University and have information on opportunities to engage or re-engage with the University. In order to further the University's charitable and educational aims, which include fundraising, volunteering and running events

What data is stored and processed by us

At the point of graduation, your name, degree, basic biographical information and contact details from the University student system are used to create a record for you on the Alumni Database.

Where available we may add information about your student interests from the Higher Education Achievement Report (HEAR), scholarships and prizes you received, and employment information from the Graduate Outcomes survey. We also create a record for any non-alumni donors and friends of the office who wish to receive our information.

We update our records when you enquire about our services, register for activities, make a donation, complete an Update Your Details form, take part in our alumni survey or provide us with information. The majority of information we hold will have been provided by yourself and we may also update your record with information that is publicly available.

This information may include:

Biographic information including names, titles, gender, date of birth, contact details.
Education history from your time at Sheffield and information about activities you were involved in (e.g. clubs and societies, prizes, scholarships).
Employment details, employment history and biographies.
Current social and recreational interests.
Partner/spouse, family and other relationships.
Donation history to the University, fundraising appeals and proposals.
Records of communications with and from the University.
Registration, booking details and attendance at events and for volunteering opportunities.
Appended information from publicly available sources and extracts from media stories.
Information about your wealth.
Communication preferences.
Information you have chosen to share with us via online services such as LinkedIn and Facebook, as well as community fundraising websites such as Just Giving.

We aim to keep your data up to date and accurate and we welcome any updates to your details you may wish to provide.

Data collected by our websites and emails

The University web server automatically collects standard information, including your IP address, browser type, operating system and access times when you visit our websites.

We may use cookies to monitor visitor traffic and to customise web page content based on your browser type, IP address or other anonymous information. Cookies are text files that identify your computer to our server; cookies in themselves do not identify the individual user, just the computer used.

The link below contains information about the University's use of cookies and gives information on how you can opt out.

Our website uses Google Analytics to analyse how users use the site. The link below contains information about Google Analytics and gives information on how you can opt out.

Google Analytics - Safeguarding your data

We may display links to external websites to provide you with offers and services, these sites are not controlled by the University and we cannot be held responsible for the content or accuracy of these external links.

To help monitor and improve our communications we can track when an email we send is opened and how many links are clicked within the message. We may use this information to personalise the way our websites and emails are presented to you and improve the content of our communications.

Why and how we use your data

We use your information to keep you informed about the University, and to provide opportunities for you to continue to be involved in the life and activities of the University. This includes providing you with services you have requested, for administration purposes, and to further our charitable and educational aims including fundraising, volunteering, event invitations and newsletters.

We want to send you timely, relevant and appropriate messages via mail, email and telephone. To do this we may segment our communications based on demographic, geographical and education information.

Fundraising is very important for the University. The University was founded with philanthropic support and we continue this tradition of giving through our fundraising campaigns which provide additional resources to help teaching, research and supporting the life of our students.

We want to keep you informed about our fundraising in the most appropriate and cost effective ways. To help us do this we may carry out analysis, segmentation and scoring of the information we hold. We may also add publicly available information. This may include wealth screening. We undertake due diligence for potential donors in line with the University's Donation Acceptance Policy. These processes help us to better understand your interests, preferences and the type and level of donation you may be interested in giving. This allows us to make appropriate requests to our supporters, helping us raise more money, more cost effectively, and more respectfully than we otherwise could.

Our fundraising campaigns are managed in-house by permanent CAR staff and may include direct mail (both postal and electronic), social media, telephone and face-to-face visits. Our telephone fundraising is managed in-house by permanent CAR staff and employs current students to contact alumni and friends of the University. This provides paid employment opportunities for our students as well as valuable work experience. All of our staff and student workers are well trained and are taught to respond sensitively and appropriately to anyone who may appear vulnerable. We are proud that none of our staff are paid commission on donations they raise.

We do not use external fundraising agencies or external professional fundraisers to ask for donations on our behalf.

We are very grateful for the support of our donors and we like to publish their names on our donor honour roll to recognise their support and to encourage others to donate. If you donate to the University and do not wish your donation to be publicly recognised, you can choose to donate anonymously. This means we will record your donation on our systems, but will not publicly acknowledge or publish your name on donor lists or other stewardship materials both online and in written publications. We like to publish case studies online and in our magazines, and will always ask for permission from people involved in the case stories before publication.

Who is it shared with

We never pass information to third parties, except in the following cases:

We may use external service providers as data processers/agents on our behalf, to help provide benefits and services. These include email services to send emails and newsletters, mailing houses to send out postal letters and magazines, and marketing agencies to support our communications and analyse our data.
We may use companies to screen names and addresses to help keep addresses up to date, provide wealth screening, demographic and publicly available information, check data against preference services and support donation processing.
We always make sure there are appropriate controls in place regarding how they handle your data and to ensure they never use the data for non-University of Sheffield purposes.
We may need to disclose your information if required to by law .
If we have obtained your permission to do so.
We may use external service providers based in countries or jurisdictions outside of the UK. These countries may not provide the same level of data protection as the UK. If we do use these services, we will put appropriate controls in place to ensure your information is protected.
We will never sell your information to a third party.

Future changes

From time to time, we may use your information for new, unanticipated uses not previously disclosed in our privacy policy. If our information practices change at some time in the future, we will post the policy changes on this page.

If you are concerned about how your information is used, you should check this page periodically. We will only use data collected from the time of the policy change onwards for these new purposes.

Your rights

You may opt out of receiving our communications at any time by completing our Contact Preferences form.

Should you object to the holding of your data by CAR, the use of your data for any or all of the above purposes, want to complain about something we have done, to amend the type of communications you receive or the way in which CAR contacts you, please contact us at alumni@sheffield.ac.uk

Under data protection legislation, individuals (data subjects) have the right to request that a data controller provides them with the following:

Confirmation that their personal data is being processed

Access to their personal data

Other supplementary information about the processing of their personal data

A request can be made by submitting a subject access form or contacting our Data Protection Department on +44 (0)114 222 1117 or dataprotection@sheffield.ac.uk 

More information and access to the form can be found on the University's central Data Protection web page. 

If you wish to contact the University Data Protection officer, their details are as follows:

Head of Data Protection & Legal Services

 

The University of Sheffield




First Floor




Arts Tower




12 Bolsover Street




Sheffield




S3 7NA

 

---

If you wish to contact the Information Commissioner's Office (ICO), their details are as follows:

 

Information Commissioner's Office
Wycliffe House
Water Lane
Wilmslow
Cheshire
SK9 5AF
 

 
Updated January 2021