Join us at one of the many alumni events that take place throughout the year on campus, across the UK and internationally. They are a fantastic way to reconnect with old friends, expand your network of Sheffield alumni and find out what's been happening at the University recently.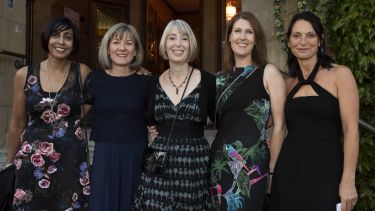 Calendar of events
2020
June
---
The Big 30
Everywhere
Throughout the 30 days of June
This is our first ever virtual fundraising event, taking place throughout the 30 days of June, in support of Parkinson's disease research at the University. We are challenging you to do 30 'things' across the month - they could be the same things or 30 different activities. The choice is up to you.
Find out more about The Big 30
---
50th Anniversary Reunion Luncheon
Firth Court, The University of Sheffield
Friday 19 June 2020
It is our great pleasure to welcome the class of 1970 back to the University to mark 50 years since graduation. Following a lunch in Firth Hall, you will have the chance to experience a series of talks and tours of the University.
Event postponed further to Coronavirus guidance.
July
---
The Big Walk 2020
Sheffield and the Peak District
Friday 3 July 2020
Regrettably we have had to cancel The Big Walk 2020 further to Coronavirus guidance.
September
---
Annual Alumni Reunion
On campus
Saturday 12 September 2020
Note: Given the current coronavirus situation we are unable to confirm this event will go ahead as planned. We very much hope to run the event as expected but a final decision will be taken closer to the time, informed by the latest on the situation.
Our flagship event for graduates of the University of Sheffield. Join us for a full day of campus tours and talks on some of our latest research. In the evening, you can enjoy dinner and dancing in Firth Hall before Pop Tarts Reunited rounds off the night. This event is open to all alumni, but may be of particular interest to alumni from the classes of 2000, 1995, 1990 and 1980 celebrating 20, 25, 30 and 40 years since graduation.
October
---
Heritage Circle Lunch
Firth Hall, The University of Sheffield
Friday 30 October 2020
Our annual luncheon to meet and thank those of you who have generously pledged to leave a gift to the University in your Will.
Invitations will be sent in Summer 2020.