Join us at one of the many alumni events that take place throughout the year on campus, across the UK and internationally. They are a fantastic way to reconnect with old friends, expand your network of Sheffield alumni and find out what's been happening at the University recently.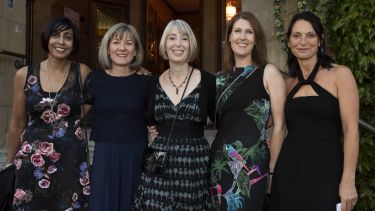 Due to the current Coronavirus pandemic, the University has temporarily put on hold all face-to-face events on campus and around the world. However, we don't want our alumni and supporters to miss out during this time, so we are exploring ways to engage virtually. Please continue visiting this page for further updates.  
Calendar of events
2021
May
---
SHEFF-Yield webinar series: Practical Organic Growing: Beyond not using chemicals
Thursday 27 May 2021
Online
When asked to define what organic growing is, the most common answer is 'growing without chemicals'. However, it is so much more than that. Organic growing is a holistic approach that considers not just the plant you are growing, but how it interacts with the soil, its direct surroundings and the wider environment as a whole.
September
---
The Annual Alumni Reunion 2021
TBC September 2021
Online
We are currently hard at work planning a special online celebration and day of activity for the anniversary class years of 1956, 1961, 1971, 1981, 1991, 1996 and 2001. Keep an eye on your email inbox for more information and how you can get involved.
2022
May
---
Sheffield University Tenpin Bowling Club Reunion 2022 (rolled over from 2021)
14 - 15 May 2022
Sheffield
Unfortunately, the 2021 Sheffield University Tenpin Bowling Club reunion will not be going ahead. Instead, the event has been moved to 2022. 
For more information about the 2022 reunion, please contact alumni@sheffield.ac.uk who will put you in touch with the organiser, Roy Thurling.