Join us at one of the many alumni events that take place throughout the year on campus, across the UK and internationally. They are a fantastic way to reconnect with old friends, expand your network of Sheffield alumni and find out what's been happening at the University recently.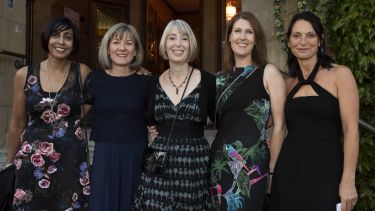 Due to the current Coronavirus pandemic, the University has temporarily put on hold all face-to-face events on campus and around the world. However, we don't want our alumni and supporters to miss out during this time, so we are exploring ways to engage virtually. Please continue visiting this page for further updates.  
Calendar of events
2021
March
---
Couch to 5K
Throughout March
Take on a fitness challenge, and help raise £10K for Parkinson's disease research
Find out more and take part
April
---
Politics, people and protection in a post-pandemic world
Wednesday 21 April 2021, 18:00 - 19:00 BST
Online
Over the past year, our world has seen monumental change. The pandemic has impacted every area of life, challenging the way we work, socialise, communicate and live.
In this event, chaired by Emeritus Professor of Journalism Education Marie Kinsey, our panel of experts will reflect on the impact of the past year, identify the key public health lessons that have been learnt and address how we'll manage the threat of possible future pandemics.
Find out more information here
---
Science@Sheffield webinar 
Thursday 22 April 2021, ​13:00 - 14:00 BST
Online
Join Dr Jonathan A. Foster (Department of Chemistry) and Professor Davide Costanzo (Department of Physics and Astronomy) as they present the following topics: 
'Programmable Two-Dimensional Materials', by Dr Jonathan A. Foster 
'Looking at the Dark Side of Matter with the Large Hadron Collider', by Professor Davide Costanzo
2022
May
---
Sheffield University Tenpin Bowling Club Reunion 2022 (rolled over from 2021)
14 - 15 May 2022
Sheffield
Unfortunately, the 2021 Sheffield University Tenpin Bowling Club reunion will not be going ahead. Instead, the event has been moved to 2022. 
For more information about the 2022 reunion, please contact alumni@sheffield.ac.uk who will put you in touch with the organiser, Roy Thurling.