Join us at one of the many alumni events that take place throughout the year on campus, across the UK and internationally. They are a fantastic way to reconnect with old friends, expand your network of Sheffield alumni and find out what's been happening at the University recently.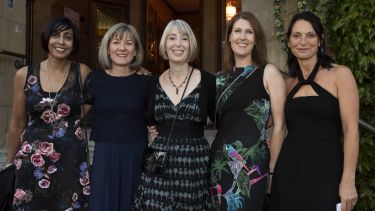 Due to the current Coronavirus pandemic, the University has temporarily put on hold all face-to-face events on campus and around the world. However, we don't want our alumni and supporters to miss out during this time, so we are exploring ways to engage virtually. Please continue visiting this page for further updates.  
Calendar of events
2021
February
---
Couch to 5K
Throughout February
Take on a fitness challenge, and help raise £5K for Parkinson's disease research
Find out more and take part
March
---
SHEFF-Yield: Desert Garden
Thursday 11 March 2021, ​18:00 - 19:00 GMT
Online
Join Professor Tony Ryan OBE and Dr Moaed Al Meselmani as they talk about their work at Za'atari refugee camp in Jordan, where refugees are repurposing waste mattresses to grow their own fresh food. 
Find out more information here
---
Science@Sheffield: Anti Microbial Resistance and Host Pathogen Interactions 
Thursday 18 March 2021, 13:00 - 14:00 GMT
Online
Join Dr Claire Turner and Professor Jim A. Thomas as they discuss the following topics: 
'Dropping acid: Recent evolution in the human pathogen Streptococcus pyogenes' by Dr Claire Turner, Department of Molecular Biology and Biotechnology
'Luminescent metal complexes: from super-resolution imaging probes to therapeutic leads' by Professor Jim A. Thomas, Department of Chemistry
Find out more information here
---
China Virtual Alumni Event
Wednesday 24 March 2021, 13:00 - 14:00 GMT
Online
Join us online to hear about the latest updates of your University.  Vice Chancellor, Professor Koen Lamberts will talk about how the University has been dealing with the coronavirus and how we continue to create the very best learning experience for our students. You will also learn about the alumni benefits available to you and what you can expect from us in the future. At the end of the event there will also be time for a question and answer session with the Vice Chancellor and the Director of Alumni Relations.
Check back later to register
2022
May
---
Sheffield University Tenpin Bowling Club Reunion 2022 (rolled over from 2021)
14 - 15 May 2022
Sheffield
Unfortunately, the 2021 Sheffield University Tenpin Bowling Club reunion will not be going ahead. Instead, the event has been moved to 2022. 
For more information about the 2022 reunion, please contact alumni@sheffield.ac.uk who will put you in touch with the organiser, Roy Thurling.