Hear from Sheffield's best and brightest minds as they share their PhD research in bitesize talks accessible to all.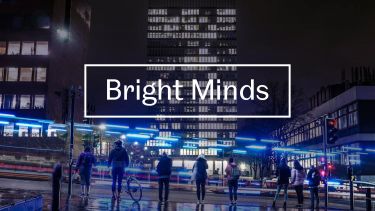 We want you to be the first to hear about the new and exciting research coming out of your University. And who better to tell you about it than the researchers themselves!
Throughout the year, you are invited to attend a series of short, online, TED-style talks, across a range of research topics, from some of Sheffield's most talented PhD students. 
Take a look at the line up, and register to join below. 
Scroll further to find recordings of previous Bright Minds webinars
---
---
To be confirmed.
In the meantime please take a look at the fascinating previous talks below.
---
---
Bright Minds: The Power of Music
Music is often thought of as a recreational activity, enjoyed by those who engage with it by listening to and/or making music to enhance general wellbeing. But can music be used to aid us further, helping us to find solutions to everyday problems? Watch our talk from two of our PhD students from the Department of Music and Psychology. 
---
Bright Minds: Sweetness and Fairness
Bettina Zenz shares her research into sugar intake in Western diets and the associated health inequalities between different sections of society. Bettina is joined by Professor Peter Jackson, Co-Director of the Institute for Sustainable Food. The talk draws on current research, funded via the Grantham Centre for Sustainable Futures and based in the School of Clinical Dentistry at the University of Sheffield.
---
Bright Minds: The Science of Healthy Ageing
Can drugs and our DNA have an impact on the negative effects we experience as part of the ageing process? And can this change the way we age in the future? Join PhD students Ruth Thomas and Jeremy Richards to discuss how their research is affecting the way we age.
For more information on the research taking place in this area, please visit Sheffield's Healthy Lifespan Institute page.
---
Bright Minds: Climate policy in urban areas - The potential and limits of co-production
Join Dr Ryan Bellinson and Professor Beth Perry as they discuss how their research has provided insights into the role of the public in urban climate policy, and how cities can 'co-produce' meaningful climate action.
---
Bright Minds: Neuroscience
Introduced by Dr Heather Mortiboys, join Dr Simon Bell and Dr Tom Payne as they talk about their research into Alzheimer's Disease and Parkinson's Disease. 
'How can the brain's relationship with sugar help us develop new treatments of Alzheimer's disease?' by Dr Simon Bell
'The UP Study: Developing new treatments and designing future trials for Parkinson's.' by Dr Tom Payne
For more information on the research taking place in this area, please visit Sheffield's Institute of Neuroscience and SITraN's pages.
You can also read more about our Parkinson's disease research fundraising appeal.
---
Bright Minds: Food Security
Introduced by Professor Duncan Cameron, co-director of our Institute for Sustainable Food, join Mary Eliza for her talk on 'Can we solve global warming, acid rain and smog all at once?'.