Pioneering research at the University of Sheffield is transforming understanding of Parkinson's disease. With your help, we can make a breakthrough sooner and improve the lives of patients long into the future.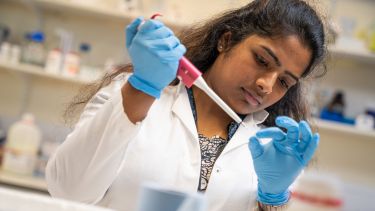 Off
Fundraising update
Thanks to over one thousand supporters, more than half a million pounds has been secured for Parkinson's disease research at Sheffield.
This is an incredible achievement and we are overwhelmed by the generosity of so many individuals. Every single donation means the world to our researchers, and even more so to the patients and families affected.
With your ongoing support, Sheffield will continue its persistent work towards finding a treatment breakthrough.
You can make a real difference
Your gift in support of our Parkinson's appeal will make a difference now and long into the future by funding cutting-edge research that:
Furthers understanding of why Parkinson's progresses differently in each patient.

Improves the effectiveness and outcomes of clinical trials.

Speeds up the development of personalised treatments to slow - or even stop - how quickly the disease takes hold.
If the disease could be delayed in its progression, it would give me more time to do the things I hoped I'd be doing at this stage in my life."

Andrew Myers, Parkinson's patient

BA Philosophy 1985, MA Applied Social Studies CQSW 1991
Developing personalised treatments
Muscle stiffness, tremor, slow movement, troublesome non-motor problems: They have a huge impact on patients' lives. Yet for over 50 years, one-size-fits-all treatments have simply masked the symptoms of Parkinson's. Currently, there's no cure and no way to stop it from getting any worse.
With your help, we are working to change that. By tackling the root causes of the disease and developing personalised treatments, the University of Sheffield is finding a new way forward for patients. We've already made a promising breakthrough, identifying compounds that have the potential to slow its progression.
Your support will accelerate this ground-breaking work and benefit patients more quickly.
The work we're doing at Sheffield now means that in the future, we'll apply a 'precision medicine' approach to Parkinson's. We'll no longer have to treat all patients in exactly the same way. This will be a huge leap forward for people suffering with this incurable brain disease.

Professor Oliver Bandmann

Professor of Neurology, Department of Neuroscience​​
A Sheffield approach to a global problem
The University of Sheffield's Neuroscience Institute is an international centre of excellence that attracts considerable support from research councils, charities and industry partners. Close collaboration between scientists and doctors is a key strength. This bench-to-bedside approach is unique. 
Facilities such as the Sheffield Institute for Translational Neuroscience (SITraN), the UK's only neurological NIHR Biomedical Research Centre (BRC) and advanced MRI-PET imaging technology (Sheffield Scanner) on campus also give the University the edge in developing new treatments, more quickly. 
Back the next breakthrough
£10 could help stock our research labs with essential supplies.
£15 could pay for one hour of research by our early career scientists.
£50 could accelerate the discovery of new therapies by helping to cover the cost of a clinical trial for a day.
£100 could help fund training for the next generation of expert researchers.
£300 could allow us to step up our research, working towards a world free from Parkinson's.