University of Sheffield doctor receives MBE for services to COVID-19 research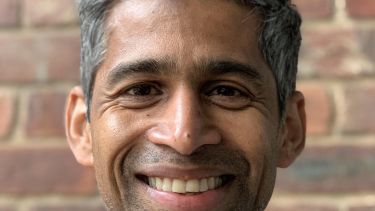 Dr Thushan de Silva, from the University of Sheffield's Department of Infection, Immunity and Cardiovascular Disease, has been awarded an MBE for his work on Covid-19 research
Work from the team led by Dr de Silva contributed to the global effort to track virus mutations and characterise immunity to SARS-CoV-2
A University of Sheffield academic has been recognised in the Queen's Birthday Honours for his team's research, which has helped progress the fight against Covid-19.
Dr Thushan de Silva, Senior Clinical Lecturer at the University of Sheffield and Honorary Consultant Physician in Infectious Diseases and at Sheffield Teaching Hospitals NHS Foundation Trust, has today (Friday 11 June 2021) been appointed a Member of the Order of the British Empire (MBE) in Her Majesty The Queen's belated Birthday Honours.
The annual Birthday Honours recognise individuals in society who have committed themselves to serving and helping Britain. They often honour individual achievements such as making a difference to a community, or in a field of work which changes or improves lives.
Since the start of the pandemic in the UK, Dr de Silva has spearheaded the University's research into SARS-CoV-2. He leads the Sheffield Covid-19 Genomics group, which was formed in March 2020 as part of the national COVID-19 Genomics UK (COG-UK) Consortium to track the spread and evolution of the virus.
The group was one of the first to publish full genomes of the virus in the UK. This work contributed to the global effort to track virus mutations and tackle outbreaks, not only in Sheffield, but around the world.
The group has also helped to investigate hospital transmissions of Covid-19 at Sheffield Teaching Hospitals NHS Foundation Trust – including a clinical trial looking at whether rapid sequencing can assist in planning infection control strategies - and helped investigate community outbreaks for local public health teams.
He also led a team looking at immune responses to SARS-CoV-2. This has included characterising immunity in healthcare workers (the PITCH study in collaboration with researchers from the University of Oxford) and hospitalised patients (as part of the ISARIC4C consortium). His team also established antibody assays to help recruit participants to the Oxford Vaccine study in Sheffield. Dr de Silva is also involved in the national OCTAVE study exploring SARS-CoV-2 immunity in vulnerable patient groups, as national co-lead for the haematopoietic stem cell transplant cohort.
In line with the global health focus of Dr de Silva's work prior to the pandemic, he has also been involved in international SARS-CoV-2 research. His team is helping to build capacity for viral sequencing in Ghana and Sri Lanka. As a visiting investigator at the MRC Unit The Gambia at the London School of Hygiene and Tropical Medicine, Dr de Silva also secured funding from the Bill and Melinda Gates Foundation to establish community surveillance for SARS-CoV-2 in The Gambia.
Dr de Silva, said: "Throughout the pandemic, the entire team here at Sheffield has been exceptional, with so many people coming together to go above and beyond. Research during this time has had to be responsive like never before, as things have evolved continuously. The key to our success has been the teamwork ethic that has typified everyone's attitude across the University of Sheffield and Sheffield Teaching Hospitals NHS Foundation Trust."
Much of Dr de Silva's work has been done in collaboration with the South Yorkshire Department of Infection and Tropical Medicine at Sheffield Teaching Hospitals NHS Foundation Trust, where he is an Honorary NHS Consultant. He cared for some of the UK's first Covid-19 patients, and has continued to do so throughout the pandemic.
Dr de Silva said: "So many factors have played a role in how well our research teams in Sheffield have responded during this time. From being part of the national Respiratory High Consequence Infectious Disease unit network, to having a diagnostic laboratory that was one of the first in the UK to offer SARS-CoV-2 testing to NHS staff, and having a Clinical Research Facility team that works tirelessly to support urgent public health research. I'm incredibly grateful for all the support from both the University and NHS departments."
Kirsten Major, Chief Executive of Sheffield Teaching Hospitals NHS Foundation Trust, said: "This is wonderful news, and I would like to congratulate Thushan on this richly deserved award and his outstanding contribution to Covid-19 research. Sheffield Teaching Hospitals NHS Foundation Trust and the University of Sheffield have a long and proud history of collaborating to deliver pioneering national and international research. This is great news for the city and a fitting acknowledgement of the whole team's remarkable efforts throughout the pandemic."
Professor Koen Lamberts, President and Vice-Chancellor of the University of Sheffield, said: "We are very proud of Thushan and his critical work throughout the Covid-19 pandemic. The COG-UK consortium has been vital in helping us to understand the virus and has informed the national and global response. This recognition is greatly deserved and I would like to congratulate Thushan and his team on their achievements."
---
Additional information
Flagship institutes
The University's four flagship institutes bring together our key strengths to tackle global issues, turning interdisciplinary and translational research into real-world solutions.