University of Sheffield a partner in world's first quantum devices foundry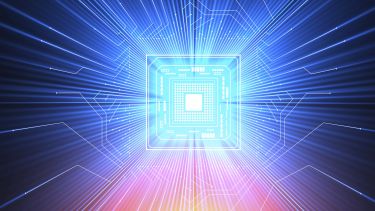 University of Sheffield researchers are part of a new consortium that will bring quantum devices to 21st century applications
Quantum technologies are on the brink of emerging from the realms of the laboratory and science fiction into a wide range of industrial and consumer products that will affect the way we live, work and spend our leisure time
Adoption of quantum systems has been held back by the lack of widely available quantum photonic components
Foundry will upscale the manufacture of quantum photonic components that are critical to quantum systems
Quantum technologies are on the brink of emerging from the realms of the laboratory and science fiction into a wide range of industrial and consumer products that will affect the way we live, work and spend our leisure time.
The University of Sheffield is part of a new consortium of academic and industrial partners that will bring quantum devices to 21st century applications. By delivering a national open-access quantum device foundry in the UK, the project will enable accelerated development of technologies for quantum communications, computing, imaging and sensing applications.
Semiconductor device manufacturing facilities are referred to as foundries, where a number of complex processing steps turn materials (wafers) into semiconductor chips. Several ground-breaking applications have emerged in the past decade, but market adoption of quantum systems has been held back by the lack of widely available quantum photonic components, referred to as QPCs.
QFoundry is a £5.7 million programme that is part-funded by the UK Quantum Technologies Challenge, led by UK Research and Innovation. The project will utilise standard semiconductor techniques to upscale the manufacture of QPCs that are critical to quantum systems.
The University of Sheffield's activity in QFoundry is led by Professor Jon Heffernan, Director of the National Epitaxy Facility in the University's Department of Electronic and Electrical Engineering. This national facility is already providing semiconductor wafers to UK researchers in over 22 leading universities and is pioneering the development of semiconductor quantum devices.
The facility is now part of the Sheffield Quantum Centre at the University which was officially opened at the beginning of 2020 and brings together more than 70 of the University's leading scientists and engineers from the Departments of Physics and Astronomy, Electronic and Electrical Engineering and the Department of Computer Science to develop new quantum technologies.
Professor Jon Heffernan, Professor of Electrical Engineering at the University of Sheffield, said: "This is a very significant development for the growth of quantum technologies as a key industrial strength in the UK. For many years the gap between basic research and the commercialisation/manufacture of devices has held back important progress. With this project we have a major opportunity to accelerate technology development with an excellent academic-industrial partnership and a clear strategic investment from Innovate UK.
"We are delighted to be a part of this consortium and to provide the benefits of the University of Sheffield's long-standing expertise and research in semiconductor quantum devices."
Initial projects for the foundry model include Vertical Cavity Surface Emitting Lasers (VCSELs) for commercial grade atomic clocks and atomic magnetometers, and Single-Photon Emitters (SPEs) and detectors for quantum communications, computing, imaging and sensing applications.
The consortium is led by the Compound Semiconductor Centre (CSC) and comprises  Amethyst Research, Bay Photonics, Compound Semiconductor Applications Catapult, CSconnected, Cardiff University, Integrated Compound Semiconductors (ICS), IQE, Microchip Technology Caldicot, National Physical Laboratory (NPL), Toshiba Europe, University of Cambridge and the University of Sheffield. It will build on regional excellence to deliver a national open-access quantum semiconductor device foundry.
Wyn Meredith, Director of CSC added: "Wide-scale adoption of quantum systems needs robust, reliable and volume supply of QPCs to integrate into products, but platform QPC technologies do not yet exist. QFoundry can perhaps be described as the missing piece in a portfolio of innovative projects ranging from atomic clocks to quantum key distribution, all of which need a pathway to volume production of quantum semiconductor devices and the project will lay the groundwork towards the availability of these devices."
The organisations involved have already pushed the boundaries on state-of-the-art quantum devices and will now build on this capability to create the foundations for robust, scalable component manufacture in the UK to reduce barriers to commercialisation of quantum technologies.
For more information about the project, contact Professor Heffernan on Jon.Heffernan@sheffield.ac.uk 
Contact
For further information please contact: