University of Sheffield ranked as one of top 50 in the world and top 10 in the UK for action on sustainability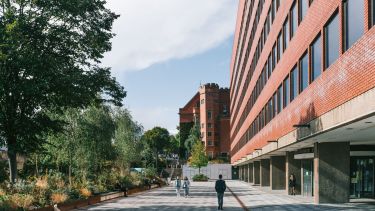 The University of Sheffield has been ranked as one of the top universities in the world for its work on sustainable development
2023 Times Higher Education (THE) Impact Rankings has placed Sheffield 42nd in the world, from over 1700 institutions, and 8th in the UK for its progress towards the United Nations' Sustainable Development Goals
Sheffield has been ranked 9th globally for action on Responsible Consumption and Production (SDG12) and in the top 15 for Peace, Justice and Strong Institutions (SDG16) and Climate Action (SDG13)
This year is the first time that Sheffield has been included in the rankings and it scored full marks on a range of metrics, including support for student and community food programmes, high percentage of students with disabilities and its work to embed sustainability topics into the curriculum
The University of Sheffield has been ranked 42nd in the world and 8th in the UK for its work on sustainable development in the 2023 Times Higher Education (THE) Impact Rankings. 
Over 1700 institutions around the world took part in the 2023 rankings, which measure the progress universities across the globe are making towards the UN's 17 Sustainable Development Goals (SDGs). The SDGs are a series of interlinked social, environmental and economic objectives which make up sustainable development.
Sheffield's individual rankings included 9th globally for action on Responsible Consumption and Production (SDG12) and in the top 15 for Peace, Justice and Strong Institutions (SDG16) and Climate Action (SDG13).
Scores for each SDG were awarded for efforts across four broad groupings; research, stewardship, outreach and teaching. The University scored full marks in a diverse range of metrics, including the number of patents it holds; support for student and community food programmes; its high percentage of students with disabilities; and its work to embed sustainability topics into the curriculum. It also scored highly across areas such as its high percentage of recycled waste on campus; its support for ecosystems, for example through its 2:1 tree replacement policy and biodiversity action plan; and its 100 per cent renewable electricity contracts.
In addition, much of the University's leading sustainability research, including through its Energy and Sustainable Food Institutes, the South Yorkshire Sustainability Centre, the Institute for Global Sustainable Development and the Grantham Centre for Sustainable Futures, scored highly across the SDG measures.
Professor Sue Hartley, Vice-President for Research and Innovation and Institutional Lead for Sustainability at the University of Sheffield said: "This is the first time the University of Sheffield has been included in the THE Impact Rankings, so we are delighted to have achieved a top 50 globally and top 10 position in the UK. This gives us a strong benchmark for us to continually improve our actions and policies, as well as giving our staff, students and the wider community confidence that we are committed to becoming one of the most sustainable research-intensive universities in the country.
"The Sustainable Development Goals help to remind us that 'sustainability' is a broad and diverse topic and that we have to take action in a number of interlinked social, environmental and economic areas simultaneously if we want to create a sustainable society for the future."
Sam Timson, Welfare and Sustainability Officer at Sheffield Students' Union, said: "It is encouraging to see our university ranked so highly in terms of sustainability in the UK. Our campus community are becoming increasingly more aware of the challenges that we face and the changes we need to make in order to be a positive force in the global response to the climate crisis. Sheffield Students' Union will continue to work closely with the University in the future to help ensure we are a sector leader in this area."
Phil Baty, Chief Knowledge Officer at the Times Higher Education, said: "The Times Higher Education Impact Rankings, now in its fifth year, is establishing itself as one of the world's most important university rankings. It moves away from the traditional and more narrow approach to rankings and looks at far broader issues - examining how universities' are improving our world.   
"I'm especially impressed to see how well British universities are doing – taking more than a quarter of the top 100 places in the overall ranking and with a real diversity of institutions showing excellence. It is testament to how seriously those institutions take those critically important goals and how the UK higher education sector is taking a global lead on international sustainability issues. It is also inspiring to see even more universities participate and see countries that don't normally rank so highly do so well.  
"This is an extremely valuable tool for universities, governments, funders and policymakers to understand how universities are supporting the drive to meet the UN's SDGs and what must be done to improve their performance even further in this massively important area.  
"The rankings are also vital for millions of prospective students who are increasingly demanding to see evidence that the universities they consider for their education are committed to sustainability and to helping them to become sustainably minded citizens."   
More information on the University of Sheffield's progress towards the UN's Sustainable Development Goals.