University of Sheffield receives record donation to support disadvantaged students and pioneering medical research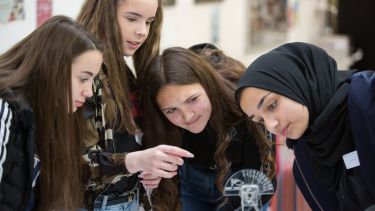 The University of Sheffield has received the single biggest charitable donation from an individual in its 116-year history to help support students who traditionally may not consider that university is for them and to fund vital medical research
The Law Family Charitable Foundation (LFCF) is donating £5.85 million to Sheffield
LFCF was established in 2011 by Andrew and Zoë Law, and has supported a range of charitable initiatives with an emphasis on education and health
£2.85 million has been donated to launch a range of activities to help students from demographic areas with low progression to higher education access university, support their success and confidence in their studies and go onto develop successful careers
£3 million has been donated to fund crucial medical research into gene therapy for rare diseases that have devastating impacts on people's lives
The University of Sheffield has been given £5.85 million - the largest single gift from an individual alumnus in its history - to launch a new student support programme and search for new therapies for a range of incurable and debilitating diseases.
The record donation has been made by The Law Family Charitable Foundation (LFCF), which was established by Andrew and Zoë Law to support charitable initiatives with an emphasis on education and health. 
Andrew Law is Chairman and CEO of Caxton Associates - a global macro hedge fund. He studied Economics at the University of Sheffield and graduated with a First Class honours degree in 1987.
The new student support initiative, named The Law Family Ambition Programme, will run over a five-year period to help disadvantaged students from low participation backgrounds access university, support their success in higher education and help them develop the skills, confidence and social abilities to graduate into successful careers.
It will fund new scholarships, academic mentoring, residential summer schools, career mentoring from successful Sheffield alumni, networking coaching, work placements and employability and skills workshops with businesses.
The landmark donation will also enable the University of Sheffield to expand and enhance its Discover outreach programme, which widens access to professions for pupils from disadvantaged backgrounds throughout the north of England.  
Andrew Law said: "The Law Family Charitable Foundation is delighted to support the University of Sheffield with the grant award. Since being established in 2011, LFCF has focused upon education and health, together with social mobility and the environment. 
"The country will only prosper if all of society has the access should it wish to participate fully in leading education opportunities, and supporting the disadvantaged is central to this. I owe a large part of my success to the University of Sheffield and we would like others to have equal opportunities. We are providing £2.85 million to launch a range of activities to help students from disadvantaged backgrounds help gain access and also be supported at the University."
The medical research donation will fund innovative research that could lead to the development of medical therapies for a range of rare genetic diseases which have a devastating effect on people's lives.
The University is already part of a new consortium which aims to accelerate the development of advanced therapies allowing potentially transformative treatments to reach patients sooner. However, the donation will enable the University to develop further partnerships with biotech and pharma companies to help accelerate gene therapy programmes and clinical trials for rare diseases at the same time as supporting regional economic growth and job creation.
The donation presents a real opportunity to drive innovation and excellence in the area of gene therapy and to catalyse the creation of new start-up companies to facilitate commercialisation in the North. 
Andrew Law said: "It is imperative that more leading UK universities expand their research, exploit their immense expertise for the greater good, and commercialise their success thus creating further growth. The University of Sheffield is developing a national and global reputation in gene therapy. Investing in new medical technology is very capital intensive but is critical to combat rare genetic diseases and cancers. With this in mind we are contributing £3 million to fund the next phase of the gene centre's growth."
Professor Koen Lamberts, President and Vice-Chancellor of the University of Sheffield, said: "We would like to thank Andrew, Zoë and The Law Family Charitable Foundation for making such a generous gift to the University. This donation will make a huge difference to the work we do here at Sheffield. It will drive the next crucial step in research to tackle a range of diseases for which there is currently no cure, as well as provide vital support to students and young people who are considering applying to university. The gift will have a real impact and we are extremely grateful."  
For more information on the Law Family Charitable Foundation please visit:
https://www.lawfamilycharitablefoundation.org/
Contact
For futher information, please contact: