University of Sheffield renews commitment to sustainable investment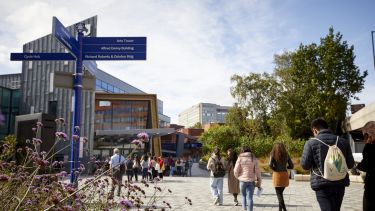 The University of Sheffield has signed a new declaration of climate expectations, reaffirming its commitment to ensuring its investments are managed sustainably
The new commitment builds on the University's divestment from shares in fossil fuel companies in 2019
The University is a founding signatory of the declaration which was launched at COP26 by Students Organising for Sustainability (SOS-UK)
The University of Sheffield has become a founding signatory of a new declaration of climate expectations, which sets out the minimum climate commitments it expects from the companies managing its investments (asset managers). 
The new declaration is a reaffirmed commitment to ensuring the University's investments are managed sustainably and responsibly, building on its divestment from shares in fossil fuel companies completed in 2019. 
Signatories to the 'COP26 declaration: asset owner climate expectations of asset management', launched in Glasgow at COP26 by Students Organising for Sustainability (SOS-UK), commit to use its eight minimum standards in investment manager reviews and tenders to help establish them as market norms. 
It follows concern that the asset management industry is failing to address the climate crisis with appropriate urgency. Last year, it was found that only 21 per cent of the 75 largest managers had a dedicated climate policy, and only 16 per cent had a coal exclusion policy.
In summary, the declaration states:
Asset managers should adopt an investment strategy covering all assets under management to achieve net zero emissions by at least 2050.
Asset managers should exclude coal and tar sands, at a minimum, and actively seek investments in solutions to climate change. 
Asset managers should have a default position to vote in favour of all climate resolutions bought by shareholders at company AGMs and provide an explanation for any votes against. 
Asset managers should engage in active shareholder engagement on 1.5°C aligned transition plans, with short and medium term science aligned targets; and implement robust engagement escalation policies, including votes against directors and co-filing shareholder resolutions. 
Asset managers should regularly disclose all investment holdings, voting records and engagement activities.
The University's endowment investment policy ensures that its investments are managed responsibly, with no shares held in companies involved in oil and gas production, the manufacture of armaments, tobacco production or non-pharmaceutical products that have been tested on animals for cosmetic or other non-medical purposes. It also expects its asset managers to actively seek opportunities for the University's investments to promote sustainable and environmentally friendly practices.
The initiative has been co-ordinated by Students Organising for Sustainability (SOS-UK) and Friends Provident Foundation, in partnership with the Charities Responsible Investment Network (CRIN) and Responsible Investment Network –Universities (RINU).
The full declaration, as well as the list of signatories, can be found at www.cop26declaration.uk. 
The University worked closely with Sheffield Students' Union to sign the declaration, one of a number of actions it's considering with its investment managers Sarasins to ensure its investment policies have a positive impact.
Jo Jones, Chief Financial Officer at the University of Sheffield said: "We understand the damage the fossil fuel industry continues to do to our planet and we are committed to investing our funds in a socially responsible way. The University of Sheffield was one of the first universities to declare its intention to divest from fossil fuels in 2015 and to complete this process in 2019. We know how much our students care about this issue and want to see their university taking active steps to reduce reliance on fossil fuels, which is also why we only use 100 percent renewable electricity on campus and have set a target of being net carbon neutral by 2038.
"We're now working with our students to explore how our endowment investments can be used to support companies that have a positive environmental and social impact."
Anesu Matanda Mambingo, Welfare and Sustainability Officer at the University of Sheffield's Students' Union, said: "This declaration is another example of students being an integral driving force in our response to the climate crisis. Tireless campaigning from student groups has created a legacy of positive sustainable change at the University of Sheffield, including its divestment from fossil fuels.
"It's encouraging to be working with a University who are willing to listen and take the lead in responsible finance which helps to protect our future. I look forward to us remaining ambitious and intentional in our work to further develop an endowment policy which has the biggest possible positive impact on people and planet."
Colin Baines, Investment Engagement Manager at Friends Provident Foundation said: "The variance in standards from asset managers making similar climate commitments and claims is huge. As asset owners, we wish to send a strong market signal and draw a line on greenwashing by establishing a baseline to judge them against. For example, we expect managers that claim to support the Paris climate agreement or net zero targets to vote in favour of aligned shareholder resolutions. It is incredulous that so many managers vote against their stated climate objectives, often more than they vote for them."  
---
Contact
For further information please contact:
A world top-100 university
We're a world top-100 university renowned for the excellence, impact and distinctiveness of our research-led learning and teaching.