University of Sheffield staff and alumni recognised in 2023 New Year Honours List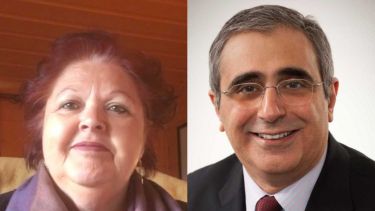 Staff and alumni from the University of Sheffield have been recognised by His Majesty The King in the New Year Honours List.
Professors Cathy Nutbrown and Mohamed Pourkashanian have been honoured for their work and impact on society.
Professor Nutbrown, from the School of Education, has been awarded the title of Dame Commander of the Order of the British Empire (DBE) for her services to early childhood education.
She said: "I see our research in early childhood education at the University of Sheffield recognised in this award. I want to thank colleagues, practitioners, families and organisations for their involvement and sustained collaboration over several decades. Working with so many committed professionals who work with families to enhance their young children's early literacy and learning is a great privilege. 
"There is still much to do in terms of early childhood education policy and practice so that those who work with young children are well qualified and rewarded, and young children experience high quality early childhood education and care. As President of the British Association of Early Childhood Education it is particularly apt to receive such recognition as the charity marks its centenary year."
Professor Mohamed Pourkashanian, Head of our Energy Institute, has been recognised with an Order of the British Empire (OBE) for his services to net zero research and innovation.
Professor Pourkashanian said: "I am incredibly honoured to be a recipient in the New Year Honours. I wish to thank everyone who I have worked with over the years for their help and dedication in our projects. This award means a great deal to me as it recognises the importance of research and innovation in implementing the net zero strategy.
"After a career working to understand and drive forward the research and technology we need to achieve net-zero and a zero-carbon future, I am pleased that we, as a society, have started to make significant progress. However, we must continue to innovate and grow our potential for a cleaner, greener, and more secure energy future both nationally and globally, and I am committed to working with some of the best minds in the sector to make it happen."
Professor Cathy Nutbrown
Professor Nutbrown began her career as a teacher, later working on continuing professional development with early childhood teachers. 
Together with Emeritus Professor Peter Hannon in the School of Education, she developed and ran the Sheffield Raising Early Achievement in Literacy project, bringing together our University, the local education authority and many Sheffield schools to promote family literacy work with parents of preschool children. 
Professor Nutbrown established a masters course in Early Childhood Education in 1998 and a Doctoral Programme in Early Childhood Education in 2008. She has been nominated by her students, and recognised by the University, as an inspirational teacher. She has supervised over 100 masters' and 30 doctoral students' studies in early childhood education. Many of her former students now hold positions in universities and early childhood services in the UK and beyond. 
In 2012, she chaired a year-long independent review of Early Education and Childcare Qualifications for the government, known as the Nutbrown Review – this work is still referenced as the definitive analysis of the requirements for high quality early years workers. 
In 2013 her family literacy research was awarded the Economic and Social Research Council prize for Outstanding Impact on Society and continues to influence early years practice. That year, she also received the Lifetime Achievement Award for her contribution to early childhood education. 
Professor Nutbrown's current research centres around family literacy and home learning, and involves practitioners and charities across the country in early years settings, communities, local authorities and prisons. The impact of her research at the University has been recognised in the last two REF exercises.
Professor Nutbrown is Editor-in-Chief of the Journal of Early Childhood Research, which is known to be a distinctive, leading voice in early childhood research, and has served on the editorial boards of other journals in her field. 
She has been a referee for Research Council funding bodies and many academic journals and publishers, and is Honorary President of the British Association for Early Childhood Education, the leading national charity for early years professionals.
Professor Mohamed Pourkashanian
As Head of the University's Energy Institute, Professor Pourkashanian is leading our efforts to find low-carbon solutions to the world's biggest energy challenges. 
He is also the managing director of two world-leading Research and Development (R&D) facilities at the University – the Translational Energy Research Centre and the Sustainable Aviation Fuels Innovation Centre – both of which are playing a key role in testing and developing new low-carbon fuels. He also leads the University's Energy2050 initiative, one of the UK's largest energy research institutes.
A Chartered Engineer, Professor Pourkashanian chairs the International CCS Test Centre Network, which is dedicated to enabling carbon capture test facilities around the world to progress the technologies that will be a key component of our clean energy future. He is also involved in addressing the big societal challenges being faced by UK businesses today through his membership in UKRI's Industrial Strategy Challenge Fund, as well as supporting the industry in decarbonising in line with net zero via his membership in the Industrial Decarbonisation Advisory Group, with focus on hydrogen.
Beyond this, he is the General Secretary of International Flame Research Foundation, whose mission is to facilitate access to and spread combustion research worldwide. 
Professor Pourkashanian has completed a wide range of major research projects on clean energy technology, receiving grants from the Engineering and Physical Sciences Research Council, European Union, and NATO. During his career at the Universities of Sheffield and Leeds, Mohamed has managed over 100 research contracts and grants in relation to clean energy. 
Professor Pourkashanian and his students have authored almost 500 publications in journals and conference proceedings and have co-authored several books on solid fuels and biomass combustion. As a dedicated educator, he has graduated over 87 PhD candidates and supervised over 40 postdoctoral scholars and research associates. 
University of Sheffield alumni recognised in the New Year Honours List include:
CBE (Commander of the Order of the British Empire)
Professor David C. Crossman (Former Staff) was recognised for his services to Public Health in Scotland. He is currently the Chief Scientist (Health) for the Scottish Government.
Professor Andrew D. Curran (Honorary Professor) was recognised for public service. He is currently the Chief Scientific Adviser and Director of Research at Health and Safety Executive.
Peter J. McGhee (BSc Maths 1986; Postgraduate Certificate in Education 1987) was recognised for his services to Further Education. He is currently the Principal at St John Rigby Sixth Form College in Greater Manchester. 
OBE (Member of the Order of the British Empire)
Ewen M. Harrison (Statistics 2012; MSc Stats with Med App DL 2015) was recognised for his services to the Covid-19 Response. He is currently the Professor of Surgery and Data Science at the University of Edinburgh. 
MBE (Member of the Order of the British Empire)
Oluwole O. Folayan (BEng Chemical Process Engineering and Fuel Technology 1999) was recognised for his services to Equality, Diversity and Inclusion in Engineering. He is Co-founder of the Association for Black and Minority Ethnic Engineers UK.
Dominic Jacquesson (MSc Occupational Psychology 1994) was recognised for his technology and entrepreneurship services. He is currently Vice President of Insight and Talent at Index Ventures.
David (Barney) N. Lerner (Former Staff) was recognised for his services to the Environment in Bradford, West Yorkshire.
Dr Shaid Mahmood (PhD Chemistry 1993) was recognised for his services to Further Education in Leeds. He is currently Chair of Governors at Leeds City College Group.
Charles J. Ritchie (Applied Maths and Computer Science 1975; MA World Music Studies DL 2011) was recognised for his services to Charity and to the Families Bereaved by Gambling Related Suicides. He is Co-Founder of Gambling with Lives. 
June D. Sanders (BA English, 1966) for her services to Charity and Mental Health. She is the President of Family Lives. 
Professor Helen M. Sweetland (MBCHB Medicine 1983; MD Medicine 1992) was recognised for her Patient Care and Medical Education services. She is currently an Emeritus Professor at the School of Medicine in Cardiff University. 
Helena Whitbread (Honorary D.Litt, 2023) was recognised for her services to History and to Literature. She is a Historian and Editor. 
BEM (Medal of the Order of the British Empire)
Mark B. Glossop (BEng Mining, 1959) was recognised for his services to the community in Worcester.
---
Contact
For further information please contact:
A global reputation
Sheffield is a research university with a global reputation for excellence. We're a member of the Russell Group: one of the 24 leading UK universities for research and teaching.