University of Sheffield start-up secures £4m investment to bring 'world first' sensor to mass market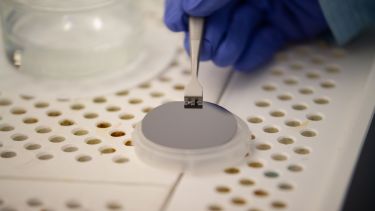 A University of Sheffield spin-out company has secured major investment from leading deep tech investors to bring its high-performance infrared sensors to the mass market
Phlux Technology has designed the first infrared sensors for LiDAR using the semi-metal element, antimony, which surpass the capabilities of silicon-based sensors and is set to reshape the market for robotics and self-driving machines
LiDAR systems are the technology that enables autonomous machines - such as cars and robots - to control and navigate
Sensors from Sheffield start-up are 10 times more sensitive and have 50 per cent more range than the current approach
A University of Sheffield spin-out company has secured the backing of leading deep tech investors to bring its revolutionary infrared sensors - a game changer for robotics and self-driving machines - to the mass market.
Phlux Technology, which has designed high-performance sensors that surpass the capabilities of silicon-based sensors, has secured £4 million in seed funding in a round led by Octopus Ventures. 
Spun-out of Sheffield's Department of Electronic and Electrical Engineering - known as a world leader in semiconductor R&D - Phlux has developed infrared sensors using the semi-metal element, antimony, which dramatically improves their performance in LiDAR systems - the technology behind the control and navigation of autonomous machines, such as cars and robots. 
The sensors developed by the Sheffield start-up are the world's first antimony-based LiDAR sensor chips with architecture that is 10 times more sensitive and has 50 per cent more range compared to silicon-based sensors. Its design also reduces the cost of manufacture of LiDAR sensors, opening them up to mass market adoption.
This radical new approach underlines the limitations of silicon-based sensors and how they struggle to enable low-cost autonomous applications.  
Ben White, CEO and co-founder of Phlux Technology, said: "Our ambition is to become the Nvidia of the sensor market starting off with delivering the world's first LiDAR sensor chip using antimony. 
"Industry will never achieve full autonomy with LiDAR if it relies on silicon-based sensors, so our approach will reshape the sensor market for robotics and self-driving machines. 
"We are delighted to be spinning Phlux out of the University of Sheffield at a time when it has ambitious plans to become a global centre of excellence for semiconductor research and the UK is looking to demonstrate its capabilities as a global science superpower."
Infrared sensors, such as those that Phlux is building, have applications beyond LiDAR in satellite communications and enabling Internet in remote regions, fibre telecoms, autonomous vehicles, gas sensing and quantum communications.
Amy Nommeots-Nomm, Deep Tech Investor, Octopus Ventures, said: "We are delighted to be leading this investment round for Phlux Technology, as this innovative breakthrough is critical to the future direction of transport, communication and emission monitoring systems. Today, there is market consolidation among the silicon-based sensor companies, precisely because they can't solve the problem that Phlux has cracked, making its potential hugely exciting."
Investors backing Phlux Technology
The range of investors backing the start-up include Northern Gritstone - the investment company chaired by Lord O'Neill that is seeking to boost the commercialisation of university spin-outs in the North of England. It's the second Sheffield-based start-up to receive investment from Northern Gritstone, since it was launched by a consortium of northern universities in 2021.
Duncan Johnson, CEO, Northern Gritstone, said: "Phlux Technology is a fantastic example of the exciting new generation of science and technology businesses in the North of England turning research into reality. The company's innovative approach demonstrates how world beating technology, with the potential to change entire industries, is emerging from the Sheffield, Leeds and Manchester triangle. Northern Gritstone exists to support and supercharge businesses like Phlux."
Investors also include the Foresight Williams Technology Fund, the Innovation Fund, industry specific angels and grant funding from Innovate UK. 
Matthew Burke, Head of Technology Ventures at Williams Advanced Engineering, said: "Increasing sensor performance whilst driving down cost are key enablers for accelerating the uptake of higher levels of driving automation and with this seed funding, we look forward to seeing Phlux's sensor technology transition to full commercialisation."
How Phlux overcomes the limitations of silicon-based sensors
Phlux Technology was founded by Ben White, CEO, Professor Jo Shien Ng and Professor Chee Hing Tan, who met at the University of Sheffield where they researched novel semiconductor materials and devices for infrared detection. Unlike Moore's Law for semiconductors which predicts performance improvement every 18 months, infrared sensors (InGaAs) have reached a plateau in terms of performance. 
Having studied alternatives for more than 10 years, the founders identified Antimony as a material capable of revolutionising the LiDAR sensor market. It opens access to the 1550nm infrared space, offering higher sensitivity and capacity as it operates in the 'eye safe' region of the electromagnetic spectrum. Well over 1,000 times more photons can safely be launched compared to silicon based emitters, enabling antimony-based sensors to see further, with greater pixel density at a mass market cost. 
In the first stage of commercialisation, Phlux has developed a single element sensor with world leading sensitivity that is retrofittable into today's LiDAR systems and will be part of the Phyllo series product line. 
Longer term Phlux is building an integrated subsystem and array modules forming a high performance sensor toolkit and over the next year, it will grow its engineering team in areas such as fabrication, mixed signal circuit design, optics and test. 
Phlux is at the heart of cutting-edge semiconductor technology
According to the Semiconductor Applications Catapult, the UK compound semiconductor market was worth around $8bn in 2020 rising to $11bn in 2024, which is around 8 per cent of the global market and the global market for compound semiconductor components is expected to reach $43 billion by 2025. 
techUK highlights the UK's strength in semiconductor design and intellectual property (IP) with 110 design firms based in the country, as well as leadership in non-silicon-based compounds – the field that Sheffield start-up is emerging into. 
Phlux is based in one of the world's leading centres for III-V semiconductor research with world class research and facilities at the University of Sheffield, including The National Epitaxy Facility, which was awarded £12 million in funding from UK Research and Innovation (UKRI) to support the UK's position as a global power in semiconductor R&D earlier this year.
Contact
For further information please contact:
Flagship institutes
The University's four flagship institutes bring together our key strengths to tackle global issues, turning interdisciplinary and translational research into real-world solutions.