Wall of Women to help inspire more girls to study engineering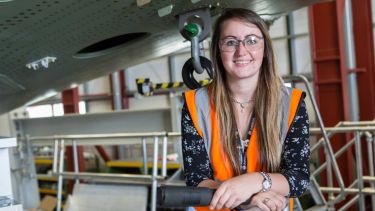 Women engineers from the University of Sheffield are sharing their own personal stories to help more girls study and develop careers in the industry
Stories are being shared through a Wall of Women featuring some of the excellent and inspiring women who have studied, worked or graduated from the University of Sheffield over the past five years
Wall of Women aims to break the preconceived notions of what engineering is and help to show why engineering is a great choice for women
Women engineers from the University of Sheffield are sharing their own personal stories in order to help more girls study engineering and go on to develop a career in the industry. 
The Wall of Women, launched by the University's Faculty of Engineering, features the personal stories of some of the women who have studied, worked or graduated into successful careers in engineering from Sheffield over the past five years.
From Josie Colclough a Lead Repair Design Engineer at Airbus to Amy Nicholson, who started her career as a Technical Evangelist in DX at Microsoft, the Wall of Women provides an insight into the lives of some of the excellent and inspiring women engineers to help girls learn more about the potential opportunities available to them and help them see themselves studying and working in the industry. 
The wall aims to break the preconceived notions of what engineering is and show why engineering is a great choice for women. 
Among the engineers on the wall is Amy Nicholson, who studied Computer Science and went on to start her career as a Technical Evangelist in DX at Microsoft. 
"I chose computer science mainly because I really enjoyed subjects like maths, IT and design," Amy said. "The learning that I got from the University of Sheffield was really fantastic as the department was brilliant and it didn't matter that I came in with no coding experience previously as I was able to get up to speed and start learning new stuff. That led me to apply for an internship here at Microsoft and then I finally came back in as a graduate which has been fantastic."
Speaking about her role as a Technical Evangelist, Amy said: "It's an interesting name and not many people outside the technology industry will know what it means. I work in a department called Developer Experience so I work with developers and organisations to envision and inspire them to build with some of the latest technologies and solve some of their problems and improve some of their solutions. As part of that, which is very high level, I tend to do things like attend events and speak to a lot of developers and businesses. We also host events as well as producing online content that people can learn from and also do things like hackathons so we are building with people and helping them envision new ideas.
Reflecting on the highlights of her career, Amy said: "I think the overall theme is inspiring people to get as excited as I am about new technology. To start learning and building it and that's everything from teaching kids to code with the BBC micro bit and just seeing that amazement when they first write a line of code, to going to events and being able to produce something really well, be that in Belgium or at our Headquarters in Seattle where I filmed for the day on their science degree program - offering that expertise, that insight, and be able to inspire people to be as excited as I am."
Alongside Amy on the Wall of Women is Opusaziba Aranye-Okilo, a PhD student in the University's Department of Chemical and Biological Engineering.
Describing her journey towards studying for an engineering PhD, Ziba said: My decision to do a masters at the University of Sheffield and a PhD wasn't a difficult one to make - I remember after finishing my undergraduate degree I had a plan which was to get a job, get married and make babies. But I knew that plan, considering the kind of parents I had, wasn't going to see the light of day. I remember my mum encouraging me after my undergrad to go in for a masters degree.
"I knew I wanted to do something related to the environment and I knew I wanted to do something also related to renewable energy, but I didn't know how I was going to have that combination, but I remember checking top schools in the UK and I found out that the University of Sheffield offered Environmental and Energy Engineering. I looked through the modules and found that I could actually get a better understanding of what the environment was about and alongside that what renewable energy was about so I didn't think twice about it, I went for it."
Dounia Bakira, an Applications Engineer at Rotherham-based AESSEAL, had a difficult journey to becoming a chemical engineer, but she graduated with a first class degree. Dounia has shared her story through the Wall of Women in the hope of inspiring others.
Dounia said: "After moving to the UK from Morocco and after four years of marriage, I found myself divorced with a two year old daughter. I felt lonely, hopeless and sad. A change in circumstances meant I had to find a new way to support my daughter. I started my journey by studying GCSEs at Liverpool City College, then moved to Bradford to study A levels since it offers day time courses for mature students.
"The diversity in the university offered a welcoming atmosphere, where I felt comfortable to grow and build connections with people from diverse backgrounds. I saw opportunities for personal development and enhancing my soft skills through the many societies and activities.
"As well as achieving a first class degree, I have been a member of the Women in Engineering Student Society, acquired a scholarship and done two internships: at the University of Sheffield and at the University of Sheffield AMRC.
"Humanity is currently facing, and will continue to face, challenges in the future, so engineers will play a central key role in tackling these challenges. Therefore, there are infinite career opportunities for engineers as a whole."
Lavanya Balasubramanian studied a Masters in Robotics at the University of Sheffield and went on to work as a Project Assistant for ASTUTE 2020. On deciding why she chose to study engineering, Lavanya said: "When I finished school, the mere fascination about problem solving is what made me take up engineering. Growing up, I did not have engineers around to guide me about all the things I could achieve. The question of "Why not?" is what pushed me towards this field. 
"Today, I am extremely glad that I took that plunge and over the years, my interest towards engineering developed radically. This drove me to pursue a Master's degree at Sheffield and it was the most empowering and enriching experience of my life. The opportunities I got to explore and the projects I got to be a part of further cemented my desire to be in this field."
Describing her role at ASTUTE 2020, Lavanya added: "ASTUTE's focus is towards sustainable manufacturing. My day-to-day work involves tackling the technical challenges of Welsh manufacturing companies through research and innovation. The Department of Automatic Control and Systems Engineering at the University of Sheffield offered an Industrial Training Module on Advanced Manufacturing which was a practical exposure to what a job in my field would be like. It was one of the most challenging and fulfilling modules of my course and it was a golden opportunity that led me to the job I do now."
One of the first people to feature on the Wall of Women was Heidi Christensen, Senior Lecturer in Computer Science. Heidi was first featured when she was working as a Research Associate. She has since got a permanent academic position in her research group - as the first female member - and is now the Director of Equality, Diversity and Inclusion in Sheffield's Faculty of Engineering.
"For me, the Wall of Women sends a very powerful message: I still remember the first time I came across it and the impact of seeing so many women engineers featured. Now, leading our EDI work in the Faculty, it is one of the many ways that we signal to the wider world that engineering is for everyone regardless of background and demographic characteristics," Heidi said.
"As a young girl, I was also interested in maths and science and for me, engineering was a great choice of degree as it allowed me to apply those core skills in a multitude of ways to solve various problems in the world.
"My research is a good example of this: I lead a team of researchers interested in using speech technology in healthcare. For example, we have developed a tool called CognoSpeak that looks for early signs of dementia in a person's speech and language. We hope that people will one day be able to use this tool when they go to their GP with memory problems. This will mean a quicker and more accurate diagnosis and it could save money for the NHS."
The latest addition to the Wall of Women is Josie Colclough, Lead Repair Design Engineer at Airbus. Josie studied Aerospace, Aeronautical and Astronautical Engineering at Sheffield and after graduating in 2016 joined Airbus' In-Service Daily Repairs team.
Sharing an insight into her job at Airbus, Josie said: "Airbus aircraft come with an Structural Repair Manual that defines certain types (e.g. corrosion, lightning strike, dents) and sizes of damage that are deemed acceptable and can be repaired by the airline/maintenance organisation based on the instructions in the manual. If the damage is found to be out of those limits, they come to us for repair instructions.
"My job is to design and sign-off on repair designs when the damage falls out of allowable limits. I work closely with stress and fatigue engineers as well as customer services to ensure jobs are answered in a timely manner and have a team of designers whose repairs I am responsible for signing off.  
"The highlight so far has to be having the opportunity to work in New Zealand, with Air New Zealand, for three months as part of my Graduate Scheme. It was an incredible experience from both a personal and professional point of view and an opportunity that I will be forever grateful for!"
Describing the best thing about being an engineer, Josie added: "The reaction you get when you tell someone you're an aerospace engineer! But seriously, the feeling at the end of each day that you've made a difference. In my case, every day I know that a repair that I've signed off has potentially prevented a flight from being cancelled and I've contributed to someone getting to where they want or need to go. In a more general sense, engineering has so much potential to shape the future and it's a great thing to be a part of."

More information on the University of Sheffield's work to encourage more girls and women to study engineering
Contact
For more information please contact:
A world-class university – a unique student experience
Sheffield is a research university with a global reputation for excellence. We're a member of the Russell Group: one of the 24 leading UK universities for research and teaching.