Why a reduction in international students would be bad for cities like Sheffield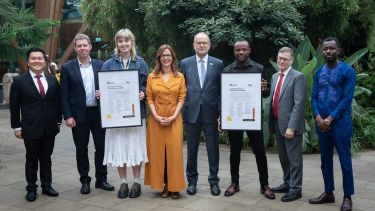 By Professor Koen Lamberts, University of Sheffield Vice-Chancellor and Professor Sir Chris Husbands, Sheffield Hallam University Vice-Chancellor
Originally published in the Yorkshire Post
This week, students from across the UK, and from further afield, have begun their studies at UK universities. 
Sheffield's two universities have welcomed thousands of new students to the city this month – of which many are international students. At the last count, there were over 16,000 international students studying at both universities in Sheffield from more than 150 different countries.  
International students are a vital part of our university community. They bring a real vibrancy to our campuses, sharing knowledge, perspectives and experiences that enhance the education of all our students. They also make our universities culturally richer places, in which students from different backgrounds work, learn and live together.
However, international students have an impact way beyond the campuses of both universities. They have an overwhelmingly positive impact on our region - not only economically, but culturally, and through many examples of volunteering and supporting local charities and organisations. 
When they graduate, they go on to be fantastic ambassadors for Sheffield, South Yorkshire and the UK, strengthening our links with countries around the globe. 
Despite all the benefits international students bring, earlier this year the Home Secretary announced a series of changes to the student visa route. This included placing further restrictions on international students bringing dependents to the UK in a bid to reduce headline net migration figures. 
However, unlike the other categories of migrants counted in net migration figures, the vast majority of students return to their country of origin and do not stay in the UK longer-term. Therefore, we would argue that any perceived reduction in real net migration is a costly short-term illusion.  
Restricting international student numbers threatens one of the UK's most successful exports, higher education, and could hold back economic growth, the levelling up agenda and efforts to regenerate our high streets in towns and cities up and down the country.  
This includes in South Yorkshire, where hundreds of jobs rely on the contribution of international students.
Fewer international students would also adversely impact the quality of education that both domestic and international students currently benefit from. It would reduce the diversity of perspectives, which is important for any good education, and it would further reduce the funding available to universities to provide this education and world-class research.
On a local level the economic impact is potentially huge. Sheffield is one of the UK cities that benefits most from international students. In economic terms, international students from the 2021/22 cohort brought a net economic benefit of £771.1 million across South Yorkshire. 
There is a direct link between limiting the number of international students in the UK and reducing revenue for local businesses, putting jobs at risk and making our high streets less vibrant. 
But there is also an impact on a personal level. International students are not a homogenous group, they are individuals with dreams and aspirations. And they contribute directly. They are the doctors and nurses in our hospitals, they are the teachers in our schools, they are the researchers in our universities helping to make breakthroughs that are improving life for us all. 
We value international students and are passionate about ensuring that their contribution to our society  and culture is celebrated. Seeking to reduce their numbers is a nonsensical move that will cause unnecessary damage to our communities, economy and cultural opportunities. 
That is why we have joined our two Students' Unions, local politicians and business leaders across the city and region to publish a statement in support of international students, outlining our commitment to welcoming students from all over the world. 
We are promoting this statement as part of the national #WeAreInternational campaign which began in Sheffield and is now driven by Universities UK and the UK Council for International Student Affairs (UKCISA). 
Sheffield has always been, and always will be, a welcoming city to people from all over the world. 
We implore the Government to rethink its policies on international students, but in the meantime, we will continue to make all our students and their families feel welcome.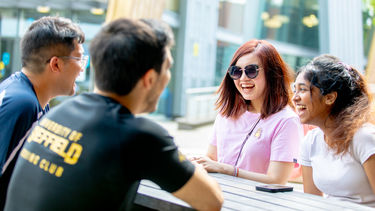 International Merit Scholarships
We offer a generous package of financial support for international students including 75 undergraduate scholarships worth £10,000 towards the annual tuition fee and 125 postgraduate taught scholarships worth £5,000 towards the tuition fee. Applications are now open for existing offer holders.