Workshop 1: Prioritising Patient and Public Involvement in Palliative Care Research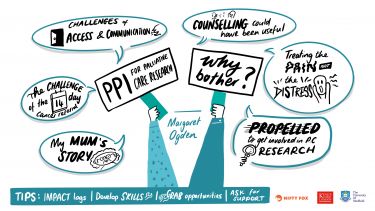 Patient and public involvement (PPI) is central to our work in the RE-EQUIPP care partnership. It is important that any new research funding applications we develop to improve integration between primary and palliative care services are relevant to patients and carers and reflect their experiences.
The first phase of our partnership activity focussed on improving access to patient and public involvement opportunities in palliative care research, particularly for those who are not usually engaged. 
In May 2020, we delivered an online workshop for researchers and PPI members to discuss research priorities and to identify how best to work together to build infrastructure, share good practice and increase opportunities for PPI in palliative care research.
The event was preceded by a workshop specifically for PPI members, in which people with experience of PPI in research worked together with new PPI members to discuss ideas and approaches to supporting everyone to have a voice in the partnership.
We will continue to work with our PPI members to develop a 'recipe book' of suggestions for enhancing PPI in palliative care research as the RE-EQUIPP care partnership progresses.
For more information about our approach to PPI and opportunities to be involved, you can download our RE-EQUIPP newsletter here, or contact Dr Sarah Mitchell (s.j.mitchell@sheffield.ac.uk)
Flagship institutes
The University's four flagship institutes bring together our key strengths to tackle global issues, turning interdisciplinary and translational research into real-world solutions.