Secondary school philosophy essay competition 2022
We are delighted to announce the annual University of Sheffield Philosophy Essay Competition for Year 10, Year 11 and Year 12 students in the UK is now open.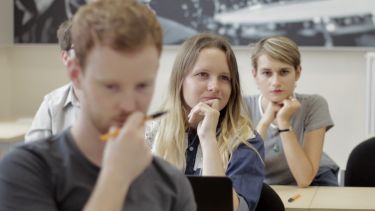 About the competition
The Sheffield Philosophy Essay Competition is now open and closes on Thursday 31 March 2022 at 5pm. Students in Years 10, 11, and 12 in the UK are invited to submit an essay on one of the topics below.  Only one essay per student is permitted. 
The prize
The authors of the ten best entries will each receive a prize of a £25 voucher and an invitation to take part in a special virtual workshop organised by the Department of Philosophy at the University of Sheffield, involving academics and current students from the department.  The Workshop will be held on Monday 9 May 2022.
The judges
The entries will be read and judged by a panel of experts from the Department of Philosophy at the University of Sheffield. 
How to enter
The competition is open to students in years 10, 11 and 12 in the UK. Please write an essay of around 1,000 words (but not more than 1,500 words) on one of the following topics.  Include a bibliography.  Essays should be the original work of individual students.  Please save your essay as a Word or PDF document and include your full name on the document and in the file name, for example: JOE BLOGGS - PHILOSOPHY ESSAY 2022.
To submit your entry, you must complete this form.  The form includes a Dropbox link that will allow you to upload your translation.  You must complete the entry form AND upload your entry using the Dropbox link.  Failure to do so may mean that your entry cannot be considered.
You must submit your entry before 5pm on Thursday 31 March 2022. 
Winners will be notified by Monday 25 April 2022.
Philosophy essay competition questions 2022:
You may submit an essay answering any one of the questions below.  To help start you off, we have suggested a resource for each question.  You do not have to write about each resource, these are just places for you to begin to explore each topic. If you wish, you may also choose your own question to write your essay - you can write about any philosophical issue you find interesting. Whatever question you choose to answer, make sure to write it down at the top of your essay.
1. Should we believe in free will?
Suggested resource: https://www.theatlantic.com/magazine/archive/2016/06/theres-no-such-thing-as-free-will/480750/ Online podcast: https://www.theguardian.com/science/audio/2016/nov/15/big-unknowns-is-free-will-an-illusion-science-weekly-podcast
2. Can climate campaigners justifiably engage in acts of uncivil disobedience?
Suggested Resource: http://justice-everywhere.org/punishment/resistance-against-climate-injustice-beyond-civil-disobedience/
3. Can idleness be a good thing? 
Suggested Resource: https://www.newstatesman.com/2020/08/why-bertrand-russells-argument-idleness-more-relevant-ever
4. Should there be greater public participation in the criminal justice system?
Suggested Resource: https://www.youtube.com/watch?v=N8kPN2bwRUc
5. Are you identical with your body?
Online video: https://www.youtube.com/watch?v=cYVFep0xFYs Daniel Dennett 'Where Am I?' Available online at: https://www.lehigh.edu/~mhb0/Dennett-WhereAmI.pdf
6. Can we distinguish between different cultures? If so, how?
Online video: https://www.youtube.com/watch?v=FaOJ71czAGQ Uma Narayan (1997), Dislocating Cultures.  Routledge. Chapter 1 'Contesting Cultures'
If you have any questions, please contact philessay@sheffield.ac.uk.
Good luck!
A world top-100 university
We're a world top-100 university renowned for the excellence, impact and distinctiveness of our research-led learning and teaching.