The Department of Philosophy have appointed two Race Equality Interns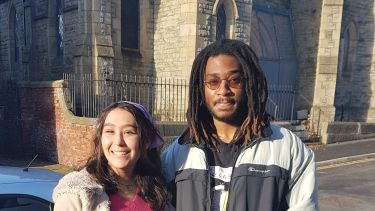 Congratulations to Tareeq O Jalloh and Charlotte Flores who have been appointed as Race Equality and Decolonisation Interns in the Department of Philosophy. They will be supporting the Department's Race Equality strategy in collaboration with Dr Jules Holroyd, Director of Equality, Diversity and Inclusion in the Department. 
Tareeq O Jalloh is a postgraduate research student studying Philosophy and Charlotte is a third-year undergraduate student studying Politics and Philosophy. We asked them both about their studies in the Department and why they were inspired to apply for the internship.  
---
Why did you choose to study Philosophy? What are you currently studying / do you enjoy studying?
​​​​​​
Tareeq: "I decided to study philosophy during my A-Levels. I took religious studies – comprising of philosophy of religion and ethics. I was intrigued by both the depth and breadth of philosophy; how arguments are carefully constructed, and the implications of arguments. I was also very confused about how to live my life, and I thought that philosophy would help in that regard. The scope of my current research is rap and oppression, specifically looking at whether the critical scrutiny rap receives is based in racist assumptions or misunderstandings."
Charlotte: "I wasn't introduced to philosophy in the American public school system. I did plead my case to join a university-level class when I was in my late teens just to study Philosophy in my high school. I was allowed to study it and I really enjoyed it. I had always been the type of person to ask questions about a lot of big things and when I realised there was a subject that allowed me to do that it was very exciting for me. As I learned more about philosophy, I realised there were so many different things under the scope which really helped me in my decision to study it. It was great knowing I could choose what to study as it enabled me to find my own path. I had always liked independent work and research and philosophy allowed me to do both. My favourite areas of philosophy are moral and ethical philosophy. I'm also quite interested in politics including systems of oppression, including race, class and gender oppressions, as well as human and animal relationship oppressions which is one of my main research interests." 
---
What inspired you to apply for the role of Race, Equality and Decolonisation Intern?
Charlotte: "I was inspired to apply for the role because having lived in the US, race has always been a prominent social and political issue, especially in recent years. Having experienced it first-hand as a Mexican woman living in the US and having lived in other countries, I was able to see how oppression worked across cultures and in different countries. I think that oppression, racism and inequalities can crop up in lots of different sectors in society and sometimes we don't even notice them - sometimes people don't realise how much their words and actions are contributing to that. I think the key is - and probably always will be - is to build that dialogue and create a comfortable place for people to talk about these things. We need to make sure that we hear different perspectives from people who have experienced racism and oppression in different sectors of life, different areas of life and in different ways, even in the ways that seem subtle, but are deeply ingrained into our society."
Tareeq: "I applied for this internship because it is an opportunity to effect change. Decolonising the curriculum is important in the fight against racism. Educational institutions continue to be complicit in reproducing white privilege, sustaining systemic racism and contributing to stereotypes against ethnic groups. As a black student, I have felt the marginalisation and lack of belonging that comes with a Eurocentric curriculum, denying BME students their identity and history. I have also experienced the lack of support that comes from being in such a white space." 

Charlotte: "I felt like this internship was a really good way for me to get involved with racial equality at the university which is something that I think should be important in any environment, especially a university environment, and in a subject that is especially – quite historically and canonically - majority-white. So, I think in Philosophy it's important to hear from a diverse range of voices, and I felt this internship was a great way to bring two things I really enjoyed – working towards equality as well as teaching people to enjoy philosophy -and engage in interesting conversation – it was a great way to bring those two things together." 
---
---
Tell us about the sort of work you will be doing in the Department. 
Tareeq: "We will be working closely with Jules Holroyd and Nicola Orridge to increase support for BME students in the department and organise community-building activities. We will also be working closely with students and staff to facilitate conversations about racial equality and decolonisation in philosophy. We hope these conversations provide fruitful ideas on how these are best achieved, so that we can work alongside students and staff to implement these ideas." 
---
What do you hope to achieve during your internship? How will your work benefit staff and students across the department? 
Tareeq: "We have at least two goals for the internship. First, we hope to build a community and culture in which BME students feel supported, comfortable, celebrated and able to flourish. Second, we hope to work closely with staff and students to improve racial equality within the department and take fruitful steps towards conceptual and demographic decolonisation." 
---
Why do you think Philosophy is important to society?
Charlotte: "I think Philosophy is a very misunderstood subject. I didn't know what it meant when I applies to study it because it encompasses so many different issues. That said, Philosophy is a great way to start conversations and get people to think about the things that may affect them, as well as things that don't affect them. We talk about some crazy thought experiments in class, we ask questions about absolutely everything and have intelligent conversations about them without having to know all of the historical terms and philosophical writers."
Tareeq: "One reason philosophy is important to society is that philosophy provides us with conceptual resources that aid us to better engage with questions about how to build a better future. For instance, when thinking specifically about injustices, philosophy helps us to formulate the concepts to understand various injustices, and thereby respond to them effectively." 
Charlotte: "I think that it's important for us to stop being scared of philosophy because it does seem like one of those subjects that from the outside seem closed off; it's kind of academic, it's a little bit mysterious, but it's important for people to talk and think and using argument in a logical and rational way so they can talk about important issues. I think the thing in general that puts people off philosophy is how theoretical it is. Philosophy applies to everything in everyday life and I think it's important that people realise they are engaging with it when they're just thinking about answers to some of the big questions they pose in their mind."
---
Dr Jules Holroyd remarks, "As a department that takes pride in striving for inclusion, it is really important that we identify and address both the ways in which our curriculum engages with race, racism, and decolonisation; and how BME students can be better supported and included. We are really fortunate to be able to work with Charlotte and Tareeq in this, and I'm looking forward to working with them to find ways of embedding the work they do on the internship within the activities of the department."
A world-class university – a unique student experience
Sheffield is a research university with a global reputation for excellence. We're a member of the Russell Group: one of the 24 leading UK universities for research and teaching.