Joshua Forstenzer and Minna Shkul win Academic Awards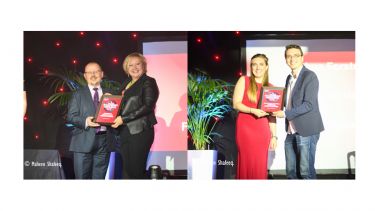 Outstanding Teaching Award Winner Joshua Forstenzer
The outstanding teaching award goes to a staff member who students judge to excel in teaching through providing engaging, innovative and informed lectures, tutorials and seminars. We are delighted that Joshua Forstenzer won the 2017 award and is being recognised for his innovative approach to teaching.
Joshua's nomination said "Joshua's passion for his course brings topics alive for his students and he is seen as a star ambassador for creating an engaged curriculum at the University of Sheffield."
Liberation & Diversity Award Winner Minna Shkul
The Liberation and Diversity Award winner is voted for by staff and students and goes to a staff member who has proactively attempted to diversify the curriculum to broaden the perspectives and experiences of students. Congratulations to Minna Shkul for winning the 2017 award for her research into liberation and diversity issues.
Minna's nomination said "Minna has delivered many conference papers around liberation and diversity issues and is co-director of 'Hidden Perspectives: Bringing the Bible out of the Closet'. This research theme is a pioneering public engagement project that aims to open up interpretations of biblical narratives to underrepresented groups."