Learn about history of food at unique university event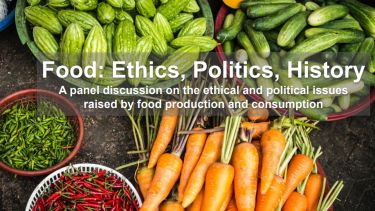 Discover fascinating facts about the history of food; from the origins of curry to the battle for food in World War II at expert panel discussion
The free event, taking place on Friday (13 May 2022), is open to the public and will address the ethics, politics and history of food production and consumption 
Experts on the panel include award winning author John Lanchester, coffee campaigner Richard Hide, historian Professor Mike Braddick and food journalist and author Bee Wilson
The event brings together five experts who will discuss their experience of food writing, food history and the food industry in order to tackle the ethical and political questions surrounding food as well as exploring the ethics, politics and history of food production and consumption.   
From the history of curry to the battle for food in World War II, the event promises to bring a range of expertise across the history of food, and what ethical and social issues we need to consider for the future.
Experts on the panel include food writer Bee Wilson, who writes about food for a range of publications including The Financial Times and has published six books on food. Richard Hide, who has spearheaded campaigns to make coffee production more socially and environmentally sustainable, and Professor Mike Braddick, who is currently researching the history of food as a commodity.
Professor Mike Braddick, one of the experts on the panel from the University of Sheffield's Department of History, said: "Food is at the centre of our lives.  We need it to survive, but our choices about what we eat and how we get it also help to define who we are.  Personal and group identities are related to particular foods.
"Food production shapes our societies, and our interaction with nature. The panel will approach these issues from a variety of perspectives, to show how what we eat, how we get it, and how we cook it are central to who we are.
"What we call food security has shaped most states we know about throughout history, and it was a luxury that for a few generations westerners did not have to think about it.  We now have to again, along with energy security and environmental sustainability — also things which most people in most places at most times have had to think about, but which we neglected for a few generations."
The expert panel is taking place on Friday 13 May at 6pm-7:30pm in Sheffield city centre at Foodhall, 62 Brown Street, S1 2BS, which uses surplus food to bring people together and tackle social isolation, social inequality and food waste. 
Tickets are free, but due to limited space you need to reserve a place with a £5 deposit on booking which will be refunded after attending the event. You can find out more information and book tickets here: https://onlineshop.shef.ac.uk/conferences-and-events/faculty-of-arts-and-humanities/philosophy/food-ethics-politics-history
Bee Wilson, food writer and expert panellist, said: "I'm really looking forward to the event and the chance to discuss food with some of the best food writers and historians in Britain.
"I love writing about food because I think of it as the universal subject. We all eat and from the moment we are born, how to satisfy our hunger is something that every human being has strong opinions on. I see food as a never-ending conversation which takes in everything from the simple pleasures of home cooking to weightier subjects such as politics, ethics and history.  
"Sometimes I hear people say that it's impossible to persuade British people to enjoy certain foods such as green vegetables or oily fish but if you look back to the nineteenth century, herrings and watercress were both working-class comfort foods for the masses. History shows us that every single detail about the way we eat can be changed. On the other hand, I also find it exciting to think about certain technologies such as the colander which have remained unchanged since ancient Roman times".
Bee added: "Being in Sheffield makes me think of cutlery, which was the theme of one of my books, Consider the Fork. I think that stainless steel is one of the great unsung democratic inventions in history. Imagine how horrible it would have been to eat food with rusty carbon steel knives which added unwanted flavour to the food. Until stainless steel became commonplace, it was only the rich who could enjoy neutral-tasting metal cutlery in the form of silver knives and forks.
"One of my favourite cutlery history facts is that the shape of the human jaw with the overbite may actually have developed as a response to the widespread adoption of the knife and fork. In China, because of chopsticks, the overbite emerged a thousand years earlier."
Events at the University
Browse upcoming public lectures, exhibitions, family events, concerts, shows and festivals across the University.