Tadhg Kwasi, a third year philosophy student, invited to perform poetry on BBC Radio Sheffield
Congratulations to Tadhg Kwasi, a third year Philosophy student who was invited to read his poem, 'Flowers,' on BBC Radio Sheffield. (Item begins: 48:00).
Flowers was inspired by Tadhg's move from Dublin to London, where life was overwhelmingly different, before moving to Sheffield where he enjoys student life in a smaller, homely city. 
Jules Holroyd, a Senior Lecturer in the Department of Philosophy said, "it is great to see Tadhg's work getting public recognition. This, alongside another recent project he has conducted within the Department called 'hip hop and the white gaze', which draws on the work of the philosophers Du Bois and Fanon, shows the exciting work that can come from ongoing efforts to decolonize the curriculum."
We asked Tadhg about his love of poetry, as he continues to write alongside his studies.
 
1. When did you start writing poetry? 
I started writing poetry at the age of eighteen. What I enjoy about poetry is self-expression, and being able to spill my thoughts, emotions and whatever onto the page. The page is a very good listener.
2. Has reading poetry changed your outlook on life?
I would definitely say reading poetry has changed my outlook on life; it has broadened my horizon. Just reading about different experiences and perspectives is amazing, as someone could describe an emotion, mood, or object in a way, that is so unique. It has also inspired me to be more authentic with the way I communicate.
3. Do you have a favourite poet / poetry?
I would say my favourite poet is Kae Tempest, and poetry wise, I like the modern stuff, like hip-hop. I would say my favourite poetry is hip-hop and rap. I would argue that they are poetry. It's what inspired and influenced me to start writing poetry. 
4. Has studying philosophy inspired your writing? 
I would say studying philosophy has inspired my writing, in terms of being as concise as possible when trying to describe or pinpoint an emotion. Also, it definitely has informed some of the subject matter and poetry I produce, as some of my poems are just me conducting philosophy in a different manner. But it has definitely impacted some of the subject matter to be more existential and introspective.
Tadhg recently contributed the following poems, Black Panther and Colour Isolation to Oxford Public Philosophy Journal. His poem, 'Flowers,' can be read below.

Flowers
A wilting flower
I am 
Grown from soiled soil
Pollution seeped through my roots
Reached my shoots
Till I bent towards the light 
Still I fight the inner corruption
Ripped from fertile land to concrete jungle
I died in spirit and soul
My mind burrowed in tow 
But like a mole I dug into long hardened ground
To reach sound equilibrium 
The resurrection on seven hills
This new soil fills the body with life
Kills the death of spirit
This once wilting flower 
Is now a flourishing orchard
A grower of many fruit 
Fruit bearing happiness, strength, and prosperity
Drifting merrily in the sunshine 
But even in dark times 
Without moon or stars
I still shine without an ounce of light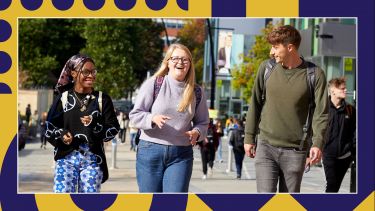 Advance Register for Clearing
We have places on our undergraduate courses this autumn. If you've already got your results you can apply now, or if you're still waiting for results get your name on the list by advance registering.