Minna Shkul
BA Hons, MA, PHD
Senior Lecturer in Religion, Gender and Society
Admissions Tutor and Academic Lead for Philosophy, Religion and Ethics (PRE)
Religion Exams Officer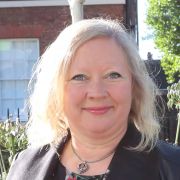 m.shkul@sheffield.ac.uk
45 Victoria Street
Office hours: Tuesday 12-2pm
Full contact details
Minna Shkul
Department of Philosophy
45 Victoria Street
Sheffield
S3 7QB

Profile

I am a Senior University Teacher in Religion, Gender and Society and I look after Philosophy, Religion and Ethics programmes and MA pathway. I have previously worked both in HR and Academic management and held two research positions at the Finnish Academy, at the University of Helsinki. 

My scholarship, teaching and supervision focus on intersectional identities; especially global perspectives on religion, gender, sexuality, and ethnicity, and I am also interested in secularism, unbelief, multireligious hybridity, and wellbeing.  

My inclusive pedagogy has been recognised with a Senate Award for Excellence in Learning and Teaching, and Sheffield Student Union Academic Award for Equality and Diversity. 
 
Research interests

Contemporary unbelief, faith, and multireligiosity, especially ethnography and lived religion
Feminist and Queer religious studies

I research contemporary expressions of faith and unbelief, and cultural hybridity 
Teaching activities

I teach the following modules when they are running:

LGBTQ+ studies
Religion in Britain
Ethnography and Lived Religion
Gender & Religion, Global Perspectives
Final year Dissertation Projects
Professional activities

I am a member of the British New Testament Society and co-chair of its Social World seminar, and a member of European Association of Biblical Studies, Society of Biblical Literature and Finnish Exegetical Society.

Research Paper Conferences

I have given papers in different professional societies, conferences and events in the USA, UK and Europe. Some of the most recent ones include:
"Applying social psychology to examine questions of identity and prejudice in the Disputed Paulines." University of Manchester, April 2014.
"Questions of Prejudice in Christian Traditions. Social Sciences and Faith Communities." A keynote paper in Biblical Studies Postgraduate Workshop. University of Manchester, July 2013.
"'Born this Way": Lady Gaga, the Bible and LGBT Identities" Perspectives Festival. Sheffield, June 2013.
Cultural Baggage and Gaps in the text: Different Interpretive Options for Pauline disputes." European Association of Biblical Studies. Amsterdam, July 2012.