Information on PhD study in the philosophy department, including how to apply, supervision and tuition.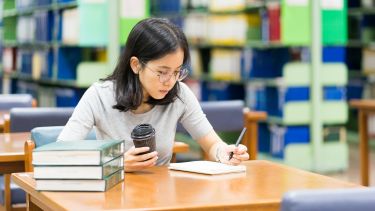 We have a large and friendly postgraduate community, with students from across the globe. There is a vibrant research culture: our staff offer expertise in a wide range of areas; there are up to a dozen reading groups going at any given time, the majority of which are student-led, and students present work in progress at weekly postgraduate seminars and at the annual reading weekend.
There are special events for women in philosophy and lots of conferences and other events. Many PhD students are involved in Philosophy in the City, a student-run organisation that brings philosophy into local schools and homeless shelters. We have a strong placement record for our graduates. Our building in Victoria Street has plenty of study space, as well as a kitchen for postgraduates.
---
About our Philosophy PhD programme
---
How to apply
You are welcome to contact the department to discuss your application, but for formal consideration, you must complete the University's application form.
---
Supervision
The department makes every effort to ensure that students receive full support and guidance throughout their studies. You will meet monthly with your primary research supervisor.  Each student is also assigned a secondary supervisor, with whom you will meet less frequently, to give you the benefit of a broader range of advice.
Our research
The department has a lively research culture. Find out more about our research activities.
---
Teacher training
We offer our own in-house Philosophy Tutor Training programme for postgraduate research students in the Philosophy Department. This can count towards your Doctoral Development Programme requirements.
The University also offers a range of different DDP modules that include some teacher training.
---
Tutoring in the department is a great opportunity not just to learn how to teach philosophy, but to develop your own philosophical skills as well. Learning how to facilitate philosophical discussion is an integral part of being a good philosopher.

Ashley Pennington

PhD 2017
---
---
International
The Philosophy Department in Sheffield welcomes international students. Many of our graduate students and many of our staff are from other European countries, Asia and America.
There is lots of information for international students on our international and EU Philosophy applicants page and our University wide EU and international students webpages.
---
Recent PhDs
Our PhD students have strong placement records. For those seeking academic jobs, the usual first post is as either a postdoctoral researcher or a temporary lecturer/teaching fellow, with permanent posts coming a little later. Our students have secured jobs in the UK at departments like Antwerp, Birmingham, Cambridge, Durham, Edinburgh, Glasgow, Hull, Kent, Kings, Leeds, LSE, Manchester, Manchester Metropolitan, Nottingham, Open University, Oxford, Roehampton, Sheffield, and UWE. And they have secured jobs in many countries around the world including Austria, Australia, Canada, Chile, Germany, Greece, Ireland, Japan, Mexico, Spain, Sweden, and the United States. See below for a list of recent PhD topics.
Particular placement information for our graduates can be found by following the links to their personal websites, where available.
Find a PhD
Search for PhD opportunities at Sheffield and be part of our world-leading research.