Read testimonials from our postgraduate students.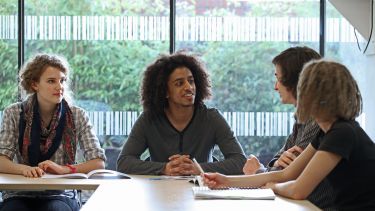 Off
Daniel Jones, MA 2021
Studying the Political Theory MA as Sheffield has been a fantastic experience. The freedom to choose what modules I want to study from a wide breadth of options has enabled me to pursue my personal academic interests. It has been rewarding to be taught by leading academics alongside engaging content! The staff at all levels of the department have always been so lovely and helpful. Plus, Sheffield itself is a wonderful and friendly place to live! If you're looking to be intellectually challenged and exposed to exciting ideas in a highly supportive community of people - then Political Theory at Sheffield is for you.
---
Fan Zhen, MA 2021
This year has been a very tough and challenging year for everyone, but all teachers, staff, and students of the Department of Philosophy are still working hard to create an excellent learning atmosphere. As an international student, I feel the friendliness and professionalism of the University of Sheffield. Every faculty member has very profound knowledge and provides perfect service. During the year of studying I gained the knowledge I wanted to learn, especially about global justice, which provided great help for my future research. In general, I have enjoyed a year in Sheffield very much. If I have the opportunity, I will definitely return to enjoy the sunshine, food, and beauty of Sheffield.
---
Jack Waites, BA 2016, MA 2017
I decided to study for my MA in Sheffield after having such a positive experience studying for my BA here. The department has an unusually wide range of research expertise which allows for students to engage with all areas of philosophical inquiry, creating a stimulating, open, and exciting environment for postgraduate students. From metametaphysics to feminist phenomenology the department has expertise and support for all interests and ambitions! Along with their research expertise both staff and students are incredibly supportive, creating an ideal research environment for a postgraduate to develop their ideas.
---
Jingbo Hu, PhD student
I chose Sheffield because the department is famous for its empirically-informed philosophy, which combines philosophy research with empirical sciences. This is the philosophy that I want to study in my PhD. The department provided me with essential support to apply for a scholarship with the Chinese Research Council. Before the semester started, the department organized a wonderful welcoming party in which I could meet and talk to the new people. My supervisors are always ready to give me advice and inspiration. The members of department including the staff and other postgraduate students are all friendly and helpful. In general I like Sheffield very much - the weather, the food, the beautiful scenery and the friendly people. It is a remarkable experience for my life to study in this city.
---
Charlie Crerar, BA 2013, PhD 2018, now Assistant Research Professor at University of Connecticut
I returned to Sheffield, where I studied for my BA, after completing an MPhil in Development Studies at the University of Cambridge. There was never any question that I wanted to return to the department for my PhD, in no small part thanks to the faculty who, quite apart from representing a broad and fascinating range of expertise, help create an atmosphere that is at once invigorating and stimulating but also genuinely friendly and down to earth. Since returning I found the extra facilities and opportunities afforded as a graduate student extremely helpful in making the transition from Masters to Doctoral student.
---
Renuka Raghavan, MA 2016
During my year in Sheffield as an international student, I found myself in an inclusive environment, in the company of friendly people and kind and encouraging professors, who were always willing to go the extra mile to help us students out. The academic atmosphere in the University is diverse, and competitive without being cut-throat. The staff (both in the Philosophy Department, and in the Psychology and language departments) are highly experienced, enthusiastic and broad-minded. The lectures, seminars and conferences succeed in addressing the heterogeneity - in interest and ability - in the student population. On the whole, my time in Sheffield was very rewarding. It has contributed a great deal to the progress I have made towards my academic goals.
---
Penelope Orr, MA 2015
The philosophy department at Sheffield has strong interdisciplinary links with psychology, archaeology, linguistics, and anthropology, not just within the university but also at other institutions. I feel that I benefitted from this directly, by attending several conferences and meetings at other universities, with groups such as the iCog Network and The Mind Network. Aside from the obvious academic merits, the social environment within the department is very friendly and supportive. I always felt welcome to discuss my ideas with people, whether that was at the weekly graduate seminar, one of the many reading groups or just down the pub. Overall, I had a great time at Sheffield and I encourage others to go and have a great time too.
---
James Lewis, PhD student
I applied to do a PhD in Sheffield primarily because of its academic appeal and was strongly advised by my then professors to take up my subsequent offer. I am extremely glad I did; I have found it a very stimulating place to work, where there is such a lot of great work being produced and shared by others. Socially speaking, the community here, particularly among PhD and masters students, is pretty close-knit. One product of this is that people often go out of their way to engage with one another's work. But generally it makes this an enjoyable place to live and study. Though I've only lived here a year and a half, I have found the wider city to be similarly warm-hearted.
---
Joshua Thomas, BA 2012, MA 2013, PhD 2018, now Research Associate at Open University
I studied for my BA and MA degrees in Philosophy at the University of Sheffield, mostly focusing on matters of applied ethics and political philosophy. After taking a year out I returned to pursue a PhD with the Philosophy Department. I chose to come to Sheffield as I had spent four years at the university, so I already knew how supportive and friendly the Philosophy Department was. On top of this, I love living in Sheffield as a city; the parks, the culture, and the atmosphere make it a perfect place to study, not to mention the pubs.
---
Patrick Connolly, BA 2015, MA 2016, now a PhD student
I decided to do an MA in Sheffield as I had an excellent experience doing my BA here. The department environment is really good, it's really friendly and the staff are all really approachable. There's a great postgraduate community. In the first week of my MA all the postgraduates went out together to get to know each other. Everyone's really into their subject so you can have some really interesting discussions. There's a lot of intellectual independence; you can very much pick what you want focus on. Staff tend to be very generous with their time and there's usually really great feedback on drafts of essays too. I've never been stuck for support here.
---
Carl Fox, MA 2010, PhD 2015; now Lecturer in Ethics at the University of Leeds
After a couple of years out of philosophy I came to Sheffield for the MA with the intention of moving on to a PhD afterwards.  The supervision was excellent and I found the research training and the graded PhD proposal very helpful.  The staff and the department have been hugely supportive.  I've also benefitted from the excellent teaching opportunities they offer to postgraduates:  I've been able to design and deliver an undergraduate module.  The graduate community is particularly lively and friendly, and you are never short of an opportunity to go the pub or discuss your research.  I am delighted to recommend the department to anyone interested in pursuing philosophy at the next level.
---
Jonathan Parry, BA 2008, PhD 2014; now Fellow at the University of Birmingham
I left Sheffield to do a Masters in Australia.  Despite the improved climate I had no hesitation in coming back.  The academic environment here is first rate, with a wide range of interests and expertise. The staff are very approachable and make themselves available to discuss your ideas, regardless of whether they are your official supervisors.  They are very supportive and put a lot of time and effort into their role, offering advice not only on my academic work but also on entering the profession.  There is also a wide range of opportunities for teaching: as well as first-year undergraduate seminars, two upper-level courses each year are taught by PhD students on their area of research. I have studied at and visited several departments and none has a postgraduate community as warm and welcoming as Sheffield.
---
Peter Caven, BA 2008, MA 2011, PhD 2015
Having completed my BA in Philosophy and MA in Political Theory at Sheffield, I decided to stay on to study for my PhD here. As well as the city having something for pretty much everyone, the atmosphere in the department is particularly friendly, welcoming, and intellectually engaging. The staff are highly supportive, always happy to discuss ideas with you, and are also committed to disseminating their research in the wider community at various public events. We have a close-knit and socially active postgraduate community, with weekly seminars, reading groups, and pub trips. Although there is plenty of philosophically stimulating conversation amongst postgrads, who have a diverse range of interests, we also switch off from our work and hang out as genuine friends much of the time. All in all, I have never regretted deciding to study at such a great department, and strongly advise anyone thinking of doing philosophy at postgraduate level to consider Sheffield.
---
Natasha McKeever, BA 2008, MA in Political Theory 2009, PhD 2014; now Teaching Fellow at University of Leeds
I have been a part of the Philosophy department at Sheffield since 2005, having completed my BA and MA here.  I stayed on further to do my PhD, and I never regretted my decision to stay.  The department is very sociable, with two weekly pub trips, regular department parties, and a yearly weekend away. Everyone is hugely welcoming, supportive, and interested in each other; no one is excluded. There is a great variety of philosophical interests among staff and students but everyone is keen to hear about each other's work, both in seminars and in the pub. Sheffield is also a great city to live in, with loads of interesting things going on all the time and a populace that supports diversity and creativity.
---
Suilin Lavelle, MA 2006, PhD 2011; now Lecturer at the University of Edinburgh
The most striking thing about the philosophy department here is just how supportive all the staff are: people are always interested to discuss ideas with you, be it in the weekly graduate seminar, reading groups or just if you happen to be passing by. Having spoken to lots of philosophy graduates in other universities I've come to realise that our department is far ahead of others in this respect. We are also very fortunate to have a strong community amongst the post-graduates — something which is reassuring considering the solitary nature of doing a PhD.
I personally have also benefitted from the strong interdisciplinary links we have with psychology, linguistics, anthropology and archaeology both within the university and at other institutions. There are few places which could offer such a diverse range of research opportunities. I would have no hesitation in recommending people who are serious about philosophy to come here to study.
---
Glyn Owen, MA 2007
The Department is a very welcoming place. Staff doors are open; and weekly graduate and departmental seminars and reading groups expose students to many philosophical subjects and opinions, and bring everyone into regular contact, both academic and social. The course itself is brilliant, exceeding the high expectations I had before it began, and placing students in the frontline of philosophical debate. Advice is offered from the start about future study and careers, and whilst most students are in their twenties, I especially recommend Sheffield to those who like me are doing something new in late career.
---
Graeme Forbes, MA  2006, PhD 2011; now  lecturer at the University of Kent
Apart from being a vibrant city, with the Peak District on its doorstep, Sheffield is a great place to be doing philosophy. On paper its consistently rated as one of the best departments in the country, but more importantly the atmosphere is so good here. The postgradude community is really friendly and provides an excellent working and social environment. The weekly postgraduate and departmental semiars provide a chance to see what's going on in other people's research and an oppourtunity to engage in top class philosophical discussion. I am immensly glad I am here and give you my unqualified encouragement to come too.
---
Jules Holroyd, BA  2003, MA  2004, PhD  2008; now Vice Chancellor's Fellow at University of Sheffield
I have just completed the Research Training Year, which is excellently geared towards preparation for a PhD. Aside from the obvious academic virtues, the Department at Sheffield has a great, friendly atmosphere. Weekly graduate and departmental seminars, and a multitude of reading groups, provide opportunities for group discussion. There is also a lively social side to the department – meals, pub trips, the annual weekend away, as well as get-togethers for coffee on a regular basis. Staff are always willing to discuss work in progress. Moreover, the support and encouragement I have received from my supervisors has given me confidence in my work and opened up academic opportunities. I have thoroughly enjoyed my time so far at Sheffield, and am confident that I will continue to do so over the next three years.
---
Andy Thomas, Research Training MA 2003, PhD 2008
Choosing to study philosophy at Sheffield was a smart choice. The department is welcoming and friendly, and seems to be dedicated to helping its postgrads realise their academic potential. Reading groups and invited speakers provide an excellent opportunity to broaden one's philosophical horizons, and engage in challenging discussion with tutors and other postgrads. The willingness to socialise outside of the philosophical arena is particularly refreshing, and provides some important support. Furthermore, the department seems to have a talent for gaining external postgrad studentships, and helps students itself whenever it can. I recommend it without reservation.
---
Richard Woodward, Research Training Year 2004, PhD 2007; now works at the University of Hamburg
The Department at Sheffield has strived successfully to produce an atmosphere that is extremely friendly and welcoming to research students, as well as being a very productive place at which to carry out postgraduate research. The staff do their utmost to ensure that you achieve your academic potential, and are more than willing to help, be it with your work or with applications for funding. Choosing a department at which to carry out graduate research can be a difficult process, but rest assured that Sheffield is an excellent choice. Faced with the decision again, I would have no hesitation in choosing Sheffield.
---
Fabian Freyenhagen, Research Training Year 2002, PhD 2005; now Professor at the University of Essex
Sheffield is a great place to study philosophy, because the department manages to combine a friendly and supportive atmosphere with excellent scholarship and a wealth of opportunities. The amount of time and energy which the staff are prepared to invest in meeting students and in commenting on their work could hardly be paralleled. The reading groups and postgraduate seminars provide further opportunity to discuss one's research interests and philosophical issues in general. A real effort is also made to provide guidance in the application process, whether this is to the department or to funding bodies. The department also tries, where it can, to help students financially, both through departmental funds and by providing teaching opportunities. And on the social side, both the graduate community and the staff contribute a great deal to making life beyond philosophy enjoyable too.
---
Mari Mikkola, Research Training Year 2001, PhD 2005; now Associate Professor at the University of Oxford
Sheffield is a lively place to study and live. The University has a lot to offer from quiet coffee bars to lively clubs each day of the week. The Philosophy Department in particular has a friendly and welcoming atmosphere with lots of events taking place. There are endless opportunities for discussion (philosophical and otherwise), and for socializing amongst students and staff. Coming to Sheffield has definitely been one of the best decisions I have made.
---
Thom Brooks, PhD 2004; now Professor of Law and Government and Dean of Durham Law School
Like many new students, I did not know what to expect when I began my studies at the University of Sheffield. I can say without hesitation than I have never been in a more positive, encouraging, and genuinely friendly department. I have greatly benefited from excellent advice from my supervisors and well-conducted reading groups. Simply put, choosing to come to Sheffield was one of the very best decisions I have made.
---
Komarine Romdenh-Romluc, BA 1997, Research Training Year 1998, PhD 2003; now Senior Lecturer at the University of Sheffield
As a student at Sheffield you are encouraged to discuss your work with both staff and other postgraduate students. Moreover, the department tries very hard (and successfully) to create an atmosphere where discussions are friendly and constructive. The life of a PhD student could be somewhat solitary, but reading groups and a Departmental Seminar attended by staff and students provide opportunities to meet with the other members of the department to do philosophy. There are also pub visits and meals after seminars to ensure you don't spend all your time doing philosophy. Advice and support is given on a range of career-related matters including job interviews, publishing work, securing funding, and attending conferences. In short, the department at Sheffield is superb - I thoroughly recommend it to anyone considering postgraduate study in philosophy.
---
Keith Frankish, MA 1995, PhD 1999; now Senior Visiting Research Fellow at the Open University and Honorary Reader at University of Sheffield
Sheffield Philosophy Department provides an environment which is friendly, supportive and academically challenging. I have been very happy here, and I feel that the Department had helped me to realise my academic potential.
---
Stephen De Wijze, PhD 1998; now Senior Lecturer at the University of Manchester
The Department at Sheffield is an excellent place to read for a PhD. It provides a supportive and convivial atmosphere with the appropriate intellectual stimulation needed for those embarking on the difficult process. During my three years as a PhD student, I found staff and graduate students, without exception and no matter their speciality, always willing to engage in a lively discussion about my work. They offered constructive criticism when reading my papers, attending my seminars or simply helping to sample some of Sheffield's finest pubs and restaurants. My supervision was outstanding. I was encouraged to explore my own ideas and views which, while taken seriously, were subjected to the rigorous scrutiny of the highest standard that has become the hallmark of this department. I doubt whether I could have found a better department to read for my PhD.
Weekly online events
Attend an online event when it suits you, all year round, as an alternative to an open day.
Every Wednesday, Sheffield Live sessions cover different aspects of University life. You can also meet your department and learn more about studying your subject.