The Beyond Idealism conference, to take place in Sheffield on 15-17th July 2022, is dedicated to exploring the influence of G.W.F Hegel's thought.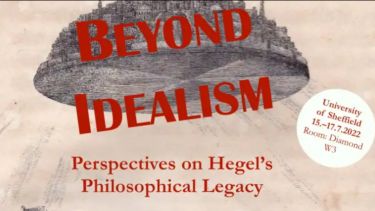 Off
The renewed interest in Hegel within the English speaking world has contributed immensely to understanding Hegel on an exegetical level. However, the historical significance of his work can only be fully appreciated if it is read in the context of those philosophers who critically engaged with Hegelian ideas and developed them in their own ways. Preeminent proponents who critically engage and/or develop productively the works of Hegel including, but not limited to: Schelling, Kierkegaard, Marx, Adorno, and du Beauvoir. Just as none of these thinkers can be understood without the background of Hegel's idealism, Hegel's significance can only be fully appreciated if we also understand him as a crucial point of departure for major currents of thought in 19th and 20th century philosophy.
Dates: July 15-17, 2022
Venue: The Diamond, 32 Leavygreave Rd, Broomhall Sheffield S3 7RD
Keynotes: Peter Dews, Brian O'Connor, Christoph Schuringa, Tanja Staehler
Organisers: Roderick Howlett, Michael Regier, Robert Stern, Leonard Weiss
Submission Deadline: 29th of May 2022
We invite submissions from PhD students and early career researchers on, but not limited to, the following topics: Direct and indirect criticism of Hegel's metaphysics, philosophy of history, philosophy of right, and aesthetics; positive use of Hegelian ideas within post-Hegelian thinkers; the relationship between Hegel and British idealism, including the critique of British idealism in early analytic philosophy; early or lesser known figures in the reception of Hegel; reception of Hegel in non-Western contexts.
Please email an abstract of between 500-800 words (Word or PDF document) to beyondidealismconference@gmail.com.
To sign-up to attend the conference in person and/or receive Zoom link(s) for the event closer to the time, please complete our Eventbrite form at the following address:
https://www.eventbrite.co.uk/e/308831893507
For further details, please visit: https://beyondidealism.wordpress.com
This event has received funding by: Aristotelian Society, British Society for the History of Philosophy, Hegel Society of Great Britain, and White Rose College of the Arts and Humanities
Events at the University
Browse upcoming public lectures, exhibitions, family events, concerts, shows and festivals across the University.