We are committed to help our students develop beyond their undergraduate degree, whether that is into employment outside the University or further study in philosophy or another subject.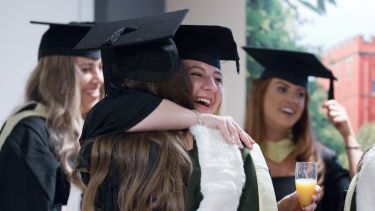 On
Studying Philosophy offers excellent preparation for a career in a wide variety of different fields, in addition to being immensely enjoyable for its own sake.
---
Studying at Sheffield allowed me to walk straight into a job after graduation.

Ben Arscott

BA History and Philosophy
---
In a recent survey of Philosophy graduates two and five years after graduating, all were in employment. Some of our recent graduates work in journalism, marketing, teaching, law charity and non-governmental organisations (NGOs), and the civil service. Others have forged careers in film-making, fundraising, public relations, art and computer science to name just a few destinations.
---
I use skills gained from my degree day to day in questioning structures that are already in place to improve them, and in understanding the viewpoints of different people.

Tamlyn Griggs

BA Philosophy and Psychology
---
The Philosophy Department is committed to supporting you as you prepare for your future after graduation. At the foundation of preparing for your future are the invaluable transferrable skills you will master through completing your coursework. The Department also puts on a wide variety of opportunities designed for you to explore and prepare for the path where you'll choose to apply these skills after your degree. In doing so we often partner with the University Careers Service or external partners.
Learn more about these opportunities below:
One-on-one guidance

Personal tutors

Every student is assigned a Personal Tutor with whom they are encouraged to meet on a regular basis. Book an appointment with your Tutor to discuss how you're doing with your skill development and how you might prepare for your future beyond graduation.

Careers service

Many of our students take advantage of one-on-one meetings put on by the Careers Service. You can have a meeting with a staff member trained specifically to help guide you in selecting and preparing for a career path. Book a session via Career Connect on MUSE.

Networking events

Departmental events

The Department puts on at least one careers event each semester, inviting recent alumni or employers to campus to discuss what their work involves and how students can prepare for a career in the field. To ensure you're up-to-date on these events, check your student email, or get in touch with the Departmental Careers Officer.

University-wide events

The Careers Service regularly puts on events in partnership with prospective employers. To keep informed about career fairs and other events of this kind, check out Careers Service's list of events.

Work experience

Degree with employment experience

The Philosophy Department offers the option for you to spend a year in employment as part of their degree programme. For more details about this programme, see the section on Degrees with Employment Experience on the Careers Service's placement page.

Summer placements

You are encouraged to take advantage of summer placement opportunities. To learn more about summer placements and register your interest in one, visit the Careers Service's placements page.

Qualifications

HEAR

The Higher Education Achievement Report provides a comprehensive record of your university achievements, including both academic and extra-curricular learning and experience. Every student has a HEAR, and making sure your HEAR is accurate and comprehensive can give employers a more detailed impression of your achievements at University.

Student Organisations

Philosophy in the City

Philosophy in the City ('PinC') is an award-winning outreach project, run entirely by student volunteers from the University of Sheffield's Philosophy Department. Volunteering for PinC is a great way to get experience of interacting with people across all walks of life which can help you in your future career.

PhilSoc

PhilSoc, the student-run Philosophy Society at the University of Sheffield, puts on a wide range of activities including social, intellectual, and charitable events. Getting involved can help you network with peers, and may present you with opportunities to develop your leadership skills.

Undergraduate Conference

Sheffield Philosophy Undergraduate Conference is run each year by the department. It's an excellent opportunity to experience presenting one of your own papers to an interested group of peers and/or to be involved in organising the event.

PhilonoUS Undergraduate Journal

PhilonoUS is run by Philosophy undergraduates and features papers from undergraduates around the world. Being part of the editorial team is a great way to develop leadership and organisational skills.

Research Projects

SURE Scheme

Sheffield's Undergraduate Research Experience scheme offers you the opportunity to take part in "real life" research projects in subject areas that are of special interest, and to experience what it's like to work in partnership with academic staff or collaboratively in a research group.

Mentoring

eMentoring Scheme

The Philosophy Department encourages students to participate in the University's eMentoring scheme, where current students are paired with recent alumni mentors from whom they can learn about specific careers.

Departmental careers advisor

Our Departmental careers advisor is Niall Connolly, who would be happy to see you to discuss any questions you might have.
---
The Careers Service offers a range of services to students and graduates, helping you explore your options, develop skills and provide advice about applications and interviews. It arranges skills workshops run by leading businesses and sessions with alumni where you can learn more about what it is like to work in different careers
Find out more from the Careers Service about options for Philosophy graduates
---
In a competitive field, a postgraduate degree will often give you the edge. Many of our graduates go on to further study, either in Sheffield or in other departments in the UK and abroad. The most common next step in postgraduate work is to take an MA and our department offers an MA in Philosophy (allowing you to specialise in any of a wide range of areas of the subject), and interdisciplinary MAs in Political Theory and Cognitive Studies. Sheffield has a very strong, yet friendly, graduate school, with one of the best programmes in the country; students often go straight on to a PhD from the MA. Staff can also advise on other Philosophy departments, for those thinking of leaving Sheffield after their first degree.
Find out more about staying on at Sheffield for postgraduate study in Philosophy.
Postgraduate student, Patrick Connolly, did his BA in Philosophy at Sheffield and chose to stay on to study for his MA in Philosophy.
---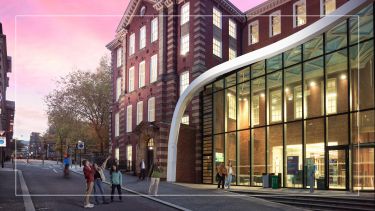 Visit us
Discover what sets Sheffield apart at our undergraduate open days on the Saturday 21 October or Saturday 18 November.