Physics is a degree that's very well respected around the world
Communications and Marketing Officer, BP International Centre for Advanced Materials
After completing his physics degree, Alexander went on to work in marketing and communications as part of a multi-million pound research partnership between BP and several top universities.
I currently lead and deliver all of the communications and marketing for the BP International Centre for Advanced Materials (BP-ICAM), a $100 million international research partnership between BP and the Universities of Manchester, Cambridge, Illinois at Urbana-Champaign and Imperial College London. BP-ICAM enables the application of novel material science know-how to business challenges in the oil and gas industry. Each academic partner provides game-changing capabilities in different areas, such as structural materials, corrosion, separations, surfaces, deposits, imaging, modelling and self-healing materials.
My role with BP-ICAM is very diverse and involves planning and delivering strategies and campaigns across our internal and external communications, digital marketing, external affairs, media relations and stakeholder engagement activities. I work collaboratively on projects with colleagues from BP and our four university partners, as well as with creative agencies and journalists from national and international media organisations. I also manage our presence at external events and have organised sessions at high profile European conferences such as the EuroScience Open Forum 2016 in Manchester and the Economist's Future of Materials Summit 2017 in Luxembourg City.
Advanced materials research is a rapidly developing branch of science that underpins progress in a range of areas of strategic importance to BP and the energy sector as a whole. Through the BP-ICAM, BP is able to deepen its knowledge, broaden its capability base and develop new technologies and products. I'm based at BP-ICAM's head office in Manchester, alongside colleagues who support other key business areas including project management, finance, innovation and research funding.
---
[My degree] helps me to easily communicate complex information in a concise way to different stakeholder groups and also engage with scientists and engineers in their own language.

Alexander Chilton

Physics BSc
---
The best bits
One of the great aspects of my role is the opportunity to travel and work in different places around the UK and internationally. As the BP-ICAM partnership is spread across multiple locations over two continents, I spend a significant amount of time working in Cambridge and London, as well as traveling to the US to work at BP sites or the University of Illinois at Urbana-Champaign.
Another enjoyable aspect of my job is working creatively with external agencies on innovative projects, such as creating video content or designing print publications. I also enjoy pitching stories and ideas to journalists and editors from local, national and international media organisations. Successful examples of my media relations work include articles published by the Financial Times, Business Weekly and Materials World.
How I got here
I'd always enjoyed writing about science whilst studying at Sheffield and after graduating I took up an opportunity as an Editor for a global scientific content marketing agency. Here, I created engaging editorial content, such as news stories, feature articles and interviews, targeted to an audience of over 60 million users a year, and also led bespoke marketing campaigns for multiple clients worth over $1 million per annum.
I also helped to design and deliver a successful rebrand for the organisation, and worked creatively on the key elements including messaging, web design and mapping audience personas. I was keen to gain experience of 'in-house' marketing communications after working for an agency, and taking up my current role at BP-ICAM felt like the natural 'next step' in my career.
How physics helped
Although a physics degree is not essential in my current role, my background provides me with a detailed understanding of the fundamental science which underpins the properties and behaviour of materials. Day-to-day, this helps me to easily communicate complex information in a concise way to different stakeholder groups and also engage with scientists and engineers in their own language.
Whilst at Sheffield, I carried out my final year project on the philosophy of science and wrote my thesis on the concept of simplicity in scientific theory and methodology under the supervision of Dr Pieter Kok. I found this project to be a really enjoyable experience and it inspired me to consider roles related to science communication upon graduation.
Other important skills I gained from studying physics, such as the ability to solve problems and analyse data, are important for a whole range of careers beyond a career in science. People are usually impressed when you say that you studied physics at university and it's a degree that's very well respected around the world.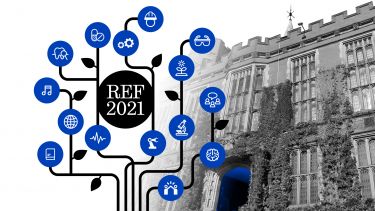 Research Excellence Framework 2021
We have been rated 1st in the UK in terms of the quality of our research. In the latest REF, 100 per cent of research and impact from our department has been classed as world-leading or internationally excellent.
Explore the University
Discover why Sheffield is the right choice for you at one of our open days or events.