Sheffield has given me the support I need to take steps I didn't think were possible at the start of my degree

Louise Webb
Undergraduate student
Theoretical Physics MPhys
Louise has enjoyed being able to focus on the subjects she enjoys the most, and that will be most relevant to her career.
What made you want to study your course?
I got interested in physics as a subject after reading a lot of books when I was younger. My decision to study physics at University was purely motivated by my love and enjoyment for the subject, rather than any particular aspiration at the start of my degree. I have always had a particular interest in quantum mechanics.
What made you decide to study at the University of Sheffield?
The University was very welcoming on the open day and the course provided a range of modules I was interested in, especially in later years. Meeting people in the physics department put me at ease, as it felt like it had a friendly and modern outlook.
What have you enjoyed most about your course so far?
The opportunity to choose modules tailored to my interests in later years. This has allowed me to focus on the subjects I enjoy the most and will be most relevant to my career at a fairly early stage.
What skills have you developed during your course?
Alongside plenty of skills related to studying physics, such as maths and problem solving, I have also been able to build my communication and presentation skills, planning and project management skills and skills related to employment, CV writing and next steps in my career.
What would you say to a student thinking about studying your course at Sheffield?
If you are doing a subject you really enjoy, you will have a great time at Sheffield. Doing what you love makes the hard work of a degree worth it, and you are probably more capable than you think. Sheffield's physics department has given me the teaching and support I need to take next steps I didn't think were possible at the start of my degree.
What are you planning to do after your degree?
I am starting a PhD researching sustainable quantum and nanomaterials, which will primarily be based in Switzerland, but will include some time with the Max Planck Institute for Solid State Research in Germany.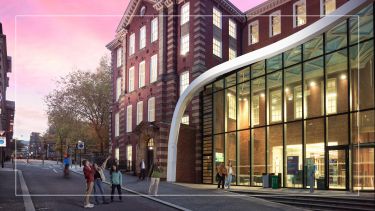 Visit us
Discover what sets Sheffield apart at our undergraduate open days on the Saturday 21 October or Saturday 18 November.