Catch up: Diarmaid MacCulloch delivers Prokhorov Lecture on Christianity: the big picture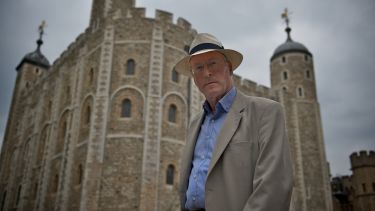 The lecture took place in Sheffield Cathedral and was attended by well over 200 people.
The day after, Diarmaid MacCulloch gave a masterclass on the question: 'Why was England's Reformation not Lutheran?'. The seminar, which took place in the Humanities Research Institute, was attended by academics, postgraduate students, and other guests from Sheffield, Leeds, York, and Manchester.
The seminar was organised by Prokhorov Centre member Robert Stern, Professor in the Department of Philosophy.
---
Lecture on Christianity: the big picture
Oxford historian and BBC presenter Diarmaid MacCulloch refocuses the story of the Christian faith to show what an unexpected product modern Western Christianity is. He emphasises the power of ideas to reshape human affairs, and considers the pasts, the present, and the futures of the world's most widespread faith.
---
Interviews with Diarmaid MacCulloch
Peter Bradley and Diarmaid MacCulloch in conversation with Henk de Berg from the University of Sheffield (three interviews):
Does God exist?
 The church, gay marriage, and women priests
Faith, violence and terrorism
---
Diarmaid MacCulloch is known above all for his award-winning studies of Tudor England and his BBC television documentaries on the history of Christianity. His books include Henry VIII: Politics, Policy, and Piety; Thomas Cranmer: A Life; and The Boy King: Edward VI and the Protestant Reformation. Among his television documentaries are A History of Christianity; Henry VIII's Enforcer: The Life and Fall of Thomas Cromwell; and Sex and the Church.
Diarmaid MacCulloch, who in 2012 received a knighthood for services to scholarship, is Professor of the History of the Church at the University of Oxford and a Fellow of the British Academy.
Get in touch
Prokhorov Centre
University of Sheffield
School of Languages and Cultures
Jessop West Building
1 Upper Hanover Street
Sheffield S3 7RA