The Prokhorov Centre is the only research forum in the UK with an integrated focus on the intellectual and cultural histories of both Central and Eastern Europe.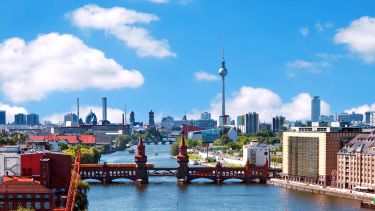 The histories of Central Europe and Eastern Europe have been intertwined for centuries – in the Austro-Hungarian Empire, for example, or in the creation, development, and eventual demise of the GDR.
The philosophical connections are striking, too: many German-language thinkers were born in Eastern Europe (Kant in Kaliningrad / Russia, Schopenhauer in Gdańsk / Poland, and Freud in Příbor / Czech Republic – to name but three).
Moreover, there have been many instances of literary and artistic interdependence.
Major cultural, economic, and political ties continue to exist in the form of cross-fertilisation and collaboration as well as, at times, conflict.
Established in 2014, the Prokhorov Centre studies these links, not from a political or political-science perspective, but from the vantage-point of the various humanities disciplines, above all philosophy, history, art history, and comparative literature.
The key topics we explore include:
the historical roots of the distinction between an Eastern Europe and a Western Europe
Western European perceptions of Eastern Europe, and vice versa
literary, philosophical, and other constructions of Europe
the intellectual histories of Germany and Russia, and their interconnections
---
Today, enlightenment and education are more important than ever, and here the Prokhorov Centre can play an important role.

Dr Irina Prokhorova

Literary critic and cultural historian
---
Our vision
As its name indicates, the Prokhorov Centre for the Study of Central and Eastern European Intellectual and Cultural History has a relatively wide remit.
It also has a clear strategic priority, however: the study of the various – and historically variable – cultural, religious, and political borders between the "East" and the "West"; the ideological bases for conflict and barriers to cooperation; and the bridges that have been built, and could be built, towards greater understanding and collaboration.
---
Our patron
The Centre is supported by the Mikhail Prokhorov Foundation, a charitable organisation led by the prominent publisher, literary critic, and cultural historian Dr Irina Prokhorova. The Foundation is devoted to the development of new cultural institutions and initiatives in Russia as well the promotion of Russian culture in the global intellectual community.
Public events and consultations
We organise national and international conferences, colloquia, workshops, exhibitions, and lectures. The latter include the Sheffield Annual Arts and Humanities Prokhorov Lectures, which are delivered by world-leading scholars and public intellectuals.
Get in touch
Prokhorov Centre
University of Sheffield
School of Languages and Cultures
Jessop West Building
1 Upper Hanover Street
Sheffield S3 7RA