Some examples of the Prokhorov Centre's research projects.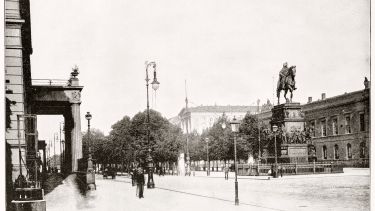 Some examples of the Prokhorov Centre's research projects:
---
The Centre organised an international conference on this topic, which took place at the University of Sheffield on 26-27 May 2017.
The keynote speech (simultaneously a public lecture) was delivered by Sir Christopher Clark, Regius Professor of History at the University of Cambridge.
Faced with Brexit, an oftentimes struggling currency, and rising levels of immigration as well as increasing nationalism and xenophobia, the European Union is under increasing pressure.
But behind these political challenges, there lies an older and much deeper question – that of the nature of Europe itself. What is Europe, where does it come from, and where is it going?
And what role does the distinction between a "Western" and an "Eastern" Europe play, and how has this distinction changed over time?
---
The expansion of socialist rule into Eastern Europe after World War II was not merely a political enterprise. It was also an attempt to transform a multiplicity of forms of national consciousness in a spirit of (forced) internationalism.
Prof Evgeny Dobrenko and Dr Natalia Skradol investigate the role that literature played in this process.
Specifically, they explore the institutionalisation of the production and consumption of literature during the first post-war decade in a number of Eastern European countries with very different literary and political traditions – the GDR, Poland, Bulgaria, and Czechoslovakia.
Comparing and contrasting similar events and processes in a variety of cultural and political settings will produce a fuller picture of the formation of socialist ideology in Eastern Europe and of the foundations of the Cold War as well as of the building blocks of the cultural memory that is part and parcel of our European cultural heritage today.
---
Developed in the 1910s to 1930s by thinkers such as Vladimir Propp, Viktor Shklovsky, and Yuri Tynianov, Russian formalism was not just a literary theory, but emerged as a universal language of the humanities and the social sciences that boosted intercultural intellectual exchange and contributed to the creation of a common intellectual agenda throughout Europe and beyond.
However, the relationship of this intellectual enterprise with the intellectual discourses specific to Central and Eastern European countries has not yet been researched in any depth. The project led by Evgeny Dobrenko and Natalia Skradol seeks to redress this balance.
View the 2015 Prokhorov Centre conference programme: Russian Formalism & Eastern and Central European Literary Theory – A Centenary View (PDF, 130KB)
---
Together with Karine Zbinden, Henk de Berg is leading an international project on the Bulgarian-born French thinker Tzvetan Todorov (1939-2017).
In 2014, de Berg and Zbinden organised an international colloquium on Todorov, and they are currently editing Todorov: Thinker and Humanist. Written by an international team of experts in the fields of Enlightenment studies, Holocaust and memory studies, literary and cultural studies, and philosophy, this collection of essays will be the first-ever single-volume examination of Todorov as a cultural critic.
De Berg and Zbinden have also conducted a French-language interview with Todorov, which you can view here.
Following Todorov's death, Karine Zbinden and Richard J. Golsan of Texas A&M University organised the international colloquium 'Hommage à Tzvetan Todorov' (Paris, 11 July 2017).
Watch Henk de Berg's eulogy 'Tzvetan Todorov, spectateur engagé'.
---
Who thought of Europe as a community before its economic integration in 1957? Dina Gusejnova has explored how a supranational European mentality was forged from depleted imperial identities.
In the revolutions of 1917 to 1920, the power of the Hohenzollern, Habsburg, and Romanoff dynasties over their subjects expired; and Germany lost its credit as a world power twice in the twentieth century. Yet the old Germanic families remained associated with the idea of Europe in areas reaching from Mexico to the Baltic region and India.
Gusejnova's project sheds light on a group of German-speaking intellectuals of aristocratic origin who became pioneers of Europe's future regeneration. In the minds of transnational elites, the continent's future horizons retained the contours of phantom empires.
Read European Elites and Ideas of Empire, 1917-1957 (OAPEN Library website)
---
Henk de Berg and Ben Lewis are working on the German thinker Oswald Spengler, best known as the author of the two-volume Der Untergang des Abendlandes (The Decline of the West, 1918/21).
They are preparing an annotated English translation of Spengler's lesser known works as well as of passage taken from his opus magnum.
In addition, Ben Lewis is working on the monograph Spengler in Context.
This work follows on from Lewis's earlier research into thinkers of the Kaiserreich and Weimar eras, such as Karl Kautsky ("the Pope of Marxism" after the death of Marx and Engels) and Clara Zetkin.
Get in touch
Prokhorov Centre
University of Sheffield
School of Languages and Cultures
Jessop West Building
1 Upper Hanover Street
Sheffield S3 7RA