David Clay Large on the grand spas of Central Europe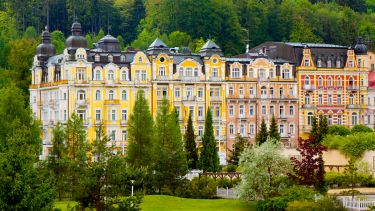 The lecture was simultaneously the keynote speech at the international colloquium 'Ritzy, recuperative, critical: The representation of Central European hotels, spas, and resorts in cultural critiques since circa 1900', organised by the Prokhorov Centre's Seán Williams.
About our speaker
David Clay Large is a Professor at the Fromm Institute, University of San Francisco, and a Senior Fellow at the Institute of European Studies, U. C. Berkeley.
A specialist on the history of Germany and Austria, Large has published, among others, 
Contending with Hitler: Varieties of German Resistance in the Third Reich (1992)
Germans to the Front: West German Rearmament in the Adenauer Era (1996)
Where Ghosts Walked: Munich's Road to the Third Reich (1997)
Berlin (2000)
And the World Closed Its Doors: One Family's Abandonment to the Holocaust (2003)
Nazi Games: The Olympics of 1936 (2007)
Munich 1972: Tragedy, Terror, and Triumph at the Olympic Games (2012)
David Clay Large's most recent book is The Grand Spas of Central Europe: A History of Intrigue, Politics, Art, and Healing (2015).
Get in touch
Prokhorov Centre
University of Sheffield
School of Languages and Cultures
Jessop West Building
1 Upper Hanover Street
Sheffield S3 7RA