Prokhorov Centre's patron receives Honorary Doctorate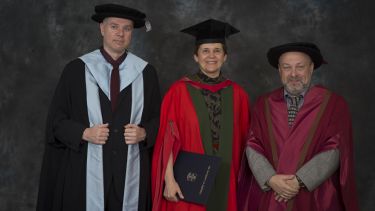 Centre's patron receives Honorary Doctorate for her distinguished academic career and contribution to the promotion of Russian culture
Dr Irina Prokhorova is the co-founder of the Mikhail Prokhorov Fund, which supports new cultural institutions and initiatives in Russia
Upon graduating from Moscow State University, Irina Prokhorova worked in television broadcasting, contributed articles to literary magazines, and translated both fiction and literary criticism, while also teaching English at university and completing a PhD on English literary modernism.
In 1992, she founded the New Literary Observer, Russia's first independent academic journal and now a leading publication in the field of Russian studies.
She also established a publishing house, which currently brings out over 100 books per year on literary criticism, philosophy, history, and cultural studies as well as contemporary literature.
She is the co-founder of the Mikhail Prokhorov Fund, which supports new cultural institutions and initiatives in Russia and promotes Russian culture in the global intellectual community.
Dr Prokhorova's many international awards include the Liberty Prize for contributions to Russian-American culture, the Chevalier de l'Ordre des Arts et des Lettres, the Andrei Bely Literary Prize, and the Légion d'honneur.
Get in touch
Prokhorov Centre
University of Sheffield
School of Languages and Cultures
Jessop West Building
1 Upper Hanover Street
Sheffield S3 7RA