Spinout company develops a new fitness tracker for businesses
Managing manufacturing operations is often seen as a 'dark art', but a newly-developed fitness tracker for machines could provide the data and insights needed for businesses to succeed.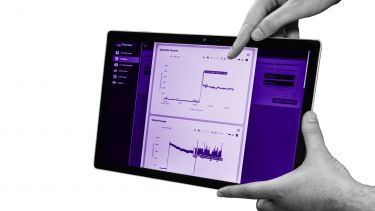 Off
A successful business needs to be as productive and resilient as possible. If they aren't, they risk being outcompeted, undervalued and ultimately going out of business. However, the operation of a manufacturing shop floor is often seen as a dark art. But a tech start-up from the University of Sheffield's Advanced Manufacturing Research Centre has developed new technology to provide businesses the data they need to understand and optimise manufacturing. 
Computer Numerical Control (CNC) machines manufacture the world we live in. They produce components used directly by many high-value manufacturing industries, such as the automotive, aerospace and medical industry. But they're also used indirectly by almost every other manufacturing industry on the planet. However, the manufacturing shop floor is a complex and variable environment. This makes it a daily battle to produce components on time, on cost and to the right quality. But the key to improving productivity could be to understand what's happening within every machine.
Each production run of a product is different and there is a heavy reliance on the skills and experience of machine operators to achieve an optimal solution on a per-job basis. The result is that machine shops are a world away from the efficient mass production lines that many people are familiar with, which results in some key challenges. 
Firstly, the machines themselves are commonly utilised less than 30 percent of the time, resulting in significant lost productivity. Secondly, the variation in timing between production runs results in difficulty costing jobs and scheduling production. Manufacturers struggle to understand which jobs were profitable and which weren't. Thirdly, manufacturers don't have the information available to them to diagnose the reasons for lost productivity, meaning they aren't able to take corrective action that could help their business improve. However, Chris Iveson and Robin Hartley, the co-founders of FourJaw Manufacturing Analytics, have developed new technology to solve all of these challenges. 
CNC machines are a broad category of machine that covers lathes, milling machines, grinding machines and machining centres. By definition, they're equipped with a computer which accepts Numerical Control programs. These control the specific movements required to cut a workpiece. During production, raw data is generated that has the potential to transform industrial productivity levels – if only manufacturers could utilise it. This is where Chris and Robin's technology comes in.
We've developed software that connects to machines and provides manufacturers with useful information relating to productivity which can be used to make improvements

Chris Iveson

FourJaw Manufacturing Analytics Co-founder
Essentially the technology Chris and Robin have developed works in the same way as your typical fitness tracker. It turns thousands of data points into easily-digestible Key Performance Indicators (KPIs) that are displayed on a web dashboard, allowing businesses to better understand and manage production.
So what can manufacturers learn from their machine's fitness trackers? Typically, the first aspect companies are interested in is the utilisation of their equipment. Without the FourJaw software, manufacturers have no way of accurately measuring machine utilisation levels. Therefore the novel system developed by Chris and Robin means that, for the first time, manufacturers can learn what happened in their machines in the past and what's happening in the present – enabling them to predict and manage the future of their manufacturing.
"We had an example recently where a business thought they couldn't possibly get any more work through their machines because they were always on. However, when we connected the machines to our monitoring system, we found that they were only actually cutting metal 50 percent of the time it was supposed to be and this isn't uncommon at all," says Robin.
After a small on-site installation process manufacturers are able to get continuous updates about each machine's productivity. "The FourJaw business model is 'software-as-a-service'. It works in a similar way to Netflix or Spotify. Manufacturers can pay an affordable monthly subscription price to use the system rather than a huge up-front cost which is a significant barrier for Small and Medium sized Enterprises (SMEs). This approach means that the customer's software never goes out of date, as the FourJaw team constantly works on maintaining and improving the system" explains Chris.
This is a beautiful example of what can happen when digital meets manufacturing. You can only get this kind of breakthrough when you bring really, really good software guys into close collaboration with really detailed engineering knowledge to interpret what the software is telling you. Sheffield has both these skill sets.

Jonathan Bray

Deputy Head of Digital at the Advanced Manufacturing Research Centre
Manufacturing is a competitive sector – particularly due to the emergence of countries who can produce products to a comparable standard but at a much lower price point. "Manufacturers in developed economies need to continue to be technically excellent but also excellent in terms of productivity which is where we're lacking in the UK at the moment, but our technology really could change all that" says Robin.
FourJaw has been working closely with early customers to rapidly develop their data analysis platform and build a product that provides greater insights into manufacturing operations. "Over the next 12 - 18 months we are excited to work with more manufacturing businesses to understand their challenges so that we can build out our product and understand which problems are unique to different industries, machining processes and supply chains," says Robin.
Written by Alicia Shephard, Research Marketing and Content Coordinator
---
Further information
FourJaw Manufacturing Analytics
Flagship institutes
The University's four flagship institutes bring together our key strengths to tackle global issues, turning interdisciplinary and translational research into real-world solutions.