The hidden side of retail returns
The rising cost of returned products is a burden on Britain's retailers and the environment. Sheffield researchers have been working with businesses in the retail supply chain to reduce costs to the company while keeping high-quality products out of landfill.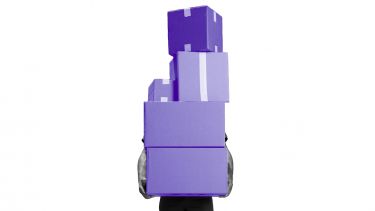 Off
The majority of the population in the United Kingdom are online shoppers, with almost 60 million of us using the lucrative e-commerce market. But this has brought a surge in product returns that come at a high cost to retailers and the environment alike. 
Approximately 75 per cent of us consider the returns policy before even completing the purchase and abandon online orders when the policy isn't obvious. From shoes to furniture, we order multiple sizes and colours to find the perfect item, safe in the knowledge we have a convenient and 'free' return option if we don't like it. 
Although one in ten shoppers admit to buying clothes solely for the purpose of taking a photo for social media, over 95 per cent of returned clothing can be reprocessed and made available for resale as a new product. 
But the solution isn't as straightforward for bulkier goods such as furniture or kitchen appliances that often require additional packaging, two-person delivery or collection services, and minor repairs before they can be sold on at a discount. This makes the returns process for larger goods energy intensive and expensive. These returned purchases are costing retailers in the UK around £60 billion a year, this having increased post-Covid as more people opted to shop online while many shops were closed.
Sheffield experts have teamed up to reduce the burdens of the returns process on businesses, with a focus on improving processes, saving costs and minimising damage to the environment. Dr Erica Ballantyne, Senior Lecturer in Operations and Supply Chain Management at the University of Sheffield and Dr Jonathan Gorst, Deputy Head at the Department of Management at Sheffield Hallam University work closely with companies to identify areas of opportunity for processing returns to cut down on waste sent to landfill.
"In the UK, for items purchased online, you legally have two weeks to return an item for a full refund, no questions asked - assuming that it is in its original packaging and in a sale-worthy condition. Our work on the retail supply chain looks at ways to cope with returns without sending imperfect items straight to landfill" explains Dr Jonathan Gorst.
Retail Returns Management
One area of reverse logistics is the management of retail returns across the whole supply chain, rather than solely after the point of sale. While many companies face higher costs of inventory, disposal and management of returned items, there are few processes in place to deal with them. 
Today, Erica and Jonathan work closely with a number of companies like ClearCycle who offer their clients personalised consultations to streamline their reverse supply chains. Analysing retail returns operations includes assessing transportation and CO2 emissions enabling companies to audit their activities to reduce waste and minimise their carbon footprint.
Erica goes on to explain, "The whole premise of our current work is to avoid sending returned goods to landfill. This includes small electricals like vacuum cleaners, air fryers, pushchairs and other larger items such as furniture, mattresses and washing machines. We analyse supply chain data to explore other avenues that a product can go down, such as being sold at a lower price, reused, or donated to charity to help retailers retain the value of their stock and keep costs down".
The mattress journey
Retail returns management is complicated. For some products, consumers are encouraged to try the item out before deciding whether or not to return it. For example, returned boxed memory foam mattresses need to consider weight, size and hygiene factors, but these items have been slept on and are returned with many years of life left in them. 
---
Every time you move a product there are environmental costs associated with the journey. As well as looking at the costs of sending a returned product to landfill, we're evaluating ways to ensure that the product can be resold while limiting its movements.

Dr Erica Ballantyne

Senior Lecturer in Operations and Supply Chain Management at the University of Sheffield
---
Once a mattress is returned, the cover is washed or discarded depending on its condition. The rest of the mattress is then inspected for damage such as scuff marks from the mattress being dragged through a room. After the mattress has been cleaned and treated, it is reboxed before being sold to its new owner as a reconditioned mattress. 
"If you can't resell the mattress for whatever reason, there is always the option of resizing e.g. changing it from a king size to two singles. This technique is also useful for tough staining or damage, whereby damage around the edge of a king size can be cut away to create a double. Another option is to sell these refurbished mattresses at an auction house or donate them to a charity. If the mattresses are in a poor condition then it is possible to work with a specialist recycling company to rip them up into smaller components and recycle them to prevent any materials from going to landfill" explains Jonathan.
Through retail returns management, Erica and Jonathan's research into cost and performance management, the avoidance of product returns, inventory management and sustainable distribution provides valuable insight for helping companies to reduce waste across all operations.
The rising costs of delivery are urging companies to look more closely into their returns policy and strategies. Erica and Jonathan hope to expand their work across different retail sectors as policies change and the need for sustainable practices becomes critical for companies.
"Every industry comes with its own challenges. Electrical items are expensive to repair and by law need to be tested before they can be resold. These complications create complex supply chains but using reverse logistics we're able to help companies receive returned items efficiently and process them before reselling, while also reducing their carbon footprint" says Erica.
"Through our research into reverse logistics, we're able to help companies save money on returned items while also showing that these actions can have a positive environmental impact and reduce waste overall" adds Jonathan.
Dr Jonathan Gorst, Sheffield Hallam University
Written by Alina Moore, Research Communications Coordinator 
Flagship institutes
The University's four flagship institutes bring together our key strengths to tackle global issues, turning interdisciplinary and translational research into real-world solutions.