Joining The Baby Club - designing children's television with Professor Jackie Marsh
How do you design a children's programme that's also for adults? That's the challenge for new BBC television programme The Baby Club, which aims to develop adults' skills as much as those for toddlers.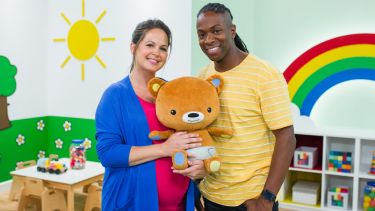 Two years ago, CBeebies began developing a show that aimed to help parents and children learn through the program. "Parents know their children. They know what their children are going to be particularly interested in, what they can point them towards." Jackie Marsh is explaining how a parent's role in mediating children's interactions with digital media informed her studies into children's use of digital technologies. This led to her consultancy on a show CBeebies described as 'the first of its kind'. "For a show like The Baby Club, they've got a presenter there and obviously that presenter's engaging with the children and babies on the programme but parents know their child."
Baby Club producer Chris Pilkington was developing the concept of The Baby Club when the then-BBC controller, Kay Benbow, asked him to approach Jackie Marsh for her insight. "Chris's programme really needed to get it right," says Jackie. "All the research shows that the more interaction there is with a parent the more children learn from the screen. Especially for the age group Baby Club is aimed at - joint media engagement is absolutely key."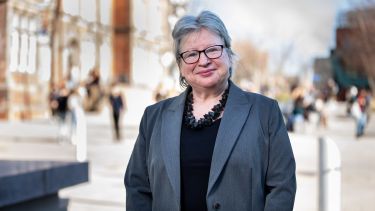 Professor Jackie Marsh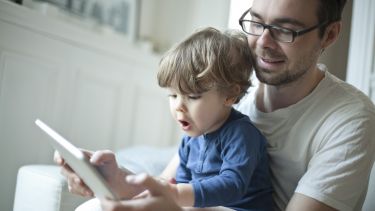 Baking this focus into a show was new for CBeebies. But it offered a great opportunity for Jackie to apply research and techniques she was deeply familiar with. "The reason I agreed to get involved with The Baby Club was the impact it could have for parents that don't have good models of scaffolding interactions with children..."
In particular, Jackie highlighted the importance of delivering 'prompts' - moments designed for the parent to turn to the child and ask questions. It also meant making sure those questions are open ended. So, "Tell me about the hat…", rather than, "Can you see the hat?" And working from schemas - urgent patterns of repeated play such as drawing circles or hiding toys that inform children's behavioural development - that television is a great platform for encouraging.
The resulting guidance for CBeebies drew, in large part, from Jackie's substantive study 'Exploring Play and Creativity', which analysed 2,000 children and their use of digital technologies, and provided detailed insight into exactly how children are spending their early years engaging with digital platforms. "We undertook case studies in homes and traced children's engagement with a range of media devices, looking at their engagement with television, with tablets," explains Jackie. The results of that survey helped to shape The Baby Club as a show that aims to develop parents understanding of how to interact with children, as well as entertain babies.
This isn't the first application of Jackie's research in television. Jackie has conducted considerable research into the relationship between young children and the digital world. She sits on the BBC Editorial Advisory Board for CBeebies magazines and recently contributed to the development of Moon and Me, the latest show from Andrew Davenport, who created Teletubbies and In the Night Garden.
But ahead of its debut, The Baby Club already had one parent cooing; Jackie herself. "I've learnt such a lot working with Cbeebies; about how they think very, very carefully about their audience," Jackie highlights. "Working with a partner that has such a high set of values around how they engage with their audience is really important.