Jamie Miles
School of Health and Related Research
NIHR Clinical Doctoral Research Fellow (Paramedic)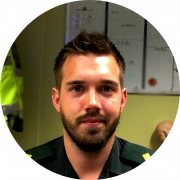 j.miles@sheffield.ac.uk
+44 114 222 4343
3037, Regent Court (ScHARR)
Full contact details
Jamie Miles
School of Health and Related Research
3037
Regent Court (ScHARR)
30 Regent Street
Sheffield
S1 4DA

Profile

Since qualifying as a paramedic I have enjoyed a diverse range of clinical settings, including frontline ambulance work, minor injury units, medical repatriation and specialist cardiac arrest response cars.

I joined the University of Sheffield in 2017 and have been mainly investigating ambulance conveyances to the Emergency Department - this has been part of the CLAHRC Y+H Avoiding Attendance and Admission in Long Term Conditions theme.

I am the co-module director of Prehospital Emergency Care alongside Dr. Justin Squires. This is part of the MSc Advanced Emergency Care provided by ScHARR. I am currently undertaking an NIHR/HEE Clinical Doctoral Research Fellowship into risk prediction modelling of ambulance service conveyances to the Emergency Department. 
Research interests

Prehospital emergency and urgent care of patients.
Risk prediction modelling in Urgent and Emergency care systems.
Economic modelling in Ambulance Services.
Clinical decision making.
Publications

Journal articles

Conference proceedings papers
Grants

Safety INdEx of Prehospital On Scene Triage (SINEPOST) - Chief Investigator - £218,719
Avoiding acute emergency admissions in palliative patients - Co-investigator - £38,829
Outcome Measures for the Emergency Care of Seizures (OMECS) - Co-investigator - £9,852