About the Faculty of Science
We are dedicated, through our research, to understanding ourselves, our world and its place in the universe. At the same time, we are training a new generation of experts to find solutions to the problems that science can solve.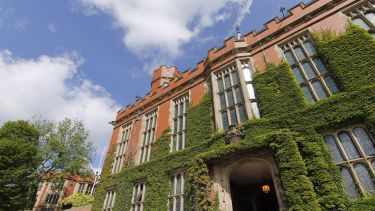 The faculty is made up of five departments that span the classical science subjects of biology, chemistry, physics, mathematics and psychology.
Our staff come from all over the world and are conducting research at an international standard to tackle great environmental challenges, understand disease and behaviour, advance robotic technologies, map distant galaxies, and much more.
Departments
School of Mathematics and Statistics
Department of Physics and Astronomy
---
Study
These world-class scientists are the same people who teach our students.
There are almost 4,000 undergraduates on our BSc and integrated masters courses, plus another 400 on our postgraduate taught masters courses.
Our taught students benefit from a truly unique experience. They learn state-of-the-art research techniques, study the latest scientific developments with leaders in their fields and complete their own research projects.
Many enjoy once-in-a-lifetime study abroad opportunities with colleagues at international facilities ‒ from the Danum Valley Field Centre in Malaysian Borneo to the Large Hadron Collider at CERN.
By completing one of our research degrees (MSc(Res), MPhil and PhD), our students learn all the skills a professional scientist needs, becoming advocates for their research who make a difference both within and beyond their global network of colleagues.
We encourage the more than 600 researchers completing their doctoral training with us to pursue unique projects and find innovative solutions to deepen our understanding of the world around us.
---
Research
With an annual research income of £30m, we are one of the most effective science faculties in the UK at finding new ways to meet the needs of society, industry and the planet as a whole. In the last Research Excellence Framework, 90% of our research was rated as world-leading or internationally excellent.
This approach extends to our internationally-renowned research centres such as the Florey Institute, which is tackling drug resistance and bacterial pathogens, Imagine, which is using revolutionary microscopy technologies to answer the biggest questions in biology and medicine, and the University of Sheffield Institute for Sustainable Food which brings together scientists and researchers to find dynamic solutions to the challenges of food security and sustainability.
---
Collaborations
We are committed, too, to building a sustainable, technologically advanced home for our teaching and research.
Our facilities include the Faculty of Science Mass Spectrometry Centre, Sheffield Solar Farm and the £10m Sir David Read Controlled Environment Facility.
We are also home to state-of-the-art light microscopy, laser spectroscopy and cryo-electron microscopy facilities, and we continue to invest the advanced GroDome facilities at the Arthur Willis Environment Centre.
A world top-100 university
We're a world top-100 university renowned for the excellence, impact and distinctiveness of our research-led learning and teaching.