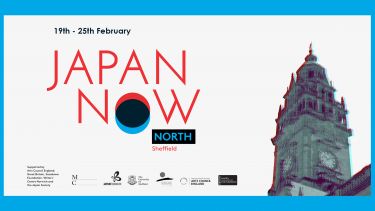 Japan Now North
Tuesday 19th February - Monday 25th February 2019
Various venues across Sheffield
#JapanNowNorth
Japan Now North is a week of activities celebrating the art, culture, literature and film of Japan. Now entering our second year, we are holding events across Sheffield, home of one of Europe's leading academic centres on Japan.
Highlights this year include a specially commissioned exhibition curated by Suzanne Mooney, exploring themes of gender and art publishing and featuring artists Yurie Nagashima, Risa Tsunegi, Rie Iwatake and Louise Rouse. Hear from leading novelists David Peace and Yu Miri and manga translator Jocelyne Allen.
The programme also features a screening and Q&A with independent documentary filmmaker Hikaru Toda who will talk about her award-winning film Of Love and Law.
For more information about any of our events please contact us on JapanNowNorth@sheffield.ac.uk
Programme of events
---
On the Edge: A conversation and book launch with Yu Miri and Morgan Giles
Tuesday, 19 February, 6:30pm to 8:00pm
The award-winning Yu Miri has a multi-decade career as a writer and novelist, consistently pushing the boundaries of Japanese literature. Born in Japan to Korean parents, Yu's work has often focused on those on the margins of Japanese society by virtue of their identity, social position or geography.
A translation of her magisterial recent novel Tokyo Ueno Station is just out from Tilted Axis Press spanning Japan's complex postwar history through the figure of Kazu, a labourer from regional Tohoku who finds himself on the edges of the city and of Japanese society in Ueno Park's homeless villages.
In conversation with her translator Morgan Giles and Durham University's Nozomi Uematsu.
---
Japan Now North at Millenium Gallery: David Peace, Yurie Nagashima and more
Wednesday, 20 February, 5:00pm to 8:00pm
(Followed by exhibition opening at Bloc Projects)
An evening of discussions around Japan in literature and visual art, this special event features Yorkshire-born and Tokyo-based novelist David Peace and a number of visual artists participating in a group exhibition at Sheffield's Bloc Projects.
5:30pm - A View of the City: David Peace in conversation with the University of Sheffield's Jamie Coates
One of Granta's Best Young British Novelists in 2003, Yorkshire-born writer David Peace has made Tokyo his home since 1994. In recent years, his writing has shifted to address his new home in Japan, with a trilogy of detective novels set in early postwar Japan and the recently released Patient X, which explores early 20th century Japanese history through the figure of writer Ryunosuke Akutagawa.
6:45pm - Out of Bounds: Contemporary Art from Japan
Boundaries delimit edges of communities and norms beyond which can lie transgression. This group exhibition of contemporary artists from Japan, presented as part of Japan Now North, pushes at the boundaries of form and identity, challenging contemporary art practice, generic constraints, and social expectations, including what British audiences may expect from women artists from Japan. Featuring Yurie Nagashima, Risa Tsunegi and Louise Rouse, in conversation with Suzanne Mooney.
8:00pm - 9:00pm - Out of Bounds exhibition opening at Bloc Projects
---
The Feel of the City: A Practical Workshop with Louise Rouse
Thursday, 21 February, 12pm-2pm
Departing from Bloc Projects
Tokyo-based British artist Louise Rouse produces illustrations and prints are of an impeccably high standard of craftsmanship, with themes and motifs that connect with the everyday lives of people in Japan and abroad. In the exhibition at Bloc, Rouse will present a set of frottage books produced in three locations in Tokyo by taking rubbings from building façades and other exterior surfaces. This workshop introduces some of her methods and ideas through hands-on participation.
---
Translating Manga and Japanese Popular Culture: A workshop with Jocelyne Allen
(Event restricted to the University of Sheffield students)
Thursday, 21 February, 2:30pm
Inox, University of Sheffield
Jocelyne Allen is one of the world's premier translators of Japanese popular culture into English, including the Naruto; ACCA 13; Non-non Biyori and Accel World series and printed works by Studio Ghibli's Hayao Miyazaki. This workshop will provide students with an opportunity explore the process of how Japanese popular cultural works appear in English and career development as a translator.
---
Of Love and Law: Documentary film screening and Director's Q&A with Hikaru Toda
Presented by Japan Now North, the Japan Foundation Touring Programme and Doc/Fest Sheffield
Monday, 25 February, 6:00pm
This fascinating and eye-opening documentary follows the work of the first law firm in Japan set up by an openly gay couple, Fumi and Kazu. Partners in love and law, the pair are driven by their own experience of being outsiders, and they attract a range of clients who reveal the hidden diversity of a country that prides itself for collective obedience, politeness and conformity.
Tired of being silenced and made to feel invisible, the lawyers and their misfit clients expose and challenge the archaic status quo that deems them second-class citizens.
With the backdrop of civil liberties under attack, the film poses universal questions about what it takes to be an individual, what it means to be a minority, and what role a family plays in our increasingly polarised world. Spanning several years and exploring the internationally relevant need to challenge the status quo, Hikaru Toda's film exposes a nation in flux as it is forced to adjust to the existence of hidden diversities and hear their increasingly louder calls for visibility.
Events at the University
Browse upcoming public lectures, exhibitions, family events, concerts, shows and festivals across the University.