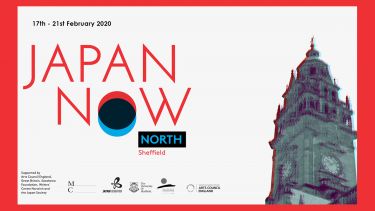 Monday 17th February - Friday 21st February in various venues across Sheffield
Japan Now North is a week of activities celebrating the art, culture, literature and film of Japan. Now in our third year, we are holding events across Sheffield, home of one of Europe's leading academic centres on Japan.
Highlights this year include appearances by photography and performance artist Tomoko Sawada, the much-adapted author Tomihiko Morimi, award-winning novelist Hiroko Oyamada, and poet and novelist Hiromi Itō, in conversation with poet and translator Jeffrey Angles. The programme also features films screenings and Q&A with filmmakers Chie Hayakawa (Ten Years Japan) and Naoko Nobutomo (I Go Gaga My Dear).
For more information about any of our events please get in touch at JapanNowNorth@sheffield.ac.uk.
The theme of Japan Now North 2020 is 'futures'. We think of Japan as a leader in the field of technology, from robotics, communication technologies, and everyday living aides, to futuristic city design.
Many of Japan's economic, technological, and creative industries are world-leading, and yet Japan also faces severe social challenges, including ageing, precarity, and overcrowding.
Japan Now North arts festival, and the 3-day symposium 'Imagining Our Digital Futures: The View From Japan' which follows, will explore the difficulties and possibilities facing future Japan, and consider how to solve or alleviate the challenges that will face most countries in the near future.
Programme of events
---
Ten Years Japan
Monday 17th February
Q&A with director Chie Hayakawa
Chaired by Dr Jennifer Coates
Location: Showroom Cinema
Time: 6.00pm
Executive produced by the acclaimed Japanese filmmaker Hirokazu Kore-eda, Ten Years Japan is an anthology of five short science fiction films set in an imagined Japan ten years from now. Like a Japanese Black Mirror, the shorts explore issues such as the ageing population, digital surveillance, "Big Data," environmental disaster, and rising militarism.
Varying in mood, style and artistic approach, the anthology offers fascinating insights into the challenges and opportunities faced by contemporary Japan. Chie Hayakawa, director of the short film Plan 75 (a compelling vision of how Japan might address the ageing population issue) will be joining us for an in-person Q&A after this screening.
---
I Go Gaga My Dear
Tuesday 18th February
Q&A with director Naoko Nobutomo
Location: Showroom Cinema
Time: 6.00pm
Filmmaker Naoko Nobutomo begins to notice gradual changes affecting her nonagenarian mother. Turning the camera on her parents' life, she presents an intimate portrait of the highs and lows of a family living with Alzheimer's and the reality of geriatric care in Japan's super ageing society. Director Nobutomo will join us for a live Q&A after the film.
---
Literary Magic: Tomihiko Morimi in conversation with Emily Balistrieri
Wednesday 19th February
Location: Adelphi Room
Time: 6.30pm
Tomihiko Morimi's magic-realist stories have made him a sensation in Japan and we are delighted to speak to him as part of Japan Now North 2020. His works have recently been adapted for major anime films and are now available in English for the first time. Penguin Highway is a surreal foray into science fiction, and Night Is Short, Walk On Girl captures the magic of his native Kyoto. Morimi will be signing works after the talk.
---
Facial Signature ©Tomoko Sawada
Thursday 20th February
Identity, Culture and Work: The Art of Tomoko Sawada
Chaired by Dr Marco Bohr, Loughborough University
Location: Kommune
Time: 6.30pm
Tomoko Sawada is a Japanese contemporary feminist photographer and performance artist. She has been included in numerous group shows in Japan, Europe and the US and has won several prestigious awards for her work. Sawada's work explores ideas of identity, status, culture, individualism, and conformity through traditional and contemporary methods.
---
Hiromi Itō and Jeffrey Angles: Writing, Translating, and Killing Kanoko
Thursday 20th February
Chaired by Dr Nozomi Uematsu, University of Sheffield
Location: Kommune
Time: 8.00pm
Hiromi Itō and Jeffrey Angles are both award-winning writers and Angles has translated a number of Itō's works. Together they will discuss the publication of Killing Kanoko / Wild Grass on the Riverbank (published by Tilted Axis); a landmark dual collection by Itō, in a 'generous and beautifully rendered' translation by Angles. Now widely taught as a feminist classic, Killing Kanoko is a defiantly autobiographical exploration of sexuality, community, and postpartum depression, featuring some of Itō's most famous poems.
---
Strange Work: Hiroko Oyamada in conversation with Kyoko Yoshida
Friday 21st February
Location: Site Gallery
Time: 6.30pm
Born in Hiroshima, Hiroko Oyamada is an award-winning author whose prizes include the Shincho Prize for New Writers, the Oda Sakunosuke Prize, and the Akutagawa Prize. Her novel The Factory combines a dystopian vision of the modern workplace with the surreal elements that make up her distinctive voice, where the lives of the novel's three protagonists gradually become enmeshed. Translated in 2019, this novel is available for the first time in English.
Events at the University
Browse upcoming public lectures, exhibitions, family events, concerts, shows and festivals across the University.