SEAS Jubilee: fifty years of East Asian Studies at Sheffield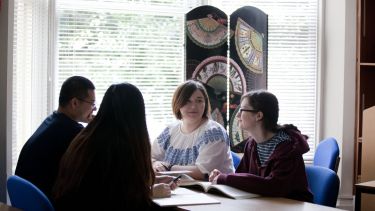 In the year preceding the Centre for Japanese Studies' establishment in 1963, The Economist, stunned by the rapid economic growth and recovery of the country from war, called on its readers to 'consider Japan.'
For the following fifty years the School has been doing just that, first under founding professor Geoffrey Bownas and later in tandem with the study of the Korean peninsula and greater China.
In each decade of our existence, the passion of our students has made a deep and lasting impression on our staff. As graduates, many have gone on to enjoy rewarding careers in academia, business and other professions in the UK, East Asia and further afield.
Our graduates are now just as likely to cross paths in Beijing and Seoul as Tokyo and Osaka. Indeed, our graduates are global, with over 1800 working in different parts of the world following their undergraduate or postgraduate degrees with us.
Why Japanese Studies? Considering the past, present and future
A summary of the Roundtable which was held in celebration of the Golden Jubilee of Japanese Studies at the University of Sheffield, which took place on Thursday 3 October 2013, at Daiwa Foundation Japan House.
This roundtable aimed to stimulate a discussion on Japanese Studies in the United Kingdom and the wider world in celebration of fifty years of Japanese Studies at the University of Sheffield.
These five decades have witnessed a radical transformation in both Japan and in Japanese Studies. In 1962, just before the launch of the Centre for Japanese Studies at The University of Sheffield, The Economist called on the magazine's readership to 'Consider Japan' and its remarkable economic growth.
Yet, at the time, few experts combined the linguistic and area studies skills to be able to do so. In the intervening years Japan has become of far greater significance for the UK, as well as for an increasingly globalised world as Japanese Studies has flourished, with the field nowadays rich enough to 'consider Japan' in all its multifaceted complexity.
The future poses challenges for both Japan and for the discipline. By reflecting on the past, present and future of Japan and Japanese Studies, the speakers will offer their own answers to the question, 'Why Japanese Studies?'
A world-class university – a unique student experience
Sheffield is a research university with a global reputation for excellence. We're a member of the Russell Group: one of the 24 leading UK universities for research and teaching.