"We know you better than you know yourself": China's transnational repression of the Uyghur diaspora
By David Tobin & Nyrola Elimä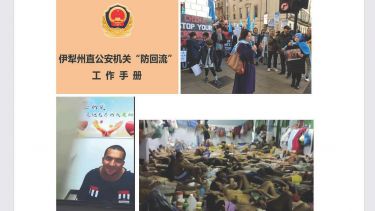 Off
Executive Summary
This report finds that the scale of transnational repression in the Uyghur diaspora is universal, and its impact severely restricts their rights to free speech and associations, and the capacity to maintain their culture. Transnational repression has expanded in Xi Jinping's "new era," but its tactics have gradually changed since 2017, with increased use of Uyghur informants to gather intelligence while backing off from harassing those who resist pressure. These tactics have evolved to avoid international attention by harassing isolated individuals, placing community figures under surveillance, quietly intimidating Uyghurs from speaking publicly and even enlisting them to create positive images of China.
The U.K.'s democratic political environment gives Uyghurs space to exercise their civil rights though many request support to assist with integration and information on their rights when facing transnational repression. However, in Turkey, there are growing dangers of deportations of Uyghurs with humanitarian visas, surveillance, and restrictions on civil rights. Transnational repression is less visible in Thailand because it is used as a transit stop for Uyghurs escaping persecution through human trafficking routes from southwest China.
The PRC claims that its approach to international relations is guided by principles of state sovereignty and non-interference but its governance practices consider all citizens, former citizens, and their family members, regardless of location, to be under its legal and moral jurisdiction. The PRC's transnational repression globally exports its domestic model of governance and genocidal oppression to target all Uyghurs and their family members through enforced family separation, mobility restrictions, and surveillance. The party-state's transnational repression, therefore, undermines both human rights and the organising principle of sovereignty in international relations.
Around 2/3 of Uyghurs surveyed have been directly threatened and experienced threats to their family while living in the U.K.
Only half of U.K.-based Uyghurs stated that they felt safe from the party-state while living in Britain. The most obvious source of safety for them is permanent residence with over 83% stating this would make them "much safer."
About 4 in 5 Uyghurs report to being directly threatened or having their families threatened by Chinese authorities while living in Turkey.
The vast majority of Uyghur diaspora in Turkey feel unsafe from the Chinese party-state and see non-Chinese passports and reduced Chinese political influence as the solution.
Recommendations
These recommendations are drawn from the needs specified by Uyghurs interviewed. To establish their needs and how these can be met, the researchers directly asked all participants, "what would make you safer?" and "what government policies would make you safer?". The recommendations below are drawn from those answers and included because they are low-cost and achievable with more idealistic answers excluded (e.g., "independence").
For National Governments
Immigration Quotas based on the Canada model would enhance national security and human rights by ensuring safe passage, protection for Uyghurs at risk of persecution, and enhanced ability to sustain the pressures of transnational repression. Uyghur diaspora members describe this as the most important issue related to their personal safety and consider democracies that can withstand China's political influence as their only safe location.
 
Civil rights outreach from governments with clear and widely disseminated rights information for the Uyghur diaspora would enhance their ability to exercise their civil rights and resist the pressures of transnational repression. This programme should also include clearer and fuller guidance for immigration and security officials on the transnational repression tactics conducted by individual countries based on up to date, expert research, as recommended by Freedom House and the Uyghur Human Rights Project.
 
Security hotline: a transnational repression phone-line integrated into existing security platforms with minimal costs would significantly increase information collection and more effectively prevent interference in states' internal affairs.
 
Magnitsky sanctions: sanction individual police officers, security personnel, and cadres who perpetrate transnational repression (e.g., from tourism, financially investments, or sending family to universities in the target states). Sanctioning individuals would serve as a concrete deterrent to low-level officials and would communicate a clear, low-cost signal that transnational repression transgresses national security. Researchers and many Uyghur diaspora members have information and records of individuals conducting transnational repression that should be utilised.
For UN Agencies
UNHCR: The UNHCR must increase its outreach amongst and support for Uyghurs in Turkey on humanitarian visas and investigate their claims of deportations and harassment. It should arrange safe passage to 3rd countries for those whose visas are not renewed and support applicants to obtain permanent residence wherever possible.
 
OHCHR: The OHCHR requires urgent access to the Uyghurs held in Thailand's Immigration Detention Centres and must publicly report its findings. The detainees require urgent medical access and support from lawyers to arrange safe passage to third countries, which should be immediately arranged by the OHCHR and UNHCR.
 
Special Advisor of the Secretary-General on the Responsibility to Protect: the CERD has referred issues of racial discrimination by the party-state towards Uyghurs to the Special Advisor, including issues of transnational repression of the diaspora and researchers. The Special Advisor must publicly report on how these issues will be practically addressed, specifically how the UN, UNHCR, and OHCHR will tackle the racial targeting of Uyghurs abroad and the de facto apartheid system for Uyghurs inside the PRC.
 
Appointment of a Special Rapporteur for transnational repression. The U.N. is obliged to outline and explain its actions to counter potential crimes against humanity in the Xinjiang Uyghur Autonomous Region following the publication of Michelle Bachelet's report on Xinjiang policy. This response should include the appointment of a Special Rapporteur on TNR by the UNHRC as recommended by the UHRP. The PRC should be required to officially respond to the evidence in the UN general assembly, which should allow Uyghur victims of the mass detention system to explain their experiences and the impact on their lives directly (e.g., Gulbahar Haiitiwajji, Abduweli Ayup, Qelbinur Siddik, and Omar Bekali). Additionally, the U.N. must consult leading experts on the subject, whose work is essential to understanding these issues but was not utilised in Michelle Bachelet's report: e,g., on racial targeting (David Tobin), forced labour (Nyrola Elimä), the long-term nature of genocide (Sean Roberts), linguistic erasure (Jo Smith Finley), land appropriation (Guldana Salimjan), sterilisation of women (Adrian Zenz), family monitoring (Timothy Grose), religious repression (Rian Thum), and electronic surveillance (Darren Byler).
Flagship institutes
The University's four flagship institutes bring together our key strengths to tackle global issues, turning interdisciplinary and translational research into real-world solutions.