Strong economic growth in China, the globalisation of the Japanese economy and the possible future reunification of the Korean peninsula offer massive potential opportunities for people with skills in Asian languages and cultures.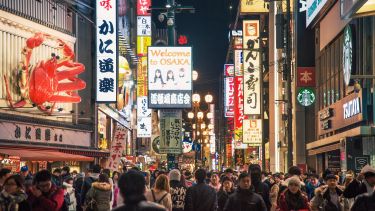 When you graduate, you will have
An international prospective
A deep cultural understanding of the East Asia region
East Asian language skills (if you choose to study a language-based degree)
A wide range of transferable skills and the ability to apply them to your chosen path
Your heightened cultural awareness will enable you to address problems from a variety of perspectives, critically analyse information and arrive at an independent point of view.
Managing group projects will help you develop skills in people management, negotiation, teamwork and leadership, while managing your own workload will demonstrate your self-reliance. Your communication skills will, of course, be first-rate, enabling you to articulate your views confidently both verbally and in writing.
---
Studying Chinese at Sheffield helped me to develop the confidence to go out and try as many new things as possible. I went from a slightly timid first year to a confident graduate who was able to go to a new city and try out teaching and looking after young adults. The Careers Service provided invaluable advice. The department's teaching staff were also super supportive in helping me develop the skills needed to enter the workplace and make a positive difference.

Dominic Hughes

Chinese Studies BA
---
Your year abroad will give you a head start
The experience you gain during your year abroad – and during your preparation for it – will be of crucial importance to your employability. Employers like language students because they have experience of living and adapting to different social and cultural environments.
Studying abroad will also help you:
Improve your language skills
Build up your self-confidence, independence and resilience
Broaden your horizons
Find out more about the year abroad
---
Careers support
The School has its own Employability Officer who is there to offer specialist advice on careers, internships, work experience and CV building throughout your degree.
We also organise regular talks by alumni to provide inspiration and first-hand experience of the graduate job market and invite companies working with East Asia (many of which recruit from the School) to give presentations on their sector.
The University of Sheffield's Careers Service also offers a wide range of online and in-person support to help students explore and choose between the breadth of career options open to them as well as ensure they have access to current employment opportunities and training to prepare them for the job market.
We also encourage students to consider taking up the option of a degree 'with Employment Experience', which enables you to build up considerable work experience and career-related skills before you graduate.
This opportunity is particularly encouraged for our East Asian Studies BA students who don't have a compulsory year abroad.
---
Developing your skills
Throughout your degree at Sheffield, you will have the opportunity to develop your transferable skills and enhance your CV by participating in a range of extra-curricular activities that will be both personally fulfilling and attractive to potential employers.
Discover potential opportunities
Graduate destinations
Our graduates have entered a variety of exciting and rewarding careers such as publishing, international relations, teaching and journalism. 
Explore the University
Discover why Sheffield is the right choice for you at one of our open days or events.