Your year abroad in China
You will study at Nanjing University, one of the highest ranked universities in China, meaning you are certain to receive education of the highest level whilst studying there.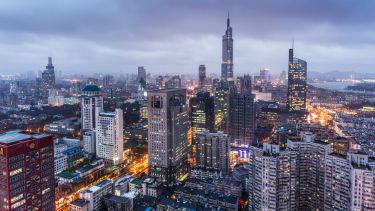 You will have plenty of courses to choose from to continue your studies of the Chinese language and the culture, politics, history of China. As well as being given the chance to study in the country that you will be learning about, you will also be able to immerse yourself in China's fascinating culture which is an important part of the Year Abroad experience. Many students take this opportunity to travel extensively around China, meet Chinese people and acquire lots of new experiences as they go.
---
Nanjing University
Founded in 1902, Nanjing University is one of the oldest and most prestigious institutions of higher learning in China, currently ranked in the top 20 Universities in China in the THE World University Rankings.
Nanjiing University consists of three beautiful campuses, Gulou, Pukou, and Xianlin. As a top university in China, it boasts advanced teaching and research facilities and, like in Sheffield, Nanjing students have access to a wide variety of student led events, societies, sporting activities and all students are actively encouraged to get involved.
The city of Nanjing itself is the capital of Jiangsu province and has plenty of cultural and historical sights to explore such as the famous Confucius temple. Along with its historical sites, the city is a buzzing metropolis full of skyscrapers, luxury hotels, and extensive shopping malls so there is always something to do. The city is also home to several colleges and universities and a large foreign population making it an international metropolis with new faces every day.
---
Preparation
Prior to leaving for Nanjing, you will receive a detailed handbook that provides information on all relevant issues, from visa applications to student life in China. The School will also hold a number of workshops to help you arrange for your time away as well as pair you up with a student who is currently in China so you can get the latest information and can ask questions as they arise. The students who have just returned will also arrange a presentation to give you a first-hand account of what it is like to study, live and travel in China.
---
Financial support
In addition to the University covering your tuition costs for Nanjing University, to help you make the most of your year abroad, the School of East Asian Studies is able to offer a number of one-year scholarships to support you in China.
Chinese government funded one-year scholarship
We have a number of these scholarships available which are awarded to the highest performing students in semester 1. These scholarships cover your accommodation costs for the year and provide a monthly payment of 1700 Yuan (£170) for the duration of your year in China and a one off welcome payment of 1500 Yuan.
Confucius Institute scholarship
We are able to offer a small number of scholarships through the Sheffield Confucius Institute which are awarded on a competitive basis. These scholarships also cover your accommodation and provide a monthly payment of 1700 Yuan and a one off welcome payment of 1500 Yuan.
Nanjing is a relatively cheap place to live and many students also find part-time employment while they are there to offset even further any extra costs.
Find out more about financial support and the cost of your year abroad
---
Student experiences of the year in China
We asked our students to send in photos and videos and share their favourite memories of their year abroad. You can see videos of Joe Lasham's year in Nanjing, starting with moving to China and then travelling through the South East Asia region.