Your year abroad in Korea
The year abroad is a fantastic opportunity to learn about Korean culture – traditional and modern – as well as developing your language skills.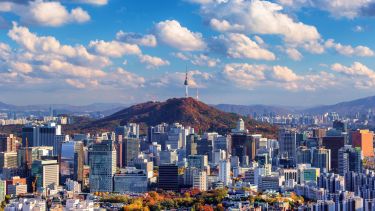 Your year in Korea will be spent at one of our Korean partner institutions, located in or just outside the country's capital, Seoul. All of our partner universities are high quality institutions which will provide you with the same, high level or teaching and support that is available in Sheffield.
The department will determine the best location for you to spend your year abroad, based on your academic achievement and individual needs and preferences.
Partner Institutions
During your year in Korean, you will continue to take intensive Korean language courses and you will be able to choose a range of other modules as well as immersing yourself in this fascinating country. Many students take advantage of their year in Korea to travel, learn new skills, join social clubs and make lifelong connections with Korean people.
Find out about financial support and the cost of your year abroad
---
Living in South Korea
Seoul is the capital of South Korea and, as you would expect from a capital city, it is a busy metropolis with skyscraper buildings and evidence of modern technology all over the city. To contrast the modern living of Seoul today, you will also find Buddhists temples, traditional street markets and many other tourist attractions such as the Gyeongbokgug Palace.
The Koreans know how to have a good time so you won't be stuck for places to go after a hard weeks study. Seoul has a large variety of bars, including karaoke bars, and clubs, shopping malls, saunas and restaurants which are often open around the clock.
---
Student experiences of the year in Korea
---
The tandem language partner programme allowed me to make Korean friends before I went to Korea and they helped me with various things on my year abroad, taught me about the country and came travelling with me and helped me to create precious memories. Read Katie's full profile

Katie Morris

BA Korean Studies
---
SEAS Podcast, Episode 2
The Language Year Aboard - studying in South Korea
In episode 2 of the School of East Asian Studies podcast we caught up with BA Korean Studies student Danni to find out all about her year abroad experience in South Korea.
*Please note, information in this podcast relates to Danni's personal experience, including anything related to finances and costs of living in Korea. Official University guidance on financing your year aboard can be found here  https://www.sheffield.ac.uk/seas/undergraduate/fees-finance
Explore the University
Discover why Sheffield is the right choice for you at one of our open days or events.