Sheffield Robotics is split across The University of Sheffield and Sheffield Hallam University campuses.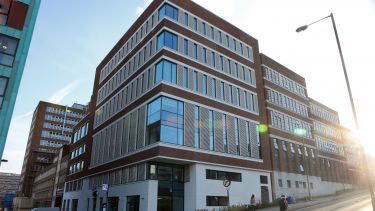 Off
Sheffield Robotics at the University of Sheffield
Sheffield Robotics is located on floors B and F of the Pam Liversidge building.
Sheffield Robotics
Pam Liversidge Building
Sir Frederick Mappin Building
Mappin Street
Sheffield
S1 3JD
On Foot
The main entrance to Pam Liversidge Building is on the corner of Newcastle Street and Broad Lane.
By Train
Sheffield Station is a short tram ride away from The University of Sheffield. Blue route trams (destination Malin Bridge) run every 10 minutes, and the nearest stop is West Street.
By Car
You can either park in the nearby Q-Park, a 2 minute walk, or use a Park & Ride scheme and get off at West Street.
Sheffield Robotics at Sheffeld Hallam University
Sheffield Robotics
Sheffield Hallam University
City Campus
Howard Street
Sheffield
S1 1WB
By Train

Sheffield Hallam University's City Campus is directly opposite Sheffield Station.
By Car

There are several car parks close by, with discounted parking rates for our visitors at two of the car parks closest to the campus.
The NCP car park on Arundel Gate is just next door to City Campus.Take the exit towards Arundel Gate to get to the campus.
The ACPOA car park on Eyre Street is a five-minute walk from City Campus.
Scan your parking chip at the main reception in the Owen Building to claim the discounted fare.