We lead a portfolio of preclinical and clinical research to improve our understanding and treatment for multiple sclerosis.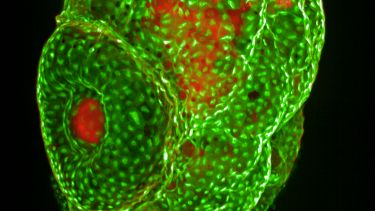 Multiple sclerosis (MS) is the most common cause of disability in young adults, affecting over 100,000 in the UK with an economic impact of £1.4Bn per annum.
We played a pivotal role in developing a stem-cell treatment (AHSCT) repopulating the immune system after chemotherapy with a patient's own bone marrow stem cells, achieving remission in 80% of relapsing-remitting patients and unprecedented reductions in disability; the best treatment to date for MS (Burt et al 2019, JAMA).
The 2019-NHS-Future-Award celebrated our role in this breakthrough. Professor Sharrack now leads 16 UK centres comparing AHSCT with first-line MS treatments for efficacy and cost-effectiveness in the STAR-MS trial, aimed at NHS rollout.
In the laboratory we are investigating ex-vivo gene therapies to enhance the efficacy of AHSCT and have developed drug screens to model MS disease processes and find potential new treatments.
With the NIHR Sheffield Biomedical Research Centre we are working to validate digital mobility assessment and develop brain imaging protocols to objectively measure treatment responses in patients and improve clinical trials.
Develop biomarkers and functional mobility assessments to provide early read-outs of drug target engagement and therapeutic efficacy
Develop advanced therapy approaches to transform disease trajectories
Mine longitudinal data to establish cause-effect relationships between central nervous system impairments and mobility limitations
Evaluate autologous haematopoietic stem cell transplantation (AHSCT) in comparison with first-line treatments
Investigate the effect of effect of environment (physical activity, nutrition, microbiome) on MS disease activity in patients receiving AHSCT
---
Sheffield MS Research Advisory Group 
We host a patient involvement research advisory group that is currently looking for new members. 
Flagship institutes
The University's four flagship institutes bring together our key strengths to tackle global issues, turning interdisciplinary and translational research into real-world solutions.