A number of approaches are available to test the biomechanical properties of bone through the Skeletal Analysis Laboratories or the associated partners.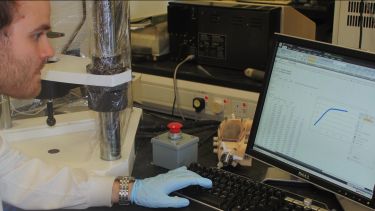 Off
Mechanical testing
Mechanical testing of bones can be undertaken using the Bose ElectroFocrce 3200 mechanical testing machine.
Our instrument is equipped with a 450 N and a 22.5 N load cell and is able to perform a range of mechanical tests including 3 and 4 point bending, tension, compression and fatigue. Customised grips can be designed for non standard shaped samples. We can provide expertise in analysis of mechanical properties such as breaking strength, Youngs modulus and toughness.
This is delivered by our associated partners, Dr Gwen Reilly's lab.
Contact
---
Bone Finite Element models
MicroCT based Finite Element modelling of bone is a non-destructive way of estimating bone mechanical properties such as bone stiffness and strength.
We can provide expertise in generating, calibrating and validating computational models for bone samples extracted from large mammals (trabecular and cortical bone samples) as well as mouse bones (in particular mouse tibia from ex vivo and in vivo scans).
Contact
For more information, contact Dr Enrico Dall'Ara.
Flagship institutes
The University's four flagship institutes bring together our key strengths to tackle global issues, turning interdisciplinary and translational research into real-world solutions.