French Translation Competition 2022
We are delighted to announce the sixth University of Sheffield French Translation Competition for Year 12 and Year 13 students in the UK.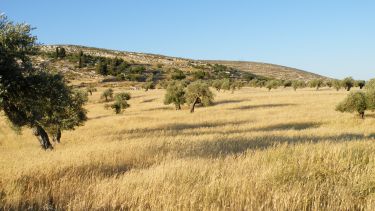 ---
2022 Winners
Congratulations to the 10 winners of our French Translation Competition! They are (in alphabetical order):
Franklin Baron, St Olave's Grammar School
Iris Creighton, Mossbourne Community Academy
Eve Fraser, Hockerill Anglo-European College
Madeleine Hicks, Bootham School
Charles Hume, King's College School
Sammy Jarvis, Abingdon School
Archie Leishman, Abingdon School
Elijah Redden, Hill House School
Iris Seery, Royal Grammar School
Jenalla Waddington, King Edward VII School
We received over 120 entries for the competition and very much enjoyed reading them! As ever, the overall standard was impressively high. Many thanks to all of you who entered the competition.
A fair copy of the translation, based largely on the best entries, is available below, followed by a few remarks on the main translation issues that arose in it.
Unfortunately, we cannot provide feedback on individual entries.
---
Text
Karim Kattan, Le Palais des deux collines (Tunis: Éditions Elyzad, 2021)
This wonderful debut novel by the Palestinian author, Karim Kattan, won the Prix des Cinq Continents de la Francophonie in 2021. It is the beguiling and troubling tale of Faysal, a 30-something Palestinian, who returns to the abandoned family mansion, the titular 'Palais des deux collines'. The stories woven around the house and its inhabitants unfold like memory itself, sometimes in sustained narrative passages, sometimes in evocations of an ambiance, an image or an anecdote. The novel is close in places to magical realism – but a magical realism that also recounts the brutal reality of the ongoing Israeli annexation of ancestral Palestinian lands.
See here for a TV5Monde interview with the author (9 mins)
Original Text

Ayoub aimait Joséphine et elle l'aimait en retour. C'était un secret connu de tous au village. Joséphine, on disait que c'était une sorcière. L'héritier du palais des deux collines aimait la sorcière de la vallée, ce n'était pas très commun. Mais Joséphine, c'était surtout mon amie. Ma deuxième amie après Ayoub. D'ailleurs, c'est elle qui m'a enfanté. Oui, vraiment, la sorcière, je ne mens pas. Ah voilà, c'est là où je voulais en venir, le début, la scène d'exposition. Alors, je suis né lors d'une année un peu molle. C'était, me disait-on, un soir d'été moite et lourde et ma pauvre maman devait elle aussi être moite et lourde, je n'ose imaginer ce que c'est d'être enceinte et moite et lourde par une nuit où l'on suffoque. Toutes les routes étaient fermées à cause d'un couvre-feu militaire, comme si le monde conspirait à m'empêcher de naître. Peut-être qu'il y avait de l'orage. Dans cette situation, impossible d'accéder à un hôpital. Le plus proche est à Naplouse, à plus de deux heures de route à l'époque et par ce temps-là. Ce palais des deux collines, isolé… quelle idée, vraiment. Ma pauvre mère ne panique pas – ce n'était pas son genre, il paraît. Mais mon père, si – lui, c'était son genre. Ma pauvre mère, pour le calmer, suggère d'appeler la voisine qui vit en bas de la colline. Ça va pas, non, tu es folle, elle va nous jeter un sort. Ma mère, elle aimerait bien qu'on lui jette un sort, genre péridurale enchantée, anesthésie par incantation, mais elle ne le dit pas à mon père qui risque d'en avoir un infarctus. Il y a des oncles dans tous les coins de la maison. Comme mon père, ils sont silencieux et paniqués.

[…]

(290 words)
Translation

Ayoub loved Joséphine and she loved him back. It was an open secret in the village. As for Joséphine, it was said that she was a witch. The heir to the palace of the two hills falling in love with the witch of the valley? Not an everyday story, that. But, above all, Joséphine was my friend. My second-best friend, in fact, after Ayoub. Besides, she brought me into the world. Yes, really, the witch, I'm not lying! Ah, ok, so that's where I'm going with this, where it all starts, the opening scene. So, I was born in a bit of listless year. It was, I was told, a sweaty and muggy summer's night and my poor mum must've also been sweaty and muggy. I can't begin to imagine what it must be like to be pregnant and sweaty and muggy on such a stifling night. All the roads were closed because of a military curfew, as if the world was conspiring to stop me being born. Maybe there was a thunderstorm. In this situation, there was no chance of getting to a hospital. The closest one was in Nablus, more than two hours away by road at that time and in that weather. The splendidly isolated palace of the two hills – whose bright idea was that, anyway? My poor mother didn't panic though – apparently she wasn't the panicking type. But my father did panic – he was definitely the panicking type. To calm him down, my poor mum suggested calling our neighbour who lived at the bottom of the hill. 'No way! Are you out of your mind? She'll put a spell on us!' My mother would've really liked someone to put a spell on her, a kind of enchanted epidural or anaesthesia by incantation, but she didn't say this to my father, as it would've probably given him a heart attack. There were uncles in all corners of the house. Just like my father, they were silent and panic-stricken.

Some remarks on the translation

The margins were quite fine between the very good translations (quite a lot of these) and the excellent ones. The main thing was getting the translated text as idiomatic as possible and finding a consistent register for its 'voice'. This involved a number of issues:

Idiomatic translation in English where French uses apposition of stressed proper nouns or pronouns for emphasis e.g., 'Joséphine, on disait que…'; 'mon père – si, lui…'; 'ma mère, elle aimerait bien…'. This could involve the creative use of italics in English.

Tenses: the shift from narrative past tenses to a present tense for effects of immediacy or immersion of the reader is more common in French, but it doesn't work in English, unless it's handled very tactfully – in this passage, it is probably better to stick with the past tenses.

Register: use of contractions in English, such as 'I'm', 'that's', 'must've', 'can't'; also 'ça va pas' doesn't mean 'that won't work' or 'it's not ok', but something more like 'no way!', 'are you crazy or what?'

Context/research: Nablus in English, not 'Naplouse'.

Avoiding too literal translations ('a known secret', 'not very common', 'scene of exposition', etc.)

The slipperiness of 'une année un peu molle'… We've gone with 'listless' but 'languid', 'sluggish' just about work. Ask yourself if the usual translations of 'mou/molle' make sense here: 'soft, weak, limp'? Or is there another way of paraphrasing it?
The prize
The winners received a prize of a £25 Amazon voucher and an invitation to take part in a special Translation Workshop organized by the School of Languages and Cultures at the University of Sheffield, involving French academics, Masters students in Translation Studies and alumni who work in translation-related fields. The Workshop was held on Wednesday 7th December 2022.
The judges
The translations were read and judged by a panel of French experts from the School of Languages and Cultures at the University of Sheffield.
About the competition
The competition runs annually and is open to students of French in Years 12 and 13 in the UK. Entrants must translate into English an original French text that has not previously been published in English.  Translations must be the original work of individual students, and submitted via an online entry form.
Explore the University
Discover why Sheffield is the right choice for you at one of our open days or events.